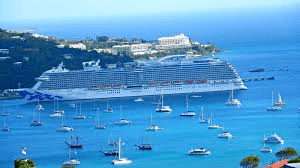 The ideal first impression cruise ship visitors get of St. Thomas should not be raggedy urban trees. It also would be good if they aren't hit by cars as they navigate the exit from the West Indian Company dock area, as two were recently.
The WICO Board of Directors and WICO President Anthony Ottley Friday discussed ways to improve the situation.
Ottley in his report to the board, said he was lobbying to have crossing guards where the tourists exist into Charlotte Amalie traffic during cruise ship visits.
Board member Enrique Rodriguez told Ottley that he would like him to put as much energy as he was into getting crossing guards into getting the trees in the same area trimmed. He said the last time the territory had high winds, he was in that area and saw large branches in the roadway. He also said some of the Mahogany trees looked like they were abandoned and dead. He asked, "Why can't we get Public Works to take care of this?"
Ottley said that he had been in contact with the Commissioner of the Department of Public Works and the Commissioner said, "He would look into it."
Rodriguez said he has been asking that something be done about the trees since the hurricanes and if Public Works can't do something about them, WICO should do something.
Ottley said WICO did have two landscapers on staff but there might be liability, union, and insurance issues if WICO employees were to work on property not owned by WICO.
Board member Pash Daswani asked Ottley about progress on a water leak that was costing WICO $15,000 a month. Ottley indicated that the problem was a shared water line with the Government Employees Retirement System and a cost-sharing agreement was being worked out with GERS. He added that the Water and Power Authority was working on the situation so GERS and WICO would have separate meters.
Phone calls and emails to WICO to clarify segments of the company's financial report given by Ottley at the meeting received no response.