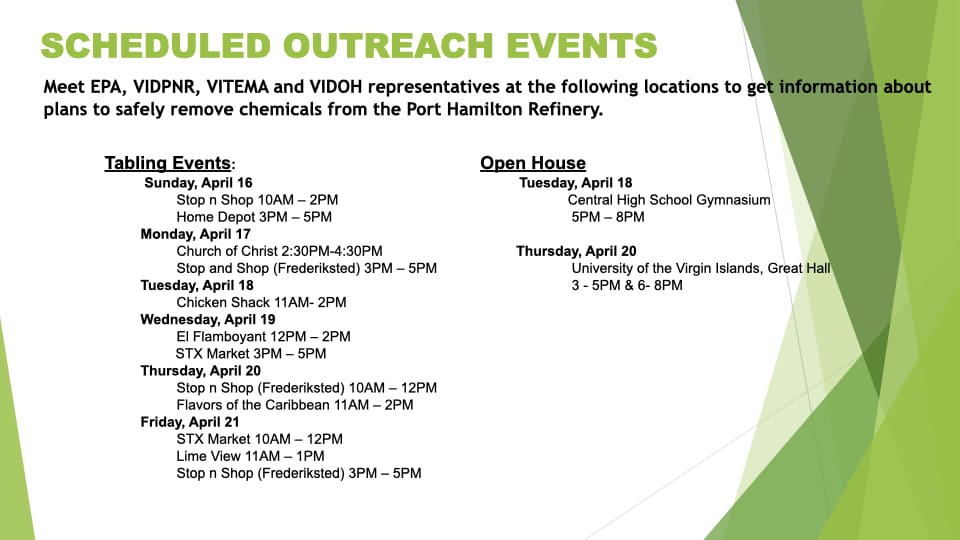 Environmental Protection Agency officials will be available to answer questions about work at the St. Croix oil refinery in person all week, the agency announced.
Agency officials plan 14 events across the island through Friday, including two large-scale open houses at Central High School and the University of the Virgin Islands. Representatives from several local agencies involved will be onsite, too: the Department of Planning and Natural Resources, the Territorial Emergency Management Agency, and the Department of Health, according to a press release announcing the initiative.
The information-sharing sessions come in advance of the upcoming removal of dangerous chemicals from the refinery, likely to start in early May.
In December, the EPA ordered current refinery Port Hamilton to remove toxic chemicals stored at the refinery on St. Croix's south shore. A September report found the plant was in a dangerous state of disrepair.
Eight air monitoring stations were put in place, as well as a real-time air monitoring website. The site has information on air quality and works underway in English, Spanish, and Haitian Creole.
The EPA watched as Port Hamilton and U.S. Ecology completed repairs to the ammonia system in March and monitored detailed planning on how the ammonia would be safely removed, officials said. The hydrogen-sulfide amines were scheduled to be removed last.
On Wednesday, they'll be at the El Flamboyant from noon to 2 p.m. and at STX Market from 3 p.m. to 5 p.m. On Thursday, they are back at the Stop & Shop from 10 a.m. to noon and at Flavors of the Caribbean from 11 a.m. to 2 p.m. That night, they will host a second open house at the University of the Virgin Islands Great Hall from 3 p.m. to 5 p.m., then another 6 p.m. to 8 p.m.
The events wrap up Friday with three question-and-answer sessions at the STX Market from 10 a.m. to noon, at Lime View from 11 a.m. to 1 p.m., and at Stop & Shop from 3 p.m. to 5 p.m.