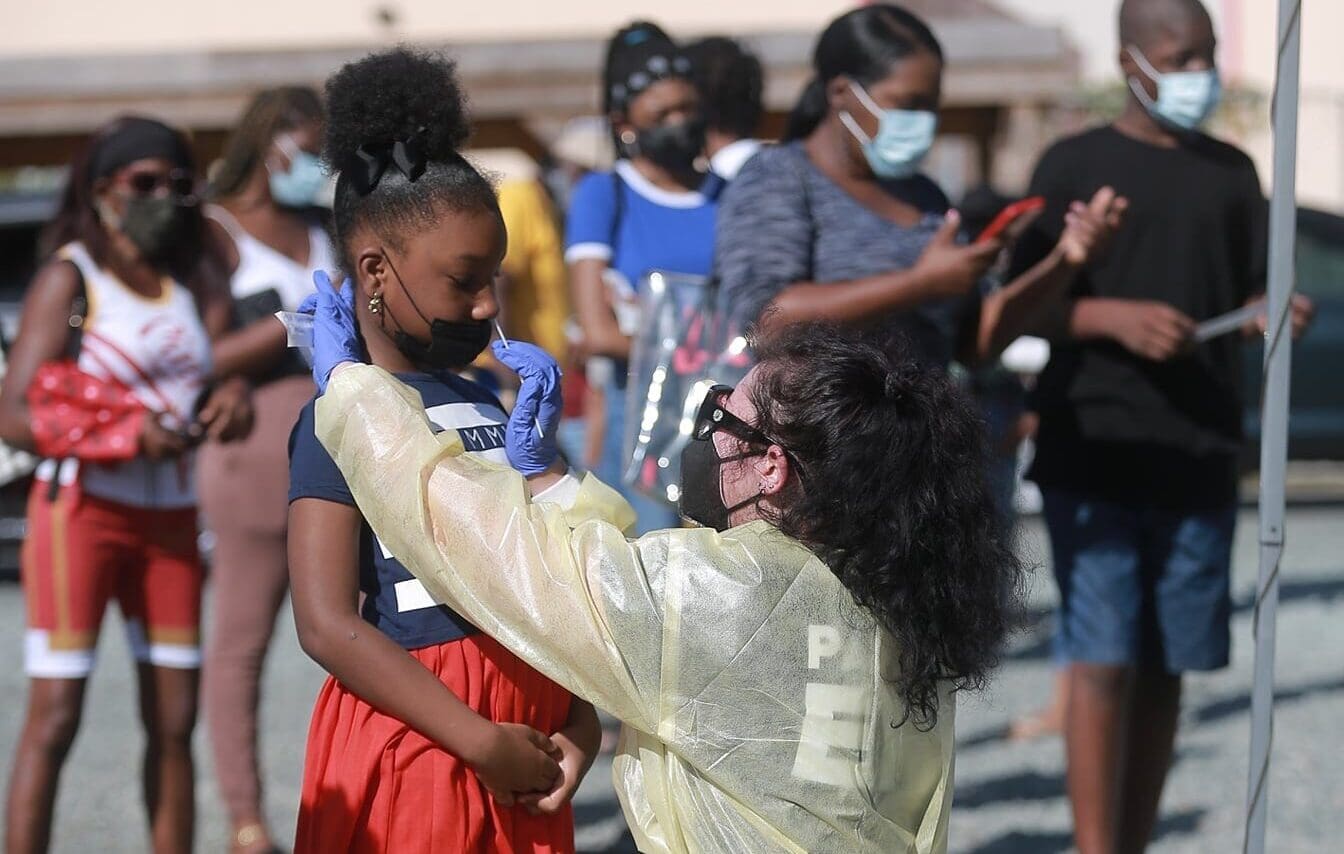 As St. Thomas prepares for the start of Carnival, the V.I. Health Department reports that COVID-19 cases remain in the single digits, with just seven cases territory-wide as of Monday. However, officials are urging residents to remain on guard against the virus.
The department also announced that some federal pandemic support will be ending in May, though COVID-19 tests and vaccinations will remain available through December 2024.
Currently, the territory's COVID-19 positivity rate — the percentage of coronavirus tests that are positive out of the total number performed in a given day or week — stands at 2.4 percent, the Health Department reported.
It's a far cry from the week of Jan. 5, 2022, when the USVI was grappling with 3,548 active cases and the seven-day positivity rate was a whopping 24.50 percent.
"Thank you to those of you who have taken the COVID-19 vaccine and boosters," Health Commissioner Justa Encarnacion said in Monday's press release. "Today we have a total of seven active cases territory-wide (seven on St. Croix, 0 on St. Thomas and 0 on St. John). Last week our Epi report indicated eight active COVID cases."
Hospitalizations territory-wide total two — one at the Juan F. Luis Hospital on St. Croix and one at Schneider Regional Medical Center on St. Thomas — the release stated.
Although the number of COVID cases is at a record low, the Health Department is urging the community to continue to follow the health guidelines for preventing the spread of COVID-19, it said.
"Looking ahead to the upcoming Carnival activities, I encourage everyone attending the festivities to be mindful that the virus is still with us," Encarnacion said. "It is because of you, getting vaccinated and boosted, and following our health guidelines, that the numbers remain low. Please continue to do what you have been doing to protect yourself and your family, especially if there is someone with a compromised immune system in the household."
According to Health Department statistics, case numbers more than doubled following Carnival in 2022 — the first since such celebrations were suspended with the start of the pandemic in March 2020. Cases numbered 244 on April 22 last year, and three weeks later topped 1,100.
The Health Department continues to provide the flu and COVID vaccines for free, for as long as supplies last, to everyone age six months or older, the department said.
For information about the locations and times for vaccines, call 340-718-1311 on St. Croix, 340-774-7477 for adults on St. Thomas, and 340-777-8804, ext. 2600, for children on St. Thomas. On St. John, visit the V.I. Port Authority Gravel Lot on Wednesdays, between 1 and 4 p.m.
COVID Public Health Emergency
The Health Department also is reminding the public that the federal Public Health Emergency declared under the Public Health Service Act for COVID-19 ends on May 11. While COVID-19 is not over, the U.S. Department of Health and Human Services believes the nation is able to end the emergency phase of the response, according to Monday's release.
"However, not every benefit will immediately come to an end," Encarnacion said. "The U.S. Department of Health and Human Services will extend certain important protections to ensure that everyone has access to critical COVID-19 countermeasures such as vaccines, tests, and treatments."
Here is what to expect when the public health emergency ends:
– Coverage for COVID-19 vaccines, seasonal influenza vaccines, and COVID-19 tests will be extended through December 2024.
– Coverage will be extended through December 2024 for federal agreements that include activities related to the provision of COVID-19 countermeasures such as the vaccines and treatments.
– Once products are no longer distributed under a U.S. government agreement, coverage will no longer extend to the following activities:
– COVID-19 vaccination by non-traditional providers such as students and retirees; and COVID-19 vaccinations across state lines by licensed providers and pharmacists and pharmacy interns.
– Additionally, once there is no emergency in effect, coverage will no longer extend to all routine childhood vaccinations by pharmacists, pharmacy interns, and pharmacy technicians.
Some of the key features that will not change under the amended declaration:
– The amended declaration will not have any immediate impact on COVID-19 vaccines, treatments, and tests currently distributed by the U.S. government either now or when the COVID-19 Public Health Emergency ends on May 11.
– No change to coverage for certain prescribing and dispensing of COVID-19 oral antivirals. Liability immunity will continue to be offered for pharmacists, pharmacy technicians, and pharmacy interns dispensing COVID-19 treatments, in accordance with a U.S. Food and Drug Administration authorization, such as the oral antiviral treatments Paxlovid and Lagevrio.
– No change to the "Test to Treat" program. Pharmacists and other providers prescribing tests in the "Test to Treat" program will continue to receive liability protection.