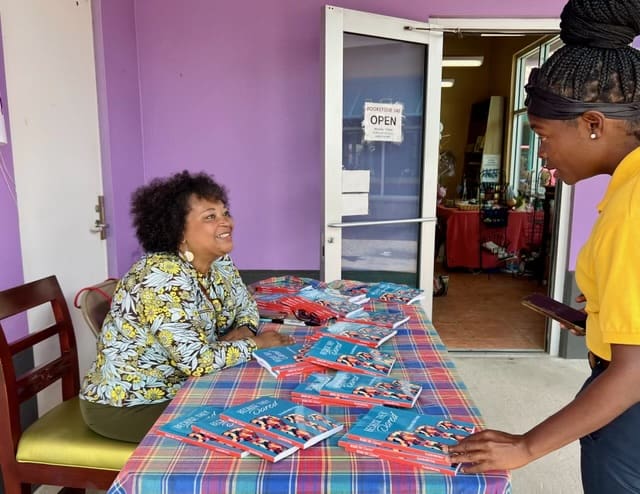 March is a special month for Virgin Islanders as well as for women throughout the world. Locally, I am pleased to note that Virgin Islanders took the time to celebrate people of note who sowed the seeds for much of the progress in the quality of life that we are witnessing today. I know some will raise their eyebrows and ask, "What progress?" But, as Virgin Islanders, we have come a long way.
On March 31 we will celebrate 106 years since our territory was transferred from Denmark to the United States for $25 million – a big deal back in 1917. Our islands are still of great value to this day.
As a territory, we have experienced much growth in just over a century. Compared to countries around the world and states in our nation, we are relatively young as a territory that was once ruled by another country where natives had no rights. We were transferred to a country that ruled us first by U.S. naval officers and then by appointed governors. Almost two decades later, we obtained a limited ability to govern ourselves through the Organic Act of 1936 when elected municipal officials in the District of St. Croix as well as the District of St. Thomas-St. John had a limited ability to lead us.
We must give our predecessors credit because, less than 20 years later, they organized and were successful in achieving more autonomy for self-government when Congress passed the Revised Organic Act of 1954. The Virgin Islands moved to a unicameral system of government, and we were privileged to elect the members of the First Legislature of the Virgin Islands. It fills me with pride to note that the first woman to be elected to the Legislature in 1954 was my grandmother Lucinda Sewer Millin. This pioneering leader who hailed from the tiny island of St. John laid a solid foundation for other women to run for office. 
It was in 1970 that our people were given our due right to elect our own head of state. Interestingly enough, Melvin Evans who was born the same year the United States purchased the Virgin Islands, became the first elected governor. He also holds the distinction of having served as the last appointed governor. Since then, we have elected eight more governors. Therefore, when people speak of trends, we have a long way to go to establish a trend of the profiles of persons who we elect to office and how they are held accountable – or not – for their performance.
Numerous notable Virgin Islanders contributed to our growth as a people by creating the infrastructure for our towns and establishing a working-class population in our territory. Sen. Earl B. Ottley, who incidentally was a student at my grandmother Lucinda's school which owned, has a place in history as an astute leader who never sought the presidency of the institution but was able to build consensus among its members in drafting and approving legislation that continues to govern us to this day. 
Senator Celestino A. White, Sr. was re-elected 11 times to the Legislature and served several times as majority leader. Residents of our public housing communities were fortunate to count him as an avid advocate for their needs. But his ability to build consensus as Sen. Ottley did makes him an integral part of our territory's history in the role that he has played in the approval of major pieces of legislation. For his efforts, he was bestowed the V.I. Medal of Honor in 2014.
Oftentimes, voters perceive much discontent among their leaders, but perception is not reality. For example, White and Senator Lorraine L. Berry, who holds the distinction of being the first senator and the first woman to have run and served 12 consecutive terms, held an interesting working relationship. They did battle on the floor of the Legislature, but behind closed doors, they were quite civil in negotiating legislation. Berry holds another great distinction of surviving the presidency during one of her tenures where she presided over two different majority caucuses in the same term – one of Democrats. The other was a coalition of Democrats and no party-affiliated members. I was pleased to author the legislation that named the Legislature's Legal Counsel building in her name.
However, the Virgin Islander who has made the most indelible mark in my life is my father Henry Allan Millin. Perhaps without knowing it, he touched far more lives than he knew. Not only did he serve as Executive Director of the Housing Authority during the time that many of the public housing communities were built, but he was also a banker of note. He rose to the position of vice president of the First Pennsylvania Bank where he facilitated many loans that allowed for widespread homeownership, commerce and transportation. He later went on to serve as the third elected Lieutenant Governor of the Virgin Islands.
Without knowing it, he served as my most impressive role model as a public servant. He stood for fairness, for justice, and for the improvement of the quality of life for his people. I endeavored to follow his footsteps in politics and I trust that he would have been proud of my efforts had he been alive to witness me serving as a senator in the Virgin Islands.
It was not my intent to write our territory's history in one piece. But, in fact, it was to highlight that none of the progress we witness today resulted in a vacuum. Indeed, ordinary, caring people rose to the challenge of running for office and made a difference. And while today many choose to distance themselves from politics because they believe that its for others to do and for the rest to stand aside, note that if we want to experience change, we must be part of it.