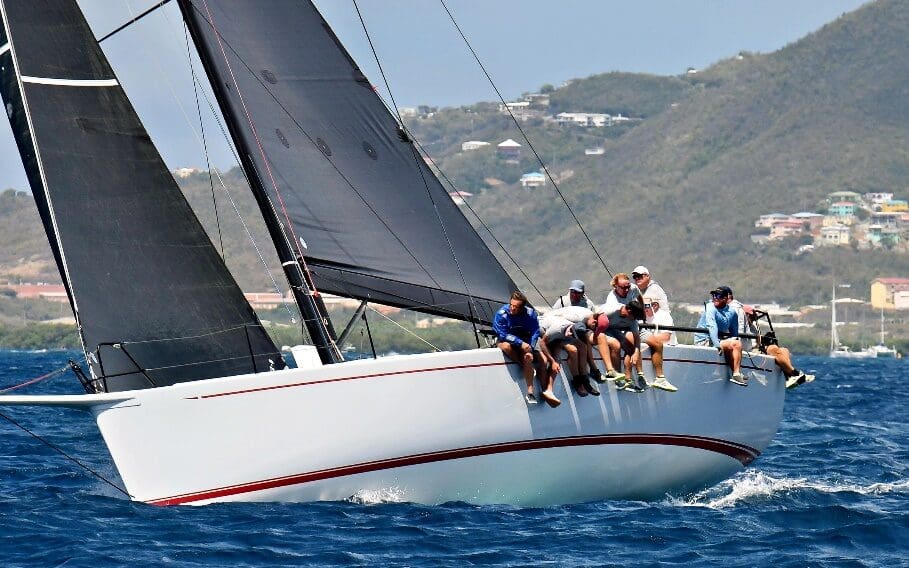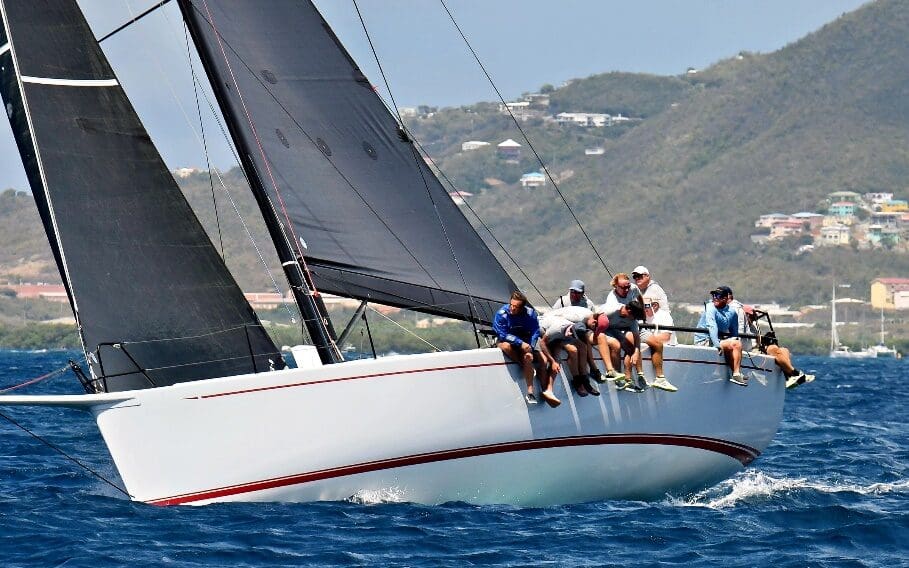 Smart starts. Minimal mistakes. Fast finishes. These are among the successful strategies of class winners at the 49th St. Thomas International Regatta, better known as STIR, which concluded Sunday.
Nearly 50 yachts, racing in CSA handicap and one-design classes, spanning from 24- to 70-foot vessels, and with skippers and crews hailing from the Caribbean, USA, Europe, and Australia, raced around the natural markers of islands, cays, and rocks in 12-15 knots of east-southeast breeze. Perfect conditions, professionally set racecourses, and parties ashore each evening proved why STIR is known as the "Crown Jewel" of Caribbean yacht racing.
Class Winners and Podium Placers
Privateer, the USA's Ron O'Hanley's Cookson 50, finished first over the USA's Jim Madden's Carkeek 47, Stark Raving Mad IX, by a mere two points.
"We raced this event last year and knew there were great conditions," said O'Hanley, from Boston, Massachusetts. "What I'm most happy about is that when we made mistakes, we recovered quickly. The team has sailed together for a long time and communicated well. That was important since we had a fleet start with two other of the CSA classes, but once off the start line it turned into a match race between us and Stark Raving Max IX."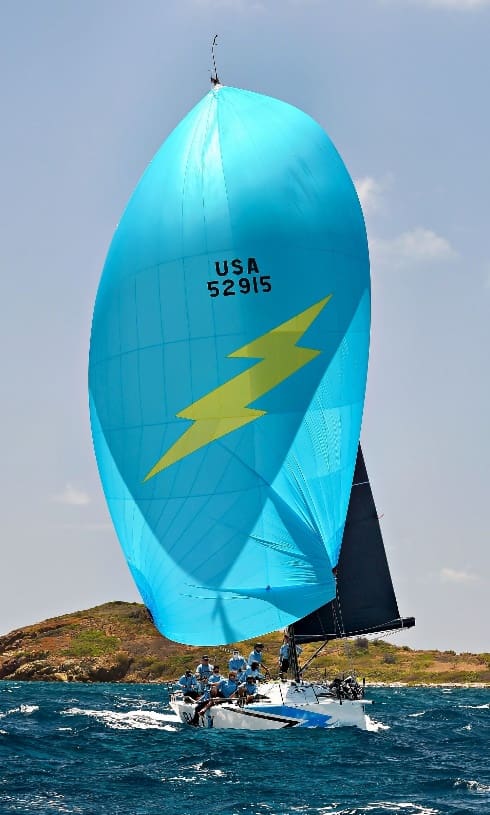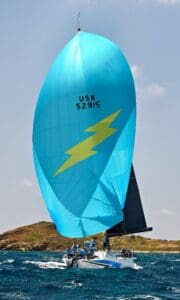 In Spinnaker Racing 1, the USVI's Peter Corr's Summit 40, Blitz, topped the class from day one to the end. The USA's Jon Desmond's Mills 41, Final Final, was second.
"Our strong points were practicing before the event, a mind set on what we had to do, and then making it happen together as a team," said Corr. "Each of the boats in our class sailed well and they both caught us a couple of times. Our strength was consistency."
The USA's Sandra Askew and her crew on the Cape 31, Flying Jenny, scored six place finishes to handily win this highly competitive class. The USA's Marc McMorris maintained second on his Cape 31, M2.
"A great crew," said Askew, when questioned about the team's secret to success. "We have U.S., U.K., and Australian crew and the boat responds well when its sailed well. The Cape 31 does especially well in the Caribbean's breezy conditions, and the coastal racing was fun and scenic. We hope more members of the class will come next year."
In Racer Cruiser 3, the Dominican Republic's Joan Rodriguez's Beneteau First 40.7, Lady M, stretched its lead with a third and final day of first-place finishes. Puerto Rico's Jerome O'Neill's J/39, Crystal, came in second.
"We raced here 20 years ago on Celtic V and have a fair knowledge of the race courses. This year, we practiced beforehand to be competitive. We aimed to have clean starts and play the course as well as we could. During these last three wonderful days, the windy conditions were tough so taking care of boat handling was a key point and then we focused on boat speed and safe maneuvers," said Rodriguez.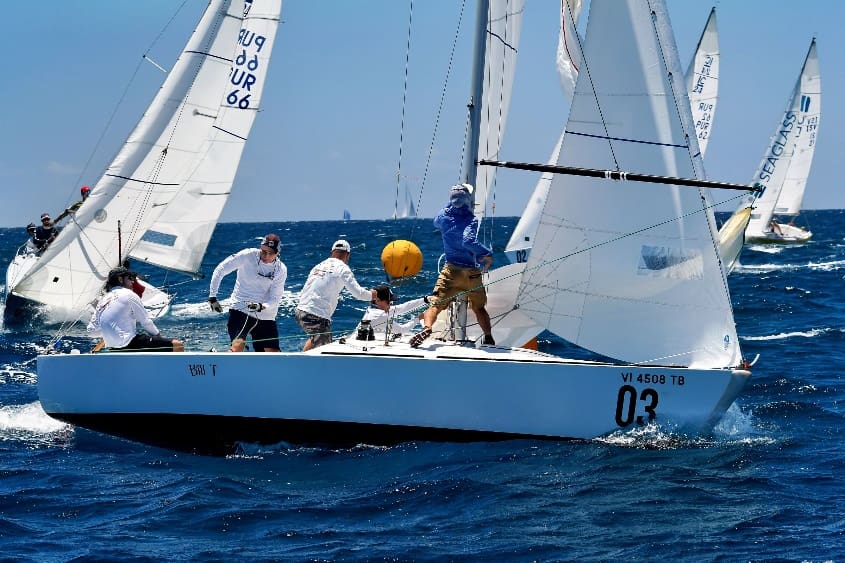 A first likely in the two-decade-plus history of the One-Design IC24 Class at STIR, St. Thomas' USVI two-time Olympic Laser sailor, Cy Thompson on Bill T, posted a double-digit 18-point lead to win. St. Croix, USVI's Scott Stanton's Big Island, held and soundly scored second.
"Everyone looks at the helmsman, but it takes a good crew to do well and that's what he had. We never wrapped the spinnaker nor shrimped the kite. Mistakes were minimal and minimized. I think an advantage I bring from Olympic campaigns is fleet management and that works well in the IC24 class," said Thompson.
In the 8-boat Hobie Wave class, St. Thomas' Niall Bartlett on FiDeLa triumphed with nothing less than firsts.
"Age and wisdom, that's all I can say," said Bartlett. "The kids in the class got stronger with each race and I think in coming years we'll be watching them sail towards the horizon."
In other awards, the USA's David McDonough and his crew aboard the J/42, Trinity IV, earned the inaugural presentation of the perpetual Arthur J. Wullschleger Happy Days and Never Better Award. Wullschleger, nicknamed Tuna, was a veteran International Sailing judge with events from the America's Cup to STIR under his belt. As a longtime STIR judge, Wullschleger was known for his toasts to "Happy Days" and saying in response to inquiries about his well-being "Never Better." As the trophy is inscribed, it will be "presented to the yacht the demonstrates the highest level of positive attitude, enthusiasm, and camaraderie on both the racecourse and ashore."
Full results for STIR 2023 are at https://yachtscoring.com/emenu.cfm?eID=15496. To relive the fun via daily photos and recaps, check out STIR on Facebook (www.facebook.com/stirvi), Twitter @stirvi, and Instagram #STIRVI.
STIR organizers thank the USVI Department of Tourism; The Moorings; Cardow Jewelers; Bacardi Rum, Milagro Tequila, Stoli Vodka, and Leatherback Craft Beer, distributed by the West Indies Company, and Carib Beer and Coors Light, distributed by Bellows International; Ocean Surfari; and The K3 Company for strong sponsor support.
For more information, visit www.stthomasinternationalregatta.com, Email: manager@stthomasyachtclub.org, or Regatta Co-Director Pat Bailey at simpleislandboy51@gmail.com  or call 340-775-6320.
Top 3 Results – 2023 St. Thomas International Regatta
 CSA 0
1. Privateer, Ron O'Hanley, USA (12)
2. Stark Raving Mad IX, Jim Madden, USA (14)
CSA 1
1. Blitz, Peter Corr, USVI (10)
2. Final Final, Jon Desmond, USA (16)
3. TAZ, Bernard Evan-Wong, ANT (22)
CSA 2
1. Flying Jenny, Sandra Askew, USA (11)
2. M2, Marc McMorris, USA (18)
3. Smile and Wave, Jaime Torres, PUR (20.5)
CSA 3
1. Lady M, Joan Rodriguez, DOM (6)
2. Crystal, Jerome O'Neill, PUR (13)
3. Wild T'ing, Lawrence Aqui, USVI (21)
IC24
1. Bill T, Cy Thompson, USVI (21)
2. Big Island, Peter Stanton, USVI (39)
3. A Mi Paso, Agustín Lázaro-Lugo, PUR (51)
Hobie Wave
1. FiDeLa, Niall Bartlett, USVI (14)
2. Blue Flame, Pierre James Zani, USVI (31)
3. Nuts, Ian Bartlett, GBR (32)