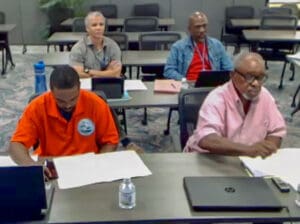 Commissioner Jean-Pierre L. Oriol of the Department of Planning and Natural Resources informs the public that a St. Thomas Coastal Zone Management (CZM) Committee meeting is scheduled for 4 p.m., Thursday, Feb. 9. To help reduce the global spread of the coronavirus (COVID-19), this meeting will be held via the video conferencing platform Zoom.
The agenda is as follows:
Decision Meeting (public testimony will not be heard)
Major CZM Permit No. CZT-02-20(L) Universal Concrete LLC requests permission to modify the existing permit to reflect the relocation of the concrete plant from Parcel No. 149B Submarine Base to Parcel No. 149
Remainder Submarine Base, No. 6 Southside Quarter, St. Thomas, Virgin Islands. Furthermore, the permittee requested that minor changes to the actual size of the building constructed be included. The permittee decided on the relocation to make the project more environmentally sustainable. Said permit allowed for the construction of a concrete plant with a two-story office building, concrete lab, 27,000-gallon cistern, mechanics shop, four 12' x 20' aggregate storage bays, a cement tanker, the batcher assembly and the hopper/silo assembly. There will also be parking for the concrete truck fleet and six parking spaces for cars.
Major CZM Permit No. CZT-3-18(L) VIGL Operations, LLC requests an extension to continue its scope at the Clinton E. Phipps Racetrack. Furthermore, the permittee has also requested permission to assign and transfer said permit from VIGL Operations LLC to Southland Gaming of the Virgin Islands Inc. The project site is located on Parcel No. 36, 25A and 24Be Estate Nadir as well as 4D Estate Bovoni, St. Thomas, USVI.
Public Hearing (public testimony will be heard)
Major CZM Permit Application No. CZT-08-22(L) Assetco Leasing Inc. subleases the proposed project site to Carib Supply, which operates an industrial and medical gas supply business. Assetco Leasing Inc. proposes to repair the hurricane-damaged 4,000-square-foot metal frame structure. The project site is located at Parcel No. 13 Crown Bay Fill, St. Thomas.
The application is available for public review on the DPNR-CZM Website https://dpnr.vi.gov/coastal-zonemanagement/what-we-do/coastal-zone-permitting/.
Furthermore, plans for the proposed project are on file for review by appointment only at the Department of Planning and Natural Resources, Division of Coastal Zone Management, which is located at 4611 Tutu Park Mall Suite 300, St. Thomas, USVI [774-3320] between the hours of 9 a.m. and 4 p.m., except holidays.
Properly signed statements concerning the proposed project addressed to the undersigned will become part of the hearing record. Written statements must be submitted by Feb. 16 via email to czm@dpnr.vi.gov.
The following information should be used to participate in the meeting:
URL: https://us02web.zoom.us/j/85980086655?pwd=TnpPWDh4Ui9DSmRlQjAxTms0aHRhUT09
Meeting ID: 859 8008 6655
Passcode: 935153