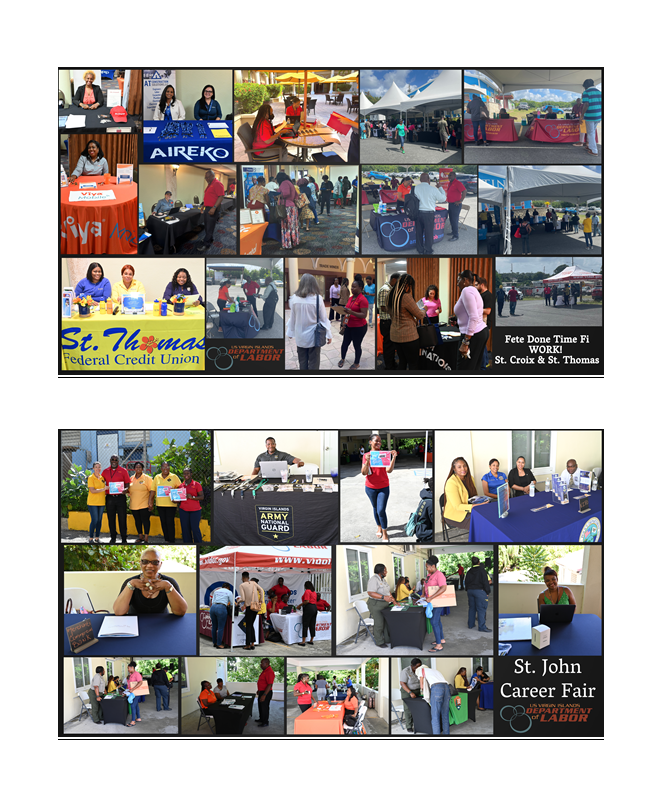 Labor Commissioner Gary Molloy and the V.I. Department of Labor's Workforce Development team, led by Director Charlene Hodge, report that nearly 400 job seekers received service from November 2022 to January 2023 during various career fairs.
Applicants were given an opportunity to network with over 60 employers who offered job opportunities in numerous career fields. Participants who took part in the career fairs left many positive reviews and suggestions for future events.
Dish Network Sales and Marketing
Coordinator Lyle Gumbs, who has benefited from Labor's career fairs in the past, said, "We look forward to continuously working with the Department of Labor. It is a mutually beneficial relationship."
The department thanks its sponsors, such as the Commissioner of Education Dionne Wells-Hedrington, Julius E. Sprauve Principal Michelle A. Rogers-Bully, the president of the 34th Legislature Donna Frett-Gregory, St. John Legislature Director Loren Abrahamson-Williams, the Commissioner of Sports Parks and Recreation Calvert A. White, Deputy Director Elroy Hill, Recreation Officer Kerla Fessale, Richard Lanclos, Caneel Bay, Sion Farm Distillery, Mutiny Island Vodka, the Windward Passage Hotel, Workforce 180 and everyone who helped to make the hiring events a success.
For more information about the V.I. Department of Labor's job opportunities and training programs, register at www.vidolviews.org or visit www.vidol.gov. Individuals also may contact the Workforce Development Division at 773-1994 on St. Croix or 776-3700 on St. Thomas. Follow DOL on Facebook for its latest news and announcements.