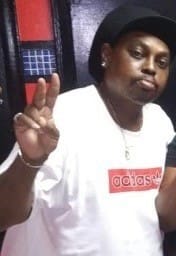 Fidel Castro Ostalaza, better known as "King Fidel," died on Dec. 8 at his residence.
He was preceded in death by father, Juan Ostalaza; and mother, Lillian Hodge Ostalaza.
He is survived by his daughters: Shamika Ostalaza, Shaniqua Ostalaza and Sanika Ostalaza; and sons: Akeem Ostalaza, Fidel Ostalaza Jr., Malik Ostalaza and Shakeem Ostalaza; granddaughters: Shamiqua Ostalaza, Je'Maya Phillip, Sy'esia Ludvig, Shanye Ostalaza and Saniya Ostalaza; and grandsons: Fidel Ostalaza Jr., Shakeel Ostalaza, Christoper Bachan and Christian Bachan; brothers: Ronald (Azula) Ostalaza and Allie Ostalaza; sisters: Carmen Ostalaza, Linda Ostalaza; Denise Ostalaza and Minister Ana Maria Creque; uncles: Geraldo Hodge Jr., Gilbert Hodge and Keith Schneider; and aunts: Geraldine Hodge, Gwendolyn Hodge, Merle Dennis, Yvonne Hodge May, Juliet Ortiz and Janice Hodge.
He is also survived by nephews: Alston Jr. and Deshawn Creque, Shomari Ostalaza, Azula Jr. Ostalaza, Elijah Ostalaza, Jamal and Sabu Abramson, Joshua Labeet, Jermaine Parrilla, Jahlah Parrilla, Juan Parrilla III, Simba and James Marshall; and great-nephews: Teo Thomas, Harmony Ostalaza, Shomari Ostalaza Jr., Azula Ostalaza II, Jaylen Benjamin, Jaden Storment, Leonardo Nucci, Liam Lewis, Lucas Lewis Levi Lewis, Drew Hugh, Tommy Howard Jr. and Jayden Howard, Ethan Parrilla, Kobe Parrilla and Romeo Parrilla; nieces: Peaches, Kaya, Kayan, Alisha Ostalaza, Sanika Abramson, Stephanie Lyghts, Bobbie Jean Lewis, Lydia Lee and Lucia Lee Nucci, Kyra Labeet, Kema Labeet, Yolandita "Ponchie" Abbott and Kimberly Atkinson; and great-nieces: Lala Storment, Sofia Nucci, Simone Boyn, Tia Lee, Amaya Furse, Leanna Kaine, Elana Parrilla, Cienna Parrilla, Serenity Parrilla and Jasmin Abramson.
Other survivors include cousins: Rivo Hodge, Maria Hodge, Rachel Hodge, Brenda Lockard and Laurel Chesterfield; sister-in-law, Marlene Ostalaza; brother-in-law, Alston Magic Creque Sr.; Sharon Creque, Kishma Creque, Dexter Creque, and Ulric Creque; and special friends: Mary Petersen, Mary A. Hunter-Austin, Bernice Hodge, Roger Storment, Max Nucci Bongiomi, Diamond Carter, Vecente Britt, Jacquelene Parrilla, Maria Parrilla, Yazmin Parrilla, Jerome Lake, Danley Cuffy, Michelle Martinez, Barbara Lyghts, Huelon Lyghts, Shirley Robinson, Clara Lewis, Acelia Vincent, Vernell Stevens, Irene Williams and family, Monsanto family, Clendinen family, Barry family, Hodge family, Creque family, Labeet family, Lyghts family, White family and Braithwaite family.
Arrangements are by Turnbull's Funeral Home and Crematory Services.
The first viewing at Turnbull's Funeral Home will be held from 4-6 p.m., Wednesday, Jan. 4.
A second viewing will be held from 10-11 a.m., Thursday, Jan. 5, followed by a church service at 11 a.m. at Word of Faith International Christian Center, 8354 Estate Contant (Old Mill), St Thomas, VI 00802. (340) 774-8617.
Interment will be at East End Smith Bay Cemetery.
Tributes and messages can be emailed to: tributesfidelostalaza@gmail.com no later than Tuesday, Dec. 27.
Monetary donations toward the funeral costs can be sent to PayPal@shaniquaostalaza