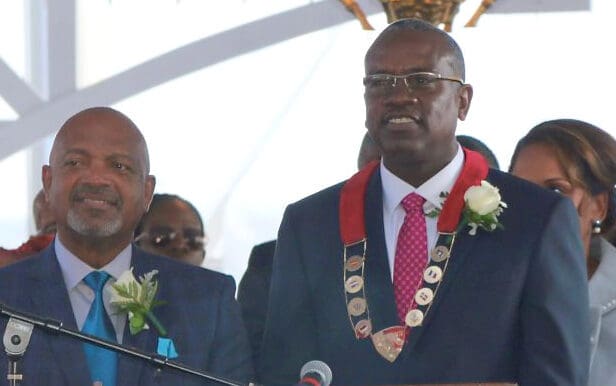 Gov. Albert Bryan Jr. and Lt. Gov. Tregenza Roach will welcome the new year with inauguration celebrations on all three islands, starting Jan. 2 on St. Thomas with the official swearing-in ceremony at Emancipation Garden.
"The all-island events of this inauguration, from church services and parades to community receptions and the evening inaugural balls are free of cost," the administration announced on its inauguration website.
However, tickets for the balls on each island are required for admission, with no exceptions, it said. Guests may reserve a spot through the Eventbrite portal on the website and will be instructed where to pick up their free tickets once they are available, according to the site. The ticket portal was not yet active as of Monday morning.
The celebrations — Jan. 2 on St. Thomas, Jan. 3 on St. John, and Jan. 4 on St. Croix — are funded with a $250,000 appropriation by the V.I. Legislature, according to Government House.
On St. Thomas, the tentative schedule includes an invitation-only Mass at 8 a.m. Jan. 2 at Sts. Peter and Paul Cathedral in downtown Charlotte Amalie, followed by the swearing-in ceremony at 10:30 a.m. at the David Monsanto Bandstand in Emancipation Garden. A military parade is scheduled for 1 p.m., followed by an open house reception at Fort Christian at 2 p.m. An inaugural ball at 7 p.m. at Yacht Haven Grande will wrap up the day's events.
On St. John, an invitation-only Mass will take place at 9 a.m. on Jan. 3 at Our Lady of Mount Carmel Catholic Church in Cruz Bay, followed by an introduction of the governor at Frank Powel Sr. Park at noon. A public reception will be held at 1 p.m. in Meada's Garden, also in Cruz Bay.
On St. Croix, an invitation-only Mass will be held at 9 a.m. on Jan. 4 at St. Patrick's Catholic Church in Frederiksted, followed by a military parade at 11 a.m. through the town's downtown. A post-inaugural ceremony will take place at noon in Buddhoe Park, with an open house reception at 2 p.m. at the Arthur Abel Complex. The inaugural ball will be held starting at 8 p.m. on the polo grounds at Estate Cane.
For more information, email info@inaugurationvi23.com, visit the inauguration website, or the Bryan/Roach inauguration Facebook page. All dates are tentative and subject to change, according to the website.
Bryan and Roach were reelected to a second term with the General Election on Nov. 8, making Bryan the ninth elected governor of the U.S. Virgin Islands.