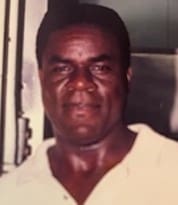 Your life was a blessing, your memory a treasure. You are loved beyond words and missed beyond measure.
The family of Vernon St. Clair Prentice Sr., better known as "Boris," cordially invites you to join in celebrating his life on Saturday, Dec. 3, at Nazareth Evangelical Lutheran Church with a viewing from 9 a.m. to 10 a.m. and service to follow at 10 a.m. Interment will be at Cruz Bay Cemetery, St. John, USVI. Professional funeral services are entrusted to Turnbull's Funeral Home and Crematory Services.
Mr. Prentice is survived by wife: Merle Morton Prentice; mother, Eulalie Norland; adopted mother, Doreen James; daughter, Angela Prentice Marshall; sons: Vernon Prentice Jr., Vance Prentice, Neal Prentice Sr., Shawn Prentice Sr. and Vanel Prentice; and grandchildren: Amanda, Ashley, Anglica and Monique Marshall, Kezia, Vernisha, Jasmyn and Nia Prentice, Justin Marshall, Vernon Prentice III, Neal Prentice Jr., Shawn Prentice Jr. and Shain Prentice.
He is also survived by great-grandchildren: Zariana, Dezonique Marshall, and Jevonique Hamilton; children: Shanyla Powell, Sha Rayah Williams, Ma'Kez Prentice J'Kwon, Dakahral, Jevon Marshall, Meziah Liburd and Maaliq Williams; sisters: Claristine Claxton, Angela Garrett and Ingrid Noland; brothers: Claude Claxton, Eloret "Priest" Prentice, Ian Prentice, Trevor Noland, Gregory Noland and Hugh Malieliew; aunts: Margaret Foster, Alanda Davies, Althea Ruan, Melda Simmons, Linda Mitcham, Hilary Lewis and Angela Francis Duport; and uncles: Gilbert Francis, Gene Francis, Calvin Francis, Emile Brown and Earl Barlett.
Other survivors include sisters-in-law: Thelma Claxton, Inez Morton, Yvonne Morton, Averal Morton and Marcella Morton; brothers-in-aw: Bobby Morton, Kirt Morton, Rudolph Morton, Nathaniel Morton, Willroy Morton and Dexter Morton; special niece, Paula Claxton; nieces: Jaslene, Diana, Karen and Edina Williams, Elaine Hutchinson, Urena, Myrna, Paula, Diana, Caroline, Jascinth and Angela Claxton, Shashu, Leandra Prentice, Fernella Prentice, Tavique and Kayla Malieliew, and Rachel Liburd; nephews: Errol Blyden, Claude Sr., Gene, Keith Sr., Stedroy, Bernard, Keith, Donald Claxton, Gene, Darren, Jamal, Kayode, Attallah Noland, Earl Prentice, Joshua Liburd, Brian, Vieoence and Quincy Prentice; family and friends: Derrick "Beige" Liburd and family, Kenneth Liburd and family, St. John Taxi Stand — Roosevelt David, Sam and Evette, Orvin Pork Bread, Ruben Mead and family, Anne (nurse) and family, Cobbie, Cynthia, Michelle and family, Caneel Bay crew, Shaneil Industrious, Pastor Dennis and Rachal Estridge, Noel Boynes and family, as well as the Prentice, Claxton, Brown, Liburd, Francis, Stapleton and Marshall families.
Booklet tributes can be submitted to vernonprenticetributes@gmail.com by noon, Monday, Nov. 28.