Charlie Pozen, a biology teacher and head of the science department at the Virgin Islands Montessori School and Peter Gruber International Academy on St. Thomas, has received a prestigious award from the National Association of Biology Teachers.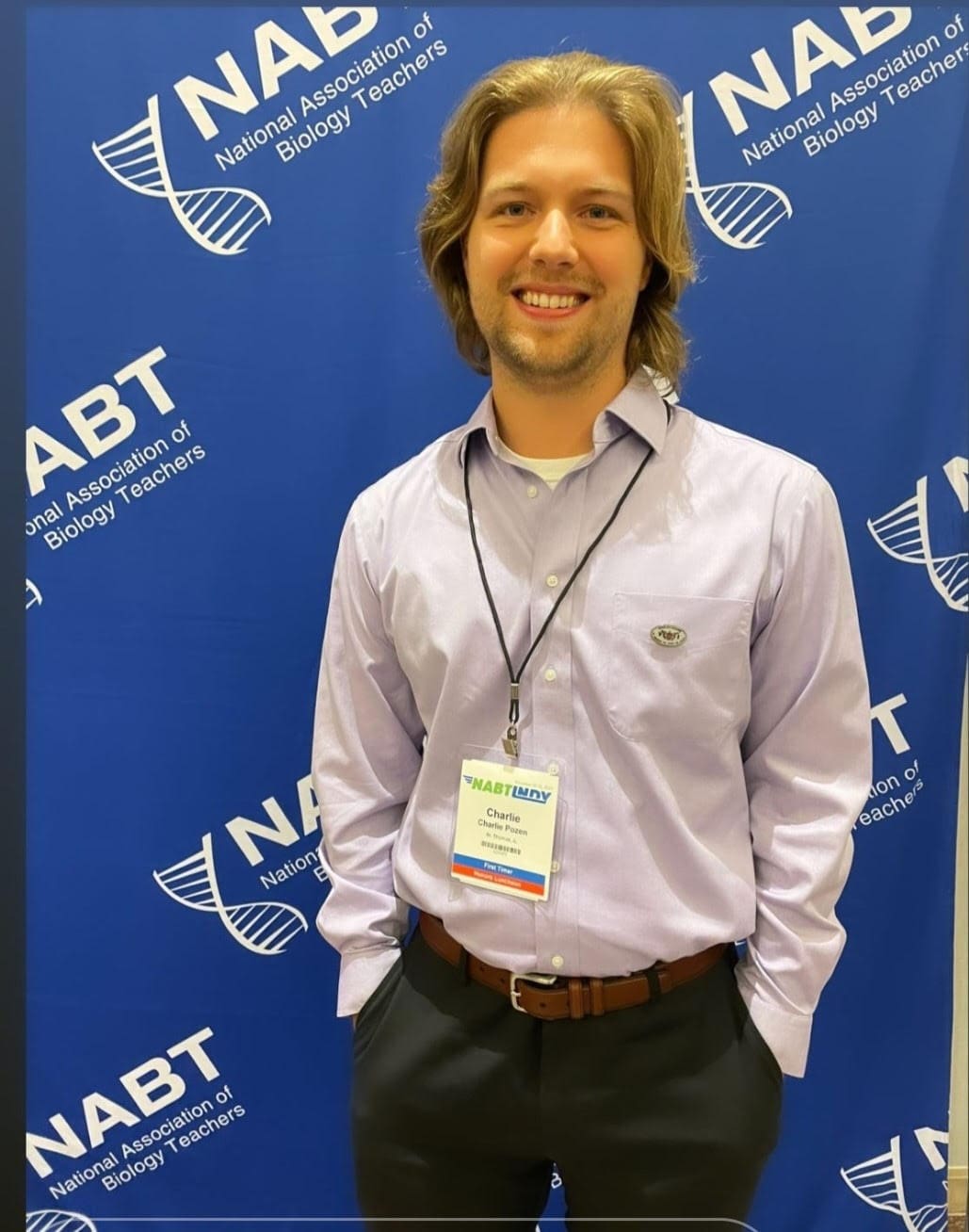 The "Outstanding Biology Teacher Award" is an honor given to a select number of accomplished educators from U.S. states and territories, and they must meet certain criteria to be considered.
"Every year, the Outstanding Biology Teacher Award program attempts to recognize an outstanding biology educator (grades 7-12 only) in each of the 50 states, Washington, D.C., Canada, Puerto Rico, and overseas territories," according to the NABT website. "Candidates for this award do not have to be NABT members, but they must have at least three years of public, private, or parochial school teaching experience. A major portion of the nominee's career must have been devoted to the teaching of biology/life science, and candidates are judged on their teaching ability and experience, cooperativeness in the school and community, and student-teacher relationships."
Pozen, who is originally from Illinois, spoke to the Source about his recent accomplishment and recognition as a teacher at VIMSIA.
"I graduated from Elmhurst College in Illinois in 2017 with a Broadfield Science Degree and license in secondary education. I taught a variety of science courses at Lyons Township High School [in LaGrange, Illinois] for three years before moving to the Virgin Islands with my wife. [We] both teach at VIMSIA," said Pozen.
"This is my second school year teaching at VIMSIA and I was recently promoted to head of the science department," Pozen continued.
A Student-Centered Environment 
Pozen, who has had a love of biology and science ever since he was a student himself, discussed his enthusiasm and passion for biology with his students.
"Science is all about learning how to ask the right questions. As a student, I was very curious about how things worked. This is something that I bring into my classes; I teach in a student-centered environment. This means that my students are the ones asking questions and figuring [out the answers]. I view my job as . . . [being] a facilitator of learning in my class," added Pozen.
Inspiring and Contributing to the USVI 
Pozen hopes to share inspiration with individuals interested in a career in science, technology, engineering, and math (STEM) in the U.S. Virgin Islands.
"One of my favorite things about teaching science is that I can introduce my students to a variety of STEM careers. The job market can be very uncertain at times, but STEM careers are well-paying, in high demand, and can challenge the individual. I hope that as a science teacher, I can take the opportunity to harness all of my students' interests and questions and be able to give my students a new perspective on what careers may be ahead of them," Pozen explained.
"I hope that my work on the USVI can encourage other science teachers to teach in the Virgin Islands. Being around so much marine, tropical, and biodiverse life is very inspiring [for a teacher]. I hope to change the view of science education by continuing to work on writing and sharing a modern student-centered curriculum and to show that there is more to teaching than just lecturing," said Pozen.
Pozen accepted his award earlier this month in Indianapolis, Indiana, at the 2022 NABT Professional Development Conference.