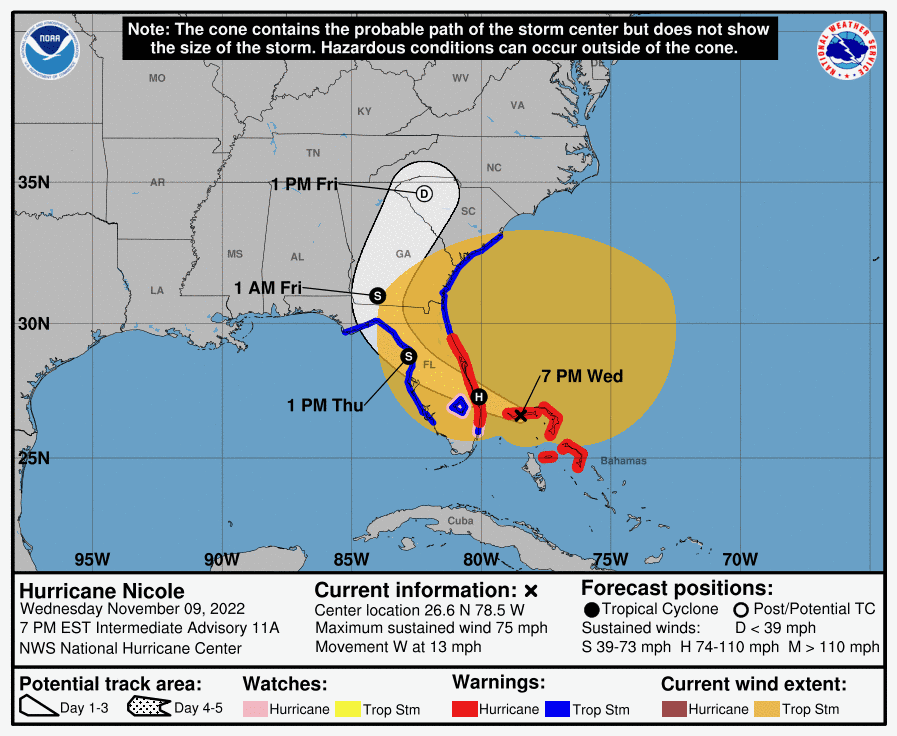 The weather system that brought heavy rains and flooding to the USVI and Puerto Rico last weekend is now located over the Bahamas. As of Wednesday night, it has strengthened into a Category 1 hurricane.
Hurricane Nicole — the 14th named storm of the 2022 Hurricane Season — is expected to make landfall on the east coast of Florida near Port Saint Lucie early on Thursday morning. The system is expected to then cross over the state of Florida and head north.
As of an 8 p.m. AST update from the National Hurricane Center on Wednesday night, Hurricane Nicole was located near the northwestern islands of the Bahamas. Maximum winds were approximately 75 mph, and multiple hurricane and tropical storm warnings have been issued for portions of the Bahamas and Florida.
Airports across Florida are reportedly experiencing cancellations and delays. Daytona Beach International Airport, Palm Beach International Airport, and Orlando International Airport have announced scheduled closures due to the hurricane, and delays and cancellations are being reported at Ft. Lauderdale/Hollywood International Airport and Miami International Airport.
Travelers into and out of the USVI are advised to check their flight status.
Hurricane season ends on Nov. 30, and tropical cyclone development is possible for several weeks.
Residents and visitors in the Virgin Islands are encouraged to stay updated on weather systems on the Source weather page and sign up for alerts from the National Weather Service and the Virgin Islands Territorial Emergency Management Agency.