During Tuesday's budget hearing for the Committee on Finance, senators received testimony on transfer requests for the 2022 fiscal year for the Departments of Education, Health, Human Services, Labor, and Public Works.
According to Jenifer O'Neal, director of the Office of Management and Budget, the Department of Education seeks to transfer $6,562,863, the Department of Labor – $989,374, the Department of Public Works – $1,984,444, the Department of Health – $95,000, and the Department of Human Services – $4,281,000. Several representatives from the departments were present.
Justa Encarnacion, commissioner of the health department, said the Department of Health wants to use funds to lease four buildings for Behavioral Health due to mold in their current modulars. The Department of Public Works, according to its commissioner, Derek Gabriel, requested funds for cemetery wall repairs, a roll-on-roll-off truck for debris cleanup in St. Croix, and beautification of the Melvin Evans Highway and east airport section. The Labor Department wants to utilize funds for deficient AC ducts, the installation of fire suppression systems, to modernize workstations, and a mobile unit for outreach and accessibility in the St. Thomas-St. John district for their Workforce Development division, according to Maurice Wells, director of business administration.
According to commissioner Kimberly Causey-Gomez, the Human Services department wants funding for additional generator and bathroom renovations at Knud Hansen, repairs at the St. John Multi-purpose Center, $5,000 payouts for nine centenarians over 100 years old, and to update an antiquated phone system. Lastly, the Education department, according to Deputy Commissioner Kimo Smith, seeks the transfer of funds for school enhancements, equipment, and rental fees.
Smith said, "We have requested $6,562,862 to meet urgent needs within the department." In our main complex at the Virgin Islands Department of Education, we have environmental issues we've been dealing with, so we're requesting some of those funds to be able to outfit a Crown Bay location which we will be renting."
Smith added that improvements to IT infrastructure, sporting uniforms and equipment, school desks, chairs, uniforms for kitchen staff, custodians, monitors, equipment for kitchens, a parking lot, and paint will be purchased with funds.
"Funding is to be able to lease the parking lot that is adjacent to the school," said Kemo Smith of the "C1" property adjacent to the east of the Charlotte Amalie High School.
Smith added that the property will cost approximately $1.1 million to lease for two to three years for personnel parking as the department works to demolish CAHS. He said that the parking lot will cost approximately $330,000 a year for about ¾ of an acre.
Chair Kurt Vialet responded, "We are not going to appropriate money for three or four years of a lease agreement. If you have a lease agreement, we do it for one year at a time." He added, "They have received a couple hundred thousand per year for that land…they have already received over a million dollars for less than an acre."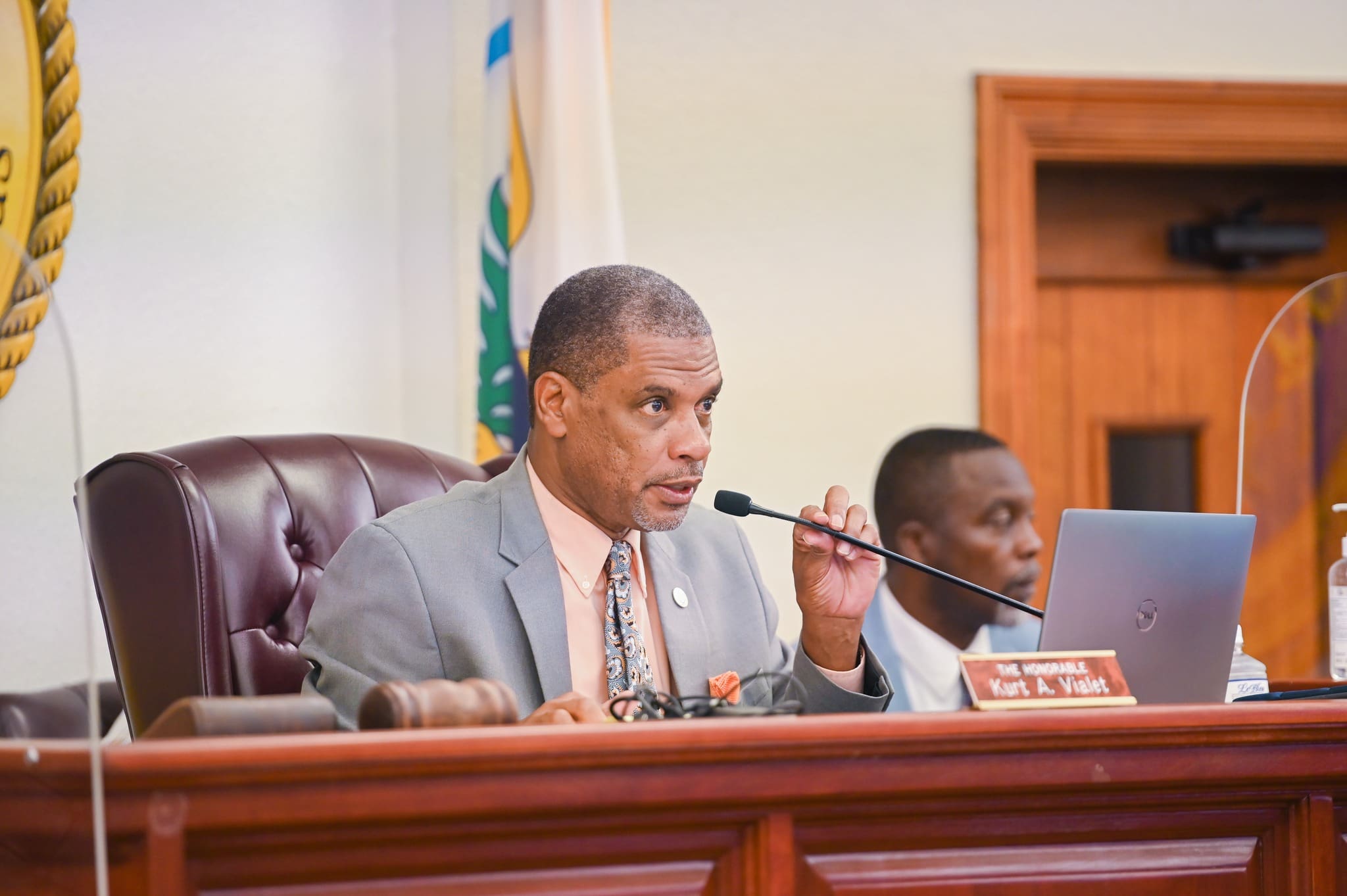 "I am extremely concerned that VIDE is aching for some $2.1 million dollars in supplies," said Frett-Gregory. She added that she needed a "clear drill down" on the use of the funds as the department received millions in American Rescue Plan Act funding.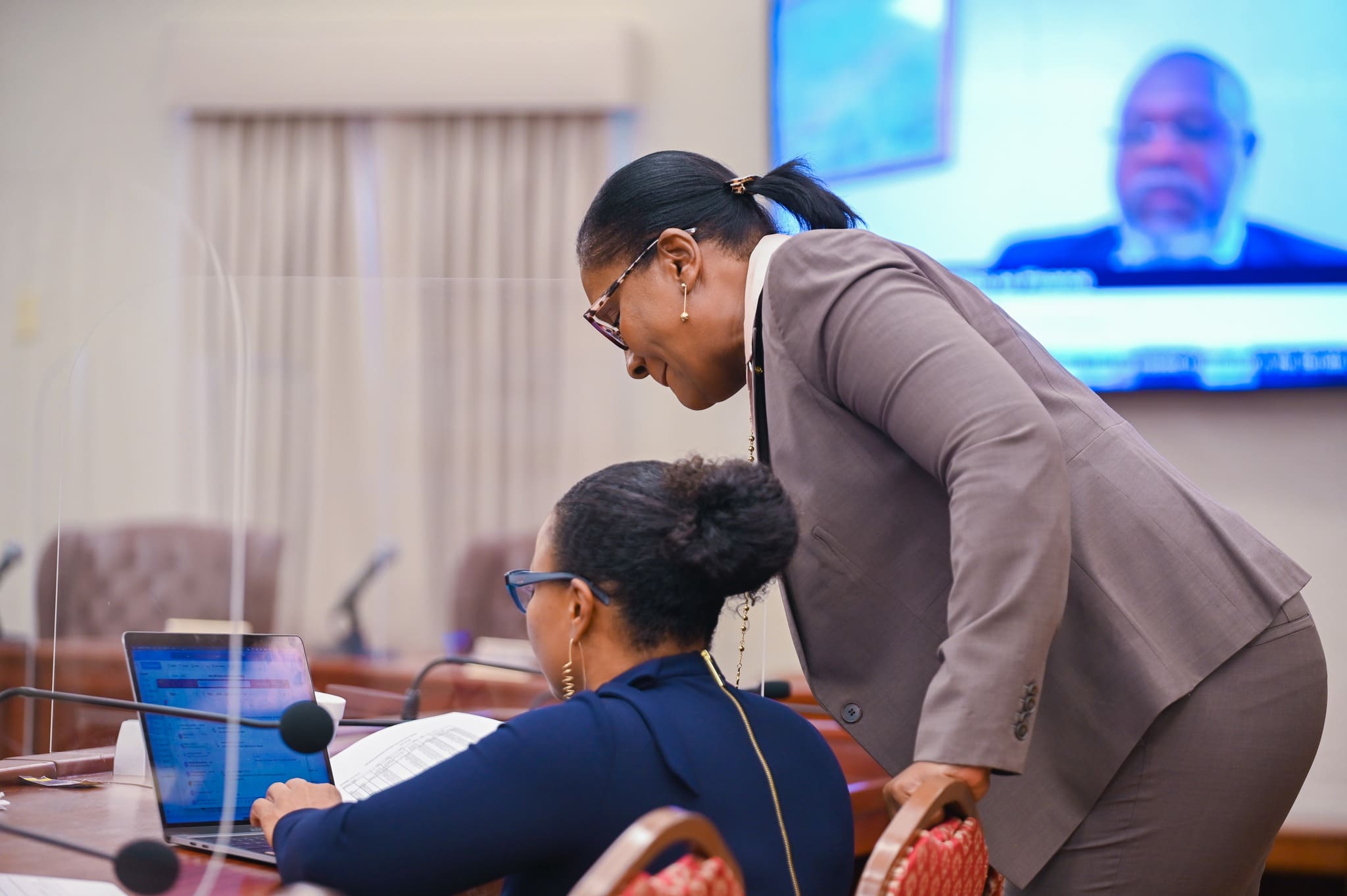 In addition, most departments mentioned that funds will be used to improve air conditioning at their locations.
"I'm noting that everyone has issues with their ACs … Do these ACs have maintenance contracts," asked Sen. Marvin Blyden.
Causey-Gomez replied no.
"If we don't have service contracts, it's going to cost us more," said Blyden.
Additionally, the Health Department noted that they are facing issues with their buildings. In response to the current conditions of modulars, Encarnacion stated that her department has engaged in "repeated testing, fogging, cleaning, maintenance of AC units, deployment of industrial dehumidifiers, air purifiers, construction," and more, and added that "We've allowed staff to work remotely … it's a combination of mold and other environmental factors."
In response to the appropriations, however, Sen. Dwayne DeGraff disagreed with the transferring of funds.
"That's a no-no," he repeatedly said. "When I see they have bargaining units waiting to negotiate to pay the employees wage agreements, we provided the [2023] budget…, but to now do a transfer to move money, especially all of the departments moving money from personnel or fringe from personnel or fringe, I can't support that."
When asked by Sen. Novelle Francis Jr. if there is no other source of funding for the departments, O'Neal replied, "The funding really is what would expire at the end of this month if not used for any other purpose."
She added, "This particular funding is from the General Fund and will expire at the end of September if these are not approved. There is no other source at this point."
"Where it going? It's staying in the bank account, right? Ain't like we losing it," said Francis Jr. of the funds. "Let's not make it look like it's use or lose. That's not the case here."
After questioning by the body, it was decided that the transfer requests would be further evaluated before a decision is made.
"We are going to revisit those areas, and we will be having a discussion with each of the entities, and then the Committee on Finance will make a determination as to which of the appropriation transfers we will approve. Some might be a smaller number, and some might be not at all," said Vialet.
He added that the committee will convene on Friday to further discuss the appropriation transfers.
Sens. Kurt Vialet, Marvin Blyden, Donna Frett-Gregory, Dwayne Degraff, Samuel Carrion, Javan James, Sr., Janelle Sarauw, Novelle Francis Jr., Angel L. Bolques, Jr., Kenneth Gittens and Carla Joseph were present.