On Monday, the Senate Committee on Education and Workforce Development received testimony from the Department and Board of Education about the status of after-school programs, kitchen equipment, school bus transportation, school safety, staffing, learning loss prevention, and sports programs.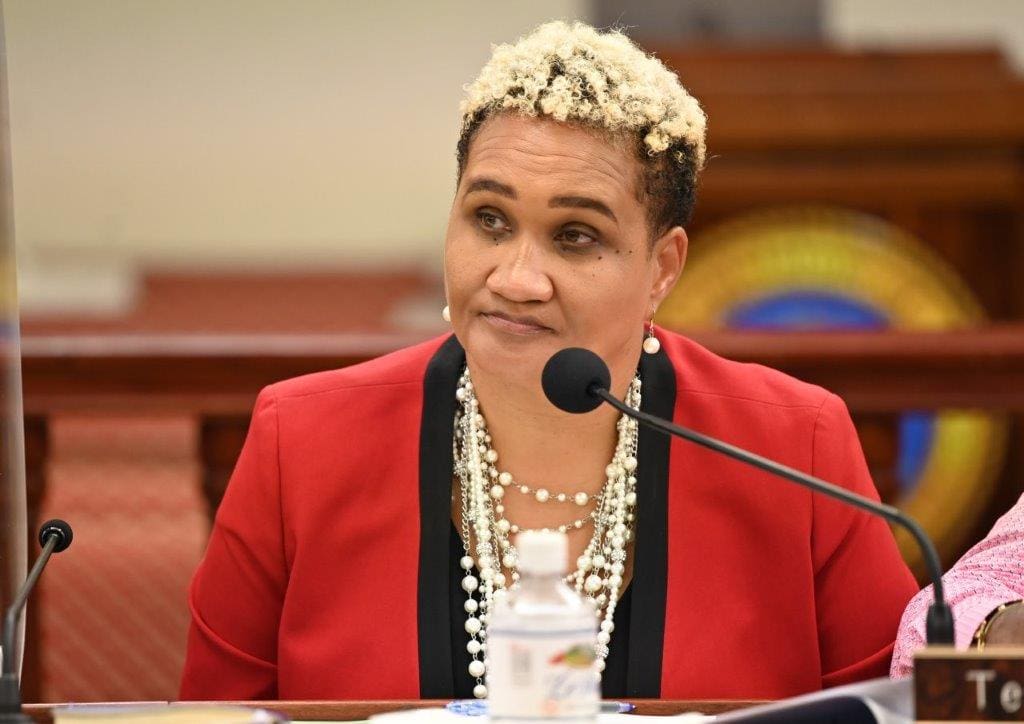 Commissioner nominee Dionne Wells-Hedrington, Superintendents Ericilda Ottley-Herman, Victor Somme III, Stephan Jurgen, and Board Chairman Kyza Callwood were present to testify. Overall, senators urged officials to take proactive measures to address school needs.
"Is everything fixed? No. Are we perfect? No. But we are willing to have those difficult conversations, find solutions to our myriad of problems and work closely with all stakeholders to make sure that our schools are exceptional learning communities," said Wells-Hedrington.
Schools began instruction on Aug. 8. Wells-Hedrington pointed out several issues being faced by students and staff. Decaying buildings, teacher shortages, and increasing aggression amongst students were areas of concern. She also identified that outside of school, in the personal lives of students, some are facing poverty and low-income households, causing some students to join the workforce to support their households financially.
Sen. Carla Joseph asked Wells-Hedrington to objectively grade the safety of schools in the territory. Wells-Hedrington provided a grade of C minus, to which Joseph agreed.
Pertaining to the St. Croix district, as he addressed school violence, Victor Somme III said that "the safety and wellbeing of students, faculty and staff, and visitors are tantamount because unsafe school environments result in the demise of teaching and learning."
Wells-Hedrington added that panic badges for employees will be implemented. She added that the social and emotional development of students will be implemented through pre-k programs.
"Additional grant funding has allowed us to do just that. By intentionally focusing on social-emotional learning," she said.
The 2022-23 school year has a total of 10,198 students enrolled in the territory, broken down into 5,087 for the St. Thomas-St. John district and 5,111 for the St. Croix district. Currently, there are 2,207 active employees in the Education Department — 1,071 for St. Thomas-St. John and 1,1036 for St. Croix. There are 105 vacant positions on St. Croix, 20 of which are teaching positions, and 78 vacancies in St. Thomas-St. John, six of which are teaching vacancies. There are currently 61 international teachers on St. Croix and 70 on St. Thomas-St. John through the H1B Visa Program. The Education Department is also awaiting the arrival of 19 additional teachers for St. Croix and 19 for St. Thomas-St. John.
Of the employed teachers, Wells-Hedrington said that "138 teachers are eligible to separate from the department at any time."
According to the commissioner nominee, the department launched a program allowing graduates with a bachelor's degree from an accredited institution and retirees to join the education workforce as openings are available for substitute teachers.
"Act 8560 allows retirees to work for three years without interfering with their retirement," said Wells-Hedrington.
Illegal activity has been concerning education officials as well. An Edibles Taskforce was formed among the Education, Police, Health, Licensing and Consumer Affairs, and Human Services departments to provide preventative, substance, and drug use education.
"The use of edibles among Virgin Islands students has risen in popularity over the last two years as students have been at home during the pandemic," said Somme, who requests that students who commit level three and level four infractions take part in counseling.
"The Department of Education clearly recognizes that the use of illegal substances, specifically edibles, is indicative of larger issues in our community that continue to manifest on our school campuses."
According to Somme, presentations have already been made at several schools to thwart student usage.
Regarding health concerns, according to Somme, as a result of the territory's endemic status and the absence of a state of emergency, there is no mask mandate, no testing requirements, and no school or office closures for COVID-19. However, he added that "the department continues to strongly encourage mask-wearing, social distancing where and whenever possible, frequent hand washing, and remaining at home when sick," and encouraged students and staff to get vaccinations and booster shots.
Concerns arose about the lack of nurses on school campuses, with Sen. Javan James sharing his experience of having to pick up his daughter from school due to a non-related COVID-19 cough she had because there was no medical personnel present to tend to her.
"The importance of having a nurse there, it prevents children from leaving a learning environment. And everybody is not fortunate like us to have a support system," said James.
Pertaining to sports and athletics, the Education Department scheduled a 2022-23 sporting session in conjunction with the Interscholastic Athletic Association. Every sport except tackle football is scheduled. Some programs that will be offered are the Coaches Certification Program, Students As Game Officials and Students Athletes Roadmap to College.
Senators expressed concerns about learning losses for students and after-school programs.
Superintendent Ottley said that after-school programs will begin in mid-October for the St. Croix district, while Jurgen said that after-school programs are being planned for the St. Thomas-St. John district.
As of Aug. 29, the St. Thomas-St. John district maintenance division has budgeted $3,083,1029 from CARES II funds to take care of air quality issues, air conditioning, and plumbing needs. Wells-Hendrington added that $2 million in funding through the General Fund is issued to address environmental concerns and maintenance costs. Ongoing projects include the Gladys Abraham modernization and building concepts for Addelita Cancryn Junior High School. The demolition of Guy Benjamin School is out for bid, with the Evelyn Williams School demolition following, and the design-build RFPs for Charlotte Amalie, Central, and Bertha C. Boschulte following suit, and one being prepared for the Julius Sprauve pre-k to 12 school.
One other major area of concern raised by senators is the demise of food warehouses and kitchen facilities in schools, some operating without. According to Wells-Hedrington, kitchen repairs at schools are being developed at Claude Markoe, Eulalie Rivera, Central High, John Woodson, Juanita Gardine, Richardo Richards, Pearl B. Larson, and Alfredo Andrews schools. Repairs in the St. Thomas-St. John district are being assessed.
'"To be very honest, measures were not taken to provide for equipment in the St. Thomas-St. John district post hurricanes Irma and Maria like it was in the St. Croix district," said Wells-Hedrington.
She suggested using funds from vacancies to purchase equipment for kitchens in the district and said that the food warehouse on St. Thomas needs to be demolished and rebuilt.
Senators present during the hearing were Genevieve Whitaker, Milton Potter, Janelle Sarauw, Donna Frett-Gregory, Carla Joseph, Samuel Carrión, Javan James Sr., Kenneth Gittens, Franklin Johnson, and Novelle Francis Jr.