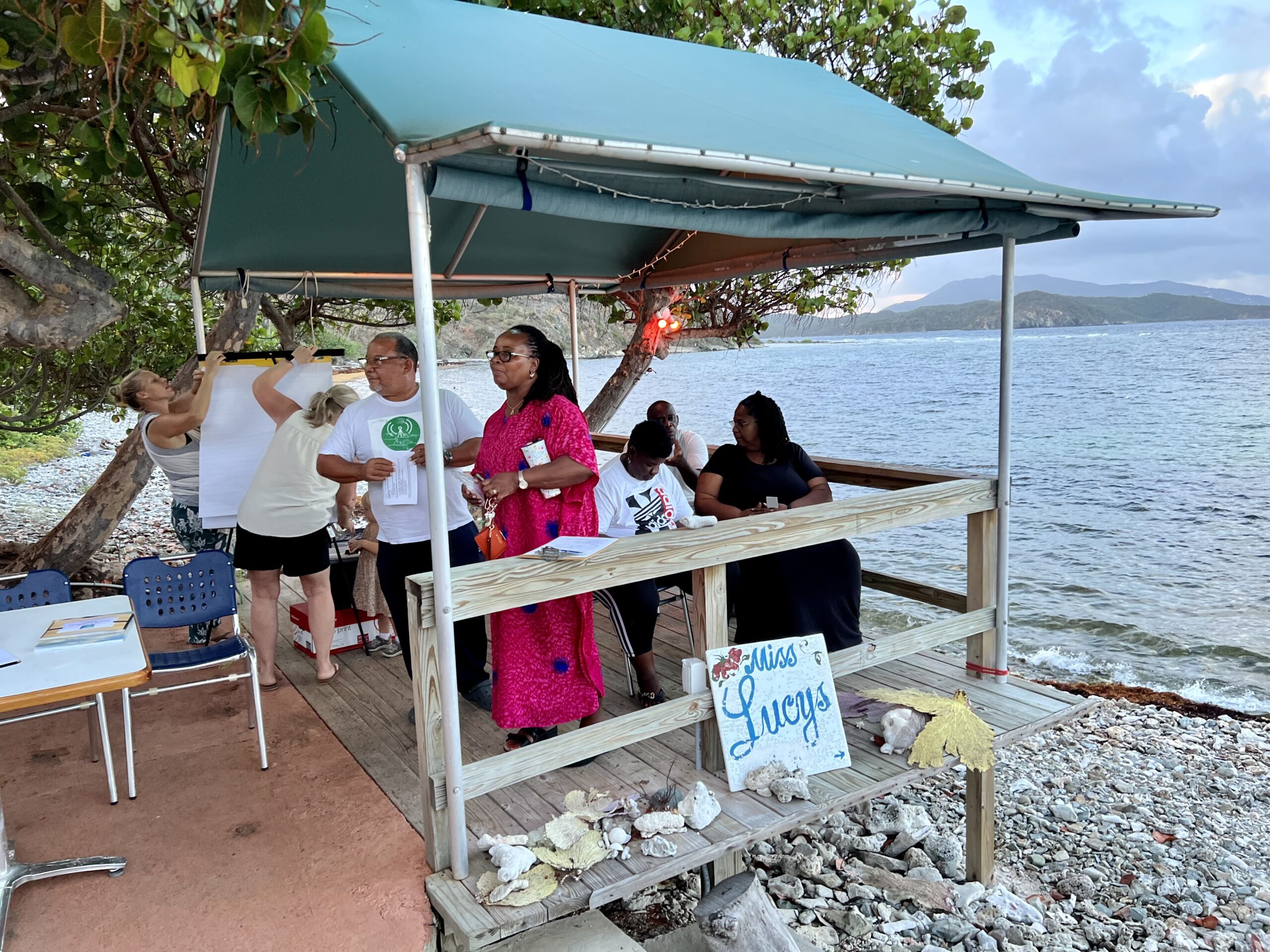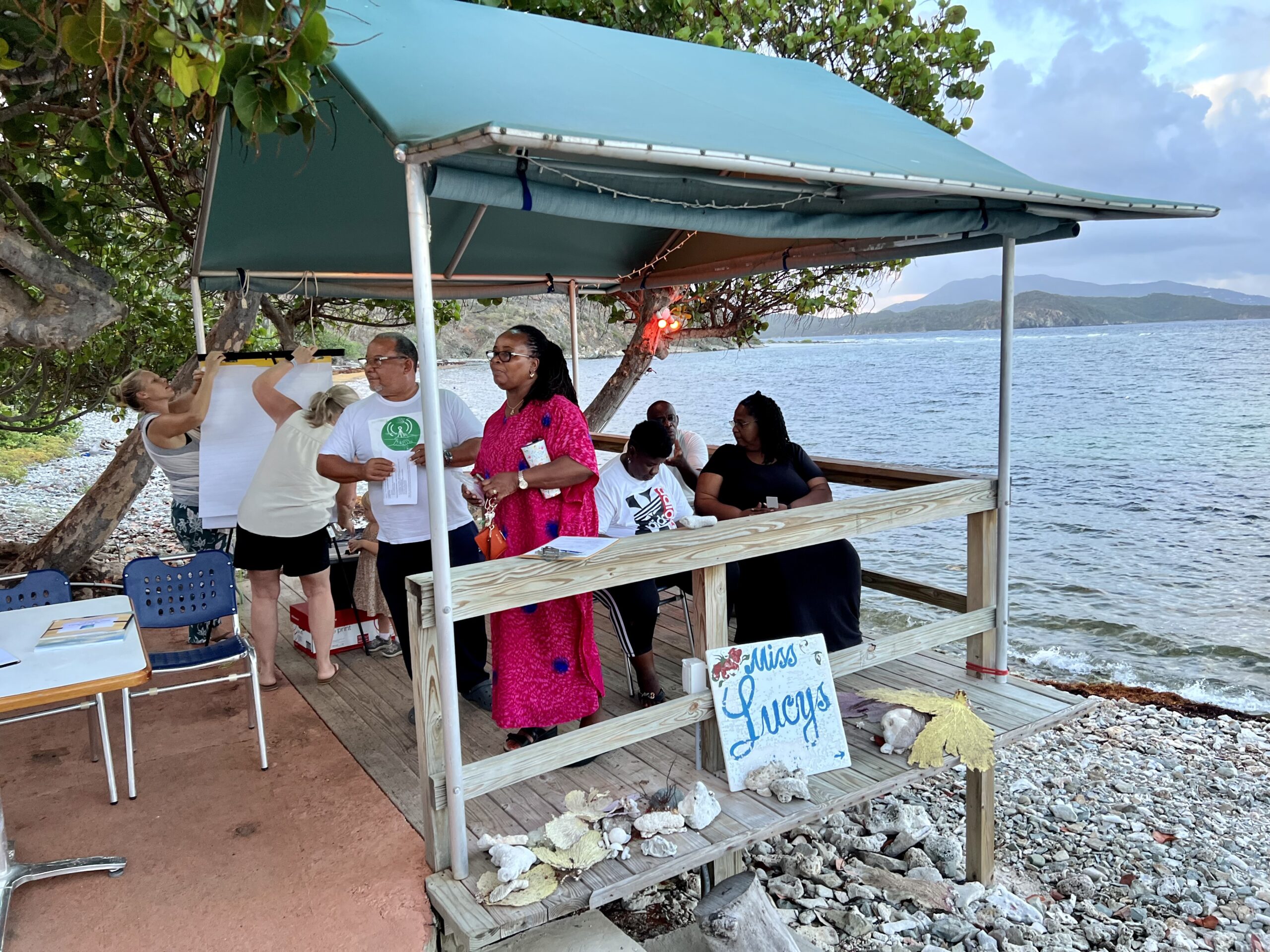 Coral Bay residents may be relieved to learn that some of the drones they notice flying overhead are not simply snooping; rather, they are part of an effort to mitigate stormwater flooding problems.
The drones are being used over the next several months to map the Coral Bay Watershed through a grant to the Coral Bay Community Council that's part of a FEMA Hazard Mitigation Program. The results of this "Hydrologic and Hydraulic study" will help the Department of Public Works plan and construct new roads –– and improve existing ones.
"We're excited. We'll soon have the data set we've been wanting for years," DPW Commissioner Derek Gabriel told several dozen residents of Coral Bay and beyond on Saturday evening.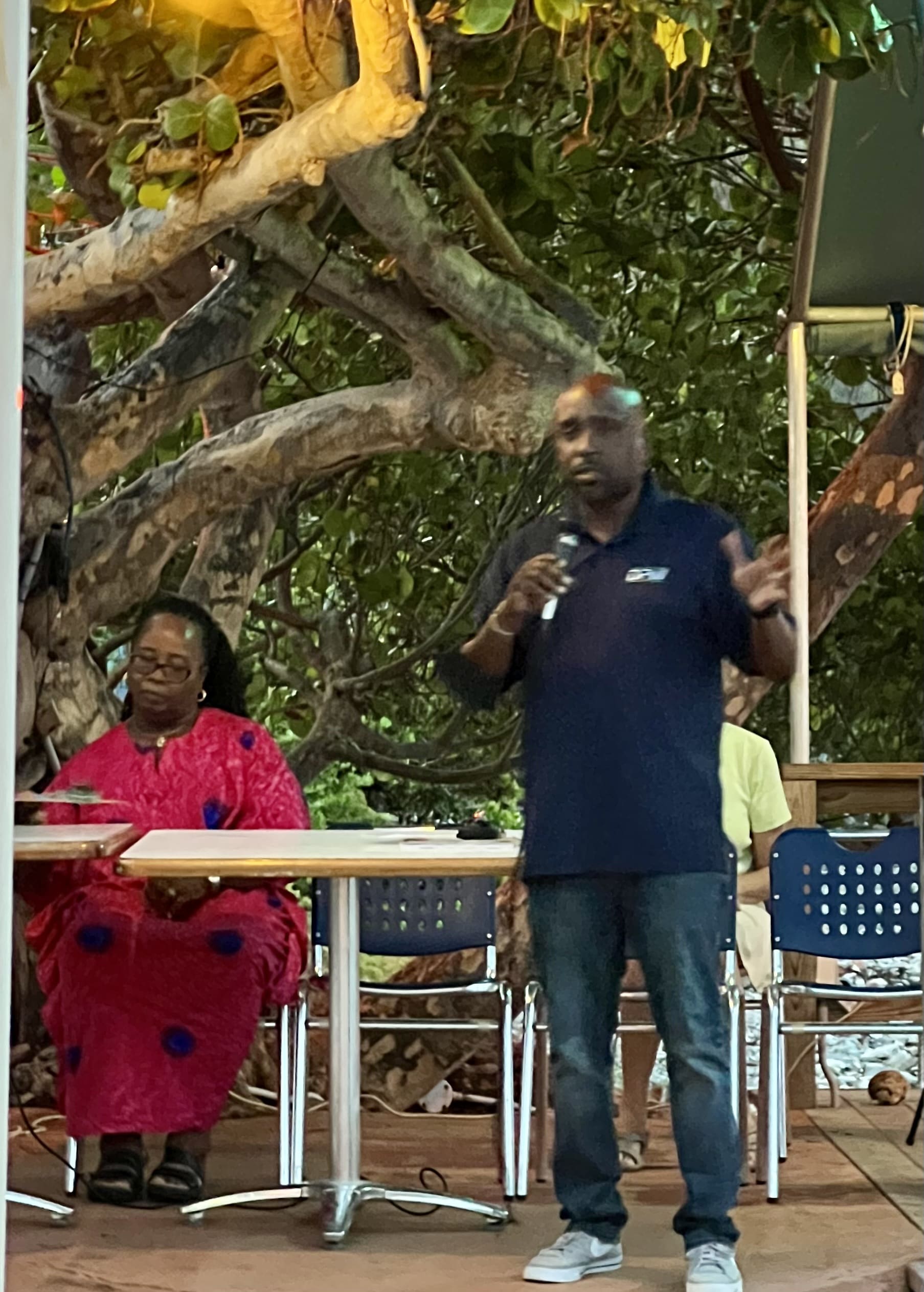 Gabriel and other DPW officials traveled across St. John to Miss Lucy's Restaurant on Friis Bay to provide updates on roadwork and other projects.
Because residents of the eastern portion of St. John must drive across the island to reach the clinic in Susannaberg, services in Cruz Bay, and ferries and barges to St. Thomas, they are especially aware of the conditions of the roads.
Gabriel said that aside from installing new guardrails, work has been completed on Centerline Road – for now. DPW plans to apply for further funds to repave portions of Centerline Road, the main route between Cruz Bay and Coral Bay.
Jomo McClean, program manager of the Highway Rebuild Program, said DPW will "commence with the design phase" and apply for Community Development Block Grant funds made available through the Federal Transit Administration.
Gabriel called for a round of applause for Derron Jordan, director of roads on St. John, who has worked diligently to fill potholes and resurface sections of Centerline Road. Jordan and his crew are now working to clear guts, swales, and culverts to accept more stormwater during hurricane season.
But Gabriel did not have good news for some Coral Bay residents, including Janet Burton, who asked about the possibility of paving King Hill Road and Johnny Horn Road; these two historic roads could provide alternative routes out of Coral Bay if Centerline Road became blocked by landslides as it did in multiple places when hurricanes Irma and Maria hit in 2017.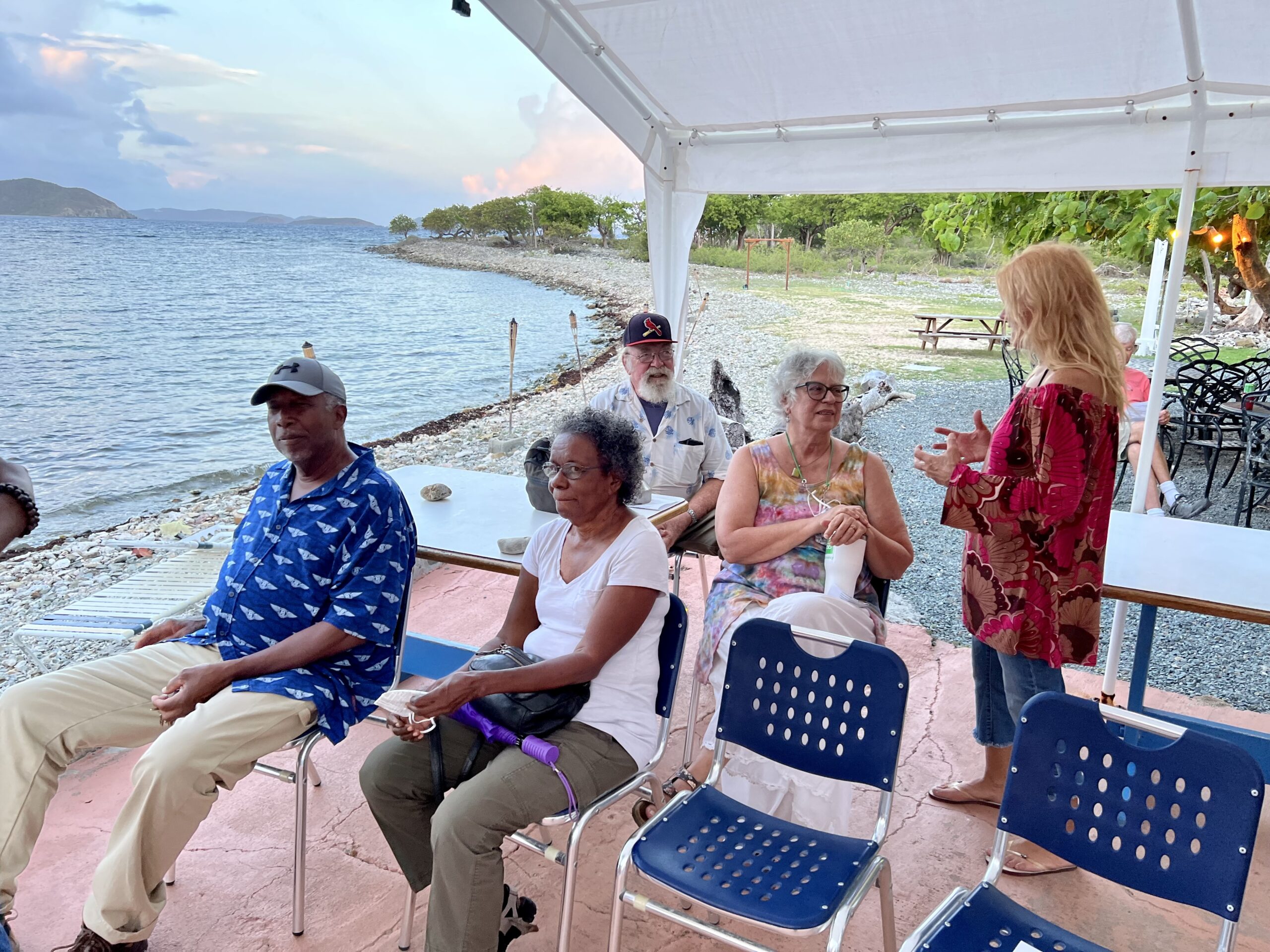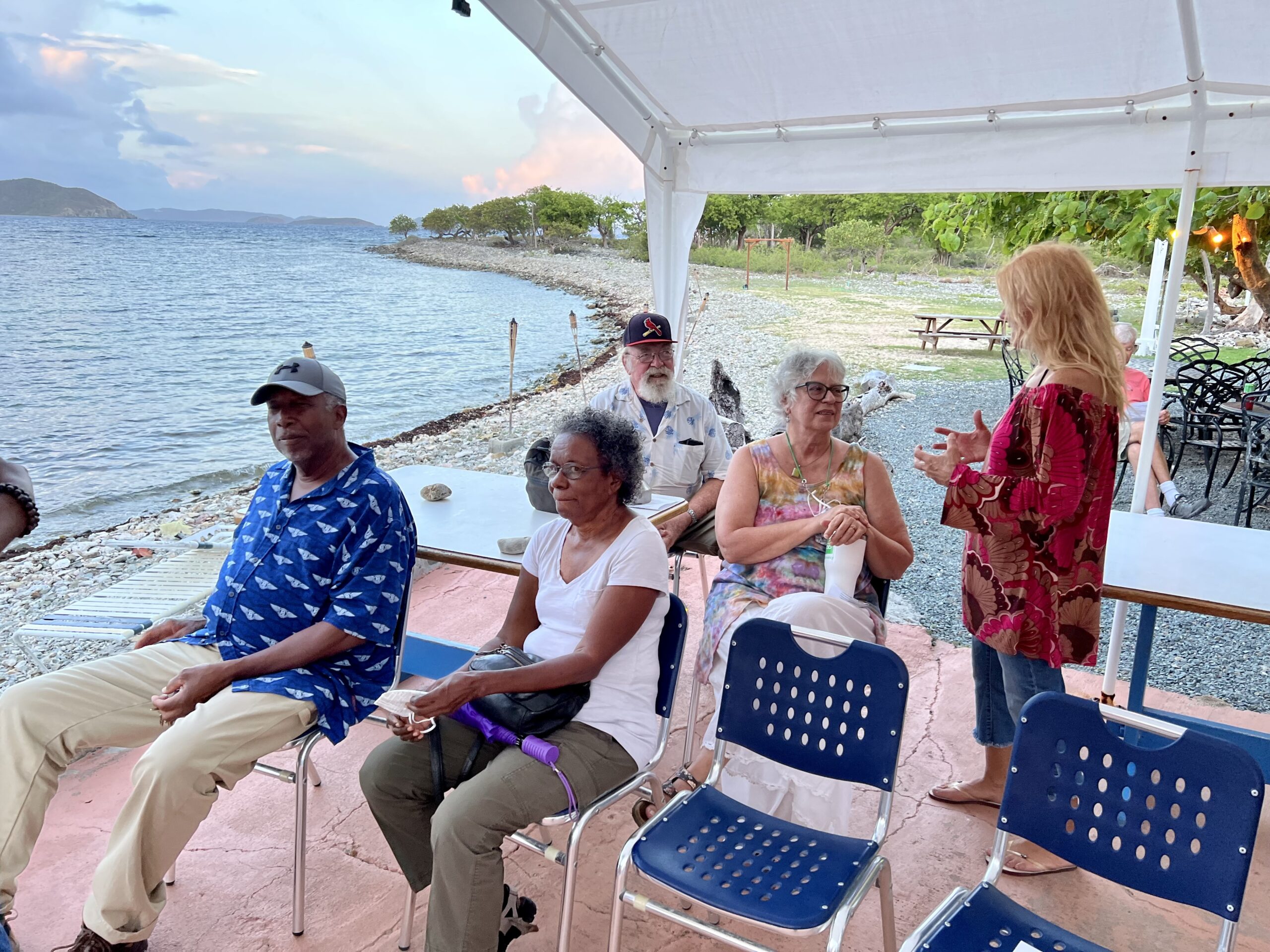 Gabriel said that there are no current plans to improve either alternative road, but more funding may become available through federal programs, including the American Rescue Plan Act. "There are opportunities out there for funding. We've been pretty fortunate with grants."
David Silverman asked Gabriel if DPW's current plans included the burial of electric wires and other equipment between Cruz Bay and the Myrah Keating Smith Community Health Center, part of WAPA's "underground" project to protect the power grid from storms. .
Gabriel said DPW had no plans for this at this time. The "dig once" policy sometimes slows the process when utility companies plan major work, he said.
Anne-Marie Estes asked whether DPW had solved the problem of flooding by the tennis courts in Cruz Bay. McClean said that funding through a FEMA Hazard Mitigation Grant had been approved and was in the design phase. Construction could take two more years, he said.
Gabriel had further good news for St. John residents. He said that plans were moving forward for a new ferry between St. Thomas and St. John.
The Department of Public Works was approved for $5.1 million in federal funding to acquire a 300-passenger ferry to assist with the flow of passengers at peak hours. DPW now owns two ferries which are leased separately to Transportation Services and Varlack Ventures, the two ferry companies that operate between Red Hook and Cruz Bay.
Asked how DPW will work out operations of the new ferry with two competing ferry companies, Gabriel answered, "Very carefully."
Gabriel also said a new street sweeper has been ordered for St. John.
Alvis Christian asked Gabriel about DPW's plans to build water production, sewage treatment, and solid waste facilities in Coral Bay. "We have no infrastructure to deal with these things, but we keep building and building and building," Christian said.
Gabriel said he didn't have any answers for Christian about these matters, but he assured him that "there were conversations at the cabinet-level" about them.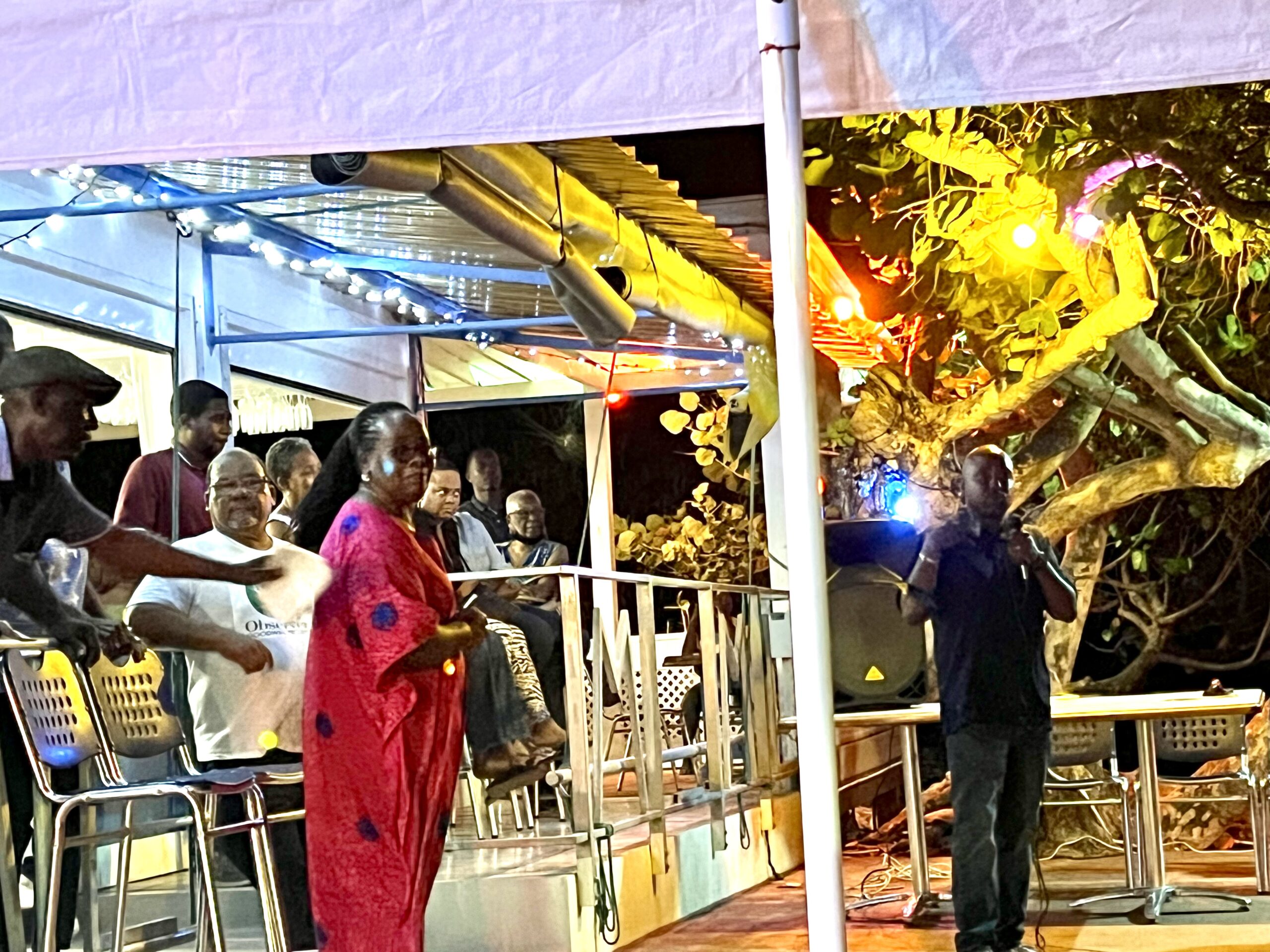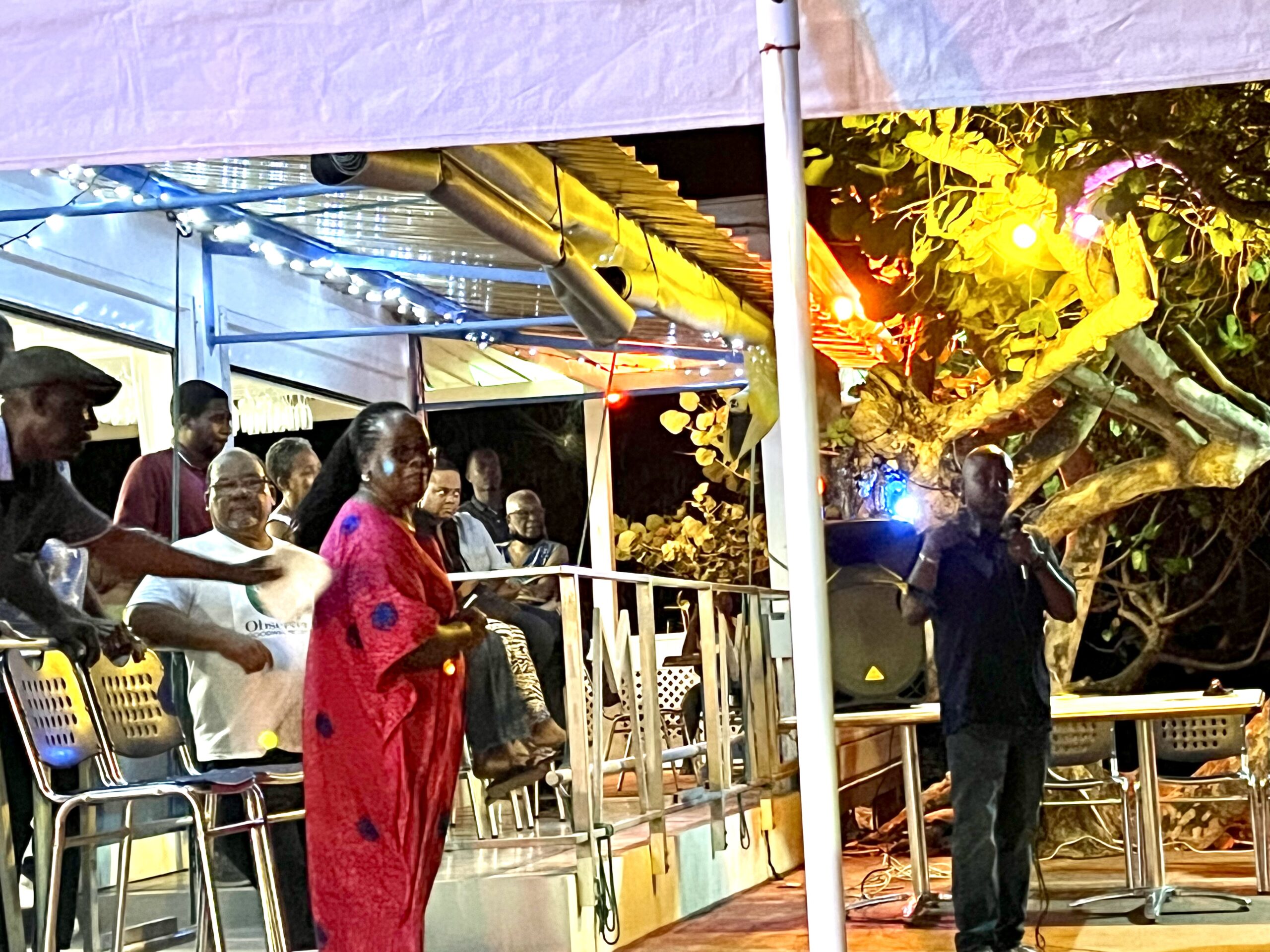 Christian's question about infrastructure led into another part of Saturday night's meeting – soliciting suggestions for questions to pose to candidates in an upcoming public forum with a focus on Coral Bay issues sponsored by the Coral Bay Community Council.
At the meeting, residents were also updated about septic systems projects sponsored by the Coral Bay Community Council; recycling efforts by Island Green Living Association; a free debris removal project funded by Love City Strong; a new vessel for emergency use in Coral Bay operated by St. John Rescue; and Labor Day activities – for which volunteers are needed.
Sharon Coldren, president of CBCC, said residents could borrow a hydrogen sulfide meter from their office to determine if fumes from the influx of sargassum seaweed had reached levels that could be harmful to health.
At the meeting, residents also called for better access to vaccinations, repairs of broken street lights, and opening the Sprung Shelter as a community center at the site of the former Guy Benjamin School.
The Rev. Elva Richards-Goodwin, pastor of the Emmaus Moravian Church who hosted Saturday's meeting, clarified the church's policy on use of the ballfield in Coral Bay which is owned by the Moravian Church Conference. She said groups that wanted to hold an activity had to apply to the board, but individuals who wished to use the field – to ride a bike, for example – were welcome to do so.