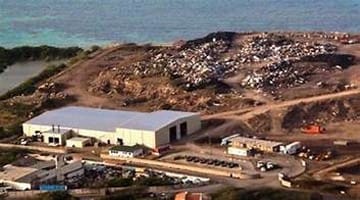 An employee at the Virgin Islands Waste Management Authority is accusing an agency contractor of improperly dumping 65 truckloads of contaminated soil at the Bovoni Landfill on St. Thomas. Details of the alleged activity are included in a civil lawsuit filed in early August in a case where a Waste Management employee is alleging civil rights violations and violations of the Virgin Islands Whistle Blowers Act.
The plaintiff in the case, Nadine Noorhasan, says she was placed on administrative leave after she complained to environmental enforcement agencies about soil taken from the Donoe public housing reconstruction site on June 23 being dumped at the Bovoni Landfill. According to court documents, the disclosure came during a conversation with an official from Planning and Natural Resources.
Donoe was a public housing community until it was heavily damaged during Hurricane Marilyn in the mid-1990s. The Virgin Islands Housing Authority is building a new housing community on the site as a partial replacement for Tutu Hi-Rise, which was damaged during Hurricanes Irma and Maria in 2017.
The soil is believed to be contaminated by asbestos and heavy metals detected during sampling tests at the reconstruction site.
The plaintiff was hired by Waste Management in 2013 as a compliance officer and later promoted to compliance management director. In her 25-page civil complaint, Noorhasan described her efforts to get a contractor to obtain required permits for properly removing the soil from the Donoe site.
Noorhasan claims the change in her work status is part of a pattern of workplace harassment and retaliation taking place since 2019. In the lawsuit, she described the potential hazard that contaminated soil might cause to groundwater in the area of St. Thomas' municipal landfill.
If any asbestos or heavy metal contamination of the water occurs as a result, she said, it would violate a federal consent decree over the handling of solid waste by the Virgin Islands government and Waste Management. Noorhasan expressed those concerns to Environmental Protection Agency scientist Leonard Grossman in mid-June.
"Mr. Grossman and Ms. Noorhasan discussed that formal complaints needed to be made as it pertained to VIWMA's environmental violations of DPRN and EPA regulations by issuing the (VI Housing Authority) permits to dispose of contaminated soil at Bovoni landfill," the Aug. 3 complaint said.
Prior to the email exchange with Grossman in mid-June, the plaintiff said she spoke with a top manager at Waste Management, advising that they not allow the contaminated soil to be sent to Bovoni. Later, Noorhasan said, she found out the manager she spoke to allegedly produced a document allowing the contractor to do so.
Four days after learning that the soil had been moved in spite of warnings and declaring that a violation had occurred, Noorhasan said she was confronted by the manager who authorized the transfer. According to the complaint, the compliance officer was told to collect her belongings, drop off all of her government-issued materials, and leave the building.
Government House spokesman Richard Motta Jr. was asked to comment on the allegations contained in the complaint on Sunday. Motta said he had only heard of the accusations through media reports and otherwise had little knowledge about the matter.
Waste Management Authority spokesperson Lorna Minkoff referred a report to the agency's general counsel Florence Kahugu for comment. A phoned-in inquiry was left on Kahugu's voicemail but received no reply.
Comment was also sought from EPA Region 2 Public Information Officer Elias Rodriguez. The inquiry was met with an email auto-reply saying Rodriguez was not available. The inquiry was redirected to agency spokesman John Senn.
The Virgin Islands Whistleblower Protection Act became law in 2019 as an amendment to Title 10 of the Virgin Islands Code. It prohibits employers from retaliating against employees because they request investigations into violations of government rules and regulations.