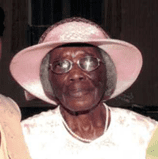 Zephena Leonard died on St. Thomas, Virgin Islands, Sunday, July 24.
She is survived by her son, Fernando Leonard; daughters: Sylvia Chalwell and Cynthelia Green; daughter-in-law, Gail Leonard; and grandchildren: Roosel Chalwell, Renel Chalwell, Grenelvia Chalwell-Farrington, Dr. Anorelvia L'Esperance, Mitchell Green, Michell Green-Lindo, Maurice Green, Michael Leonard, Brian Leonard and Aaron Leonard.
She is also survived by great-grandchildren: Raynesio Farrington, D'Nasia Farrington, Diedra Chalwell, Dieondra Chalwell, Renee Chalwell, Sakeeda Freeman, Cecil Freeman Jr., Kaseeda Freeman, Taseeda Freeman, Mason Green, Ava Green, Maurice Green Jr., Maalique Green, Tobias Leonard, Malachi Leonard and Syniah Leonard; and great-great-grandchildren: Dejan Barry, Demary Barry, Ken John Pierre Jr., Kaden Jon' Pierre, Kaleb O'Neal, Ava Salone Leonard and Ezra Ace Berrios.
The Home Going Service Schedule:
First Viewing:
Thursday, Aug. 18, At Turnbull Funeral Home
From 4 p.m. to 6 p.m.
Second Viewing and Funeral Service:
Friday, Aug. 19, at Wesley Methodist Church
Viewing: 9 a.m. to 10:30 a.m.
Service: will begin at 10:30 a.m.