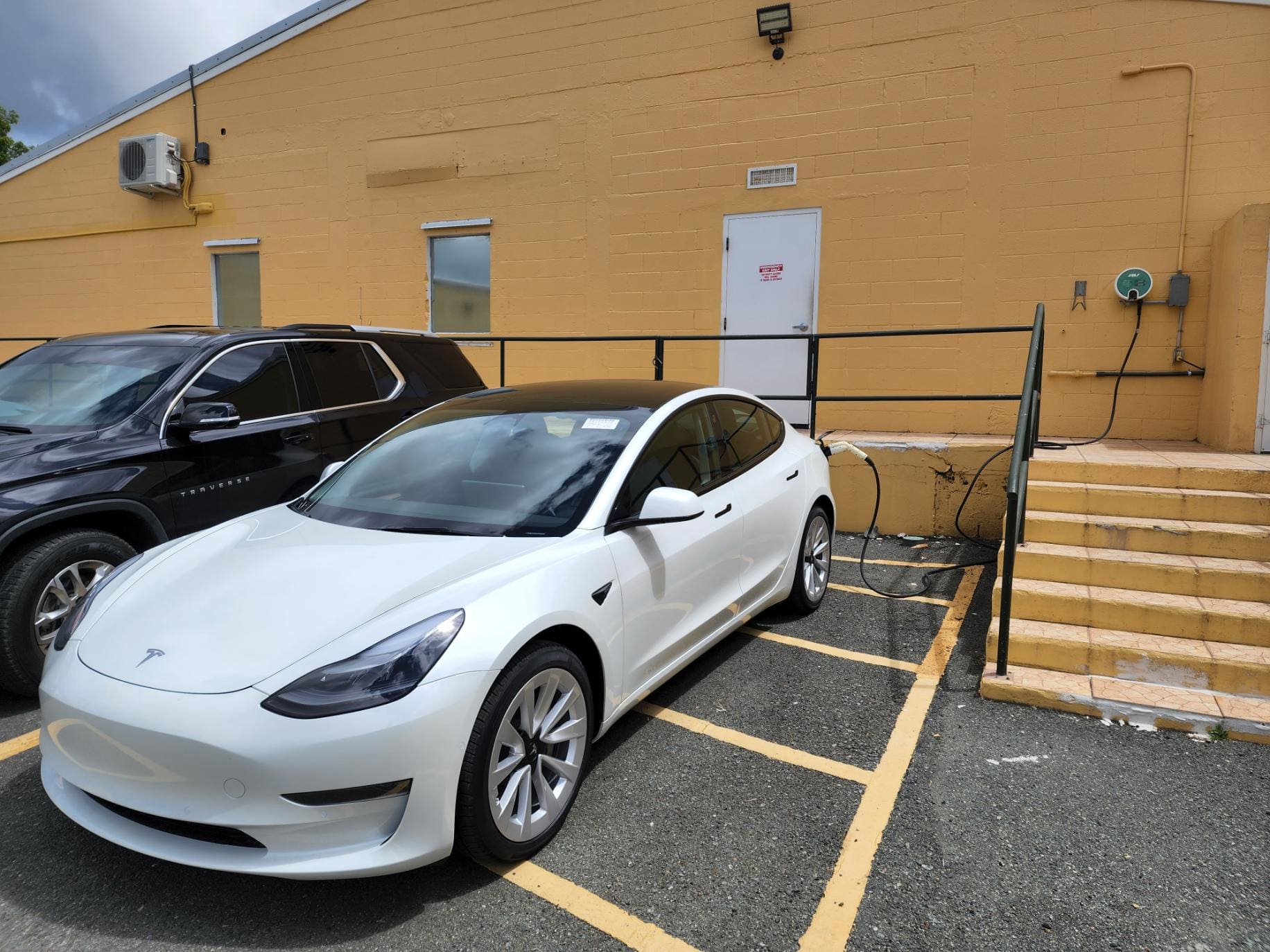 New Tesla vehicles have been delivered to the territory to become part of the government's fleet. (Photo courtesy of the V.I. Energy Office)
The V.I. government is adding 23 electric Teslas to its fleet, a purchase that officials said will yield significant savings at the pump as fuel costs continue to rise, and create new opportunities for energy diversification for the general public with the addition of solar charging centers and potential rebates for those looking to purchase greener vehicles.
Of the $2 million in U.S. Interior Department Energizing Insular Communities funds awarded to the territory, approximately $1.35 million was used to buy the new base-level Tesla Model Y's and Model 3's, which will be rolled out across multiple departments and agencies, including eight that have been assigned to the V.I. Water and Power Authority and 15 to the central government fleet, according to a release Monday. The remaining funding can be used to support assets for charging the vehicles, which V.I. Energy Office Director Kyle Fleming said could range from public charging stations to on-site solar arrays.
Energizing Insular Communities funds supports energy strategies that reduce the general cost of electrical and dependence on fossil fuels, according to the DOI.
"The Virgin Islands' remote location increases our exposure to the risks of the volatile fuel commodity market, both through cost of the raw material and the logistics cost to deliver it to our shores," according to Monday's release. "With prices at the pump exceeding $6 per gallon across the territory in recent months, the real-world effects of being beholden to a single commodity to meet our transportation needs has already taken form."
To quantify the return on its investment the V.I. Energy Office, in a partnership with Bloomberg Philanthropies, the Secunda Family Foundation, and the Electrification Coalition, has developed a territory-wide transportation electrification road map that includes an economic analysis of the cost of converting vehicles across the government fleet.
"The results of the analysis confirmed that despite the current cost of electricity in the territory, the acquisition and operation of electric vehicles can offer significant savings in vehicle ownership when compared to traditional gas vehicles," according to the release. "These savings are realized through the combination of the lower fueling cost electrical charging and the significantly reduced maintenance needs and cost."
Along with the economic benefits comes innovation, officials said. With the federal funds, the government has increased its bulk-buying power and with it, access to the high-demand electric vehicle market.
"In the near future, the goal will be to enhance the local supply chain of vehicles in the territory, not just for government procurement, but for consumer adoption as well," according to the release.