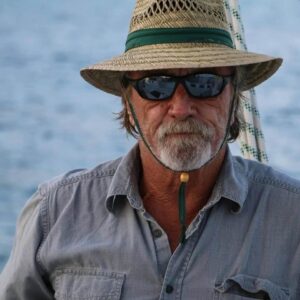 The family and many friends of Pat Kosick regret to announce his recent passage over the last horizon.
Pat was born January 30th of 1947 during one of the worst snowstorms ever in Milwaukee, WI. In his telling, that was the only trouble he ever caused his mother. He was the second born of seven children and always set a perfect example to his siblings, a point that many of them dispute. That snowstorm may have had another long-lasting effect, as Pat spent much of the rest of his life in search of warmer climates.
At the end of his high school years, it was suggested that he join an organization that would add structure to his life. Pat joined the Coast Guard as they were the only armed forces recruiters with posters of palm trees and bikini-clad girls. They repaid his warm water dreams with a posting to Buffalo, NY. He rose to the rank of Bosons Mate but left the Coast Guard to continue his pursuit of less snow and more beaches.
This paid off in Ft. Lauderdale as he started working for a banker on a large boat traveling between Florida and the Bahamas. Like many mariners, Pat returned to land with the hopes of making enough money to get his own boat. However, again like many mariners, an affinity for strong drink and a strong dislike for authority prevented his success.
The Virgin Islands beckoned with hope that cheap rum and little authority would make life easier. Instead, it brought Pat to a moment of clarity that enabled him to change to focus of his life. He had the options of chasing his dreams or just being another sailor washed up on the shores of the islands. He chose his dreams and pursuit of recovery.
This led to a steady path having used car lots and then a return to managing yachts. He was a boat captain for both private yachts and the Petite Blu, one of the first car barges to St. John. Then he made the other dream come true, owning a beautiful Chris Craft sailing yacht called Ike Witt. After building a day sail charter business with the boat, Pat and the light of his life, his wife Staci, moved to Dominica. There they hand-built the "Roots Jungle Retreat" as a five-year life changing adventure. It was a special time full of wonderful people and incredible stories to share. It's still there today, sharing the magic he built.
Then they returned to St. Thomas and the charter trade with a catamaran called Sweet Pea. He had the gift of the gab, being a true Caribbean storyteller. He was known for his storytelling and many children and adults were brought up with those stories from Captain Pat. But complete facts and gospel truth were not a requirement in his stories. If it got a laugh or caused a grin, any embellishment would be retained and possibly grow taller in the next telling. Do not use Capt. Pat's island history on Jeopardy if you are supposed to have the correct answer.
Although Pat's sea tales are famous, it's Pat reality that has meant so much to so many people in St. Thomas. He will be remembered for saving lives. In the Coast Guard days he began saving lives at the popular hangout beach when he pulled a young boy out of the water and resuscitated him. The Coast Guard flew his mother to see him receive an award for this. Throughout his life he had a strong conviction to help people with substance abuse and is revered by so many for saving their lives. And making their lives worth living. Many, many people will say the many ways that Pat helped them follow in his footsteps and live their best lives. But very few ever heard Pat make that claim.
He was serious about his priorities but didn't take himself too seriously. The world according to Pat shifted depending on circumstances or mood, but it always included an F-bomb and a laugh. Pat showed us that you don't get Legend Status by being like or liked by everyone else.
He truly danced to the beat of his own drummer!
Pat Kosick is survived by wife Staci Kosick; daughters: Kerry Lilly, Chelsi Reed and Taylor Reed; sisters: Colleen and Mary; brothers: Jimmy and Spike; several nieces and nephews; and five grandkids: Aidan, Abby, Sophia, Nolan and Tali.
Relatives and friends are respectfully invited to attend a celebration of life July 10 at Lindqvist Beach (Smith Bay Park) Shed 2 from noon until 4 p.m. Bring a side dish and a great story to share with others.