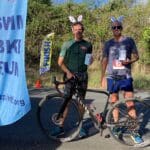 The Virgin Islands Triathlon Federation (VITF) held a unique race Sunday on St. Croix, which involved a leap-frog style format with two teammates — one on foot, one on a bike — covering the same distance on the same course. There were three exchanges along the course where the cyclists dropped off the bikes and started to run, while the teammates on foot picked up the bikes and started to ride.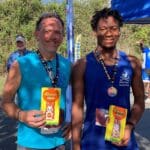 Since 2009, the VITF has held the Island Hoppers event, annually in either Christiansted or Frederiksted, on a challenging, semi off-road course. The concept of the relay race was introduced by former VITF President Scott Fricks, and it has become one of the favorite annual races of many local athletes.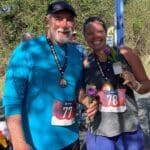 Sunday's two-person relay race started at the former Cafe Kaleidoscope on the Southside Road.  The fastest team to reach the first transition location at Tide Village was Joey Swanson, the first cyclist for Team STX Road Runners.  The first runner to arrive to T1 was Stephen Swanton of Team Flyin' High & Ridin' Fast.
As the race continued, teams passed through transition No. 2 at the top of Spring Gut Road, transition No. 3 at Estate Castle Nugent and the finish line at the former Cafe Kaleidoscope. Seven teams completed the 8-mile loop course.
Billy Bohlke and Stephen Swanton (Team Flyin' & Ridin') were the overall winners in a time of 45:09.  Makari Matthew and Alejandro Ashe (Team MakAle) were second in 52:28, while Team Thunder Thighs (Troy Holloway and Catherine Seguin) was third.  Team STX Road Runners, Joey Swanson and Jerry Remie, won a prize for best dressed team.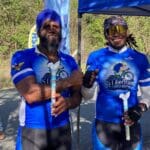 The next multi-sport event on the VITF calendar is the Parent/Child Aquathlon on May 1.  For more information, call 513-2707.