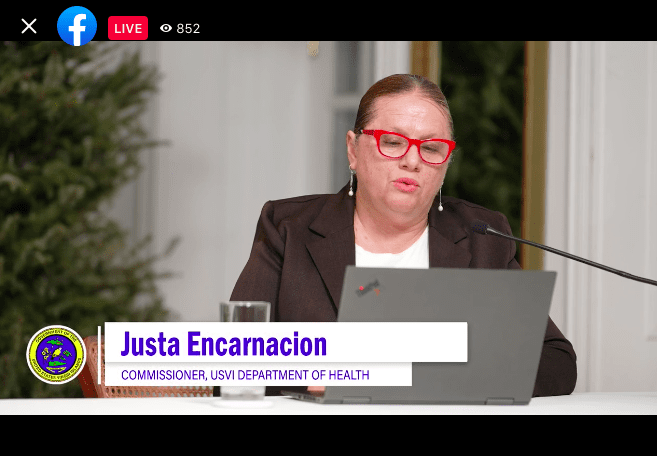 Despite restrictions imposed three weeks ago by Gov. Albert Bryan, Jr., the territory's COVID virus rate has leaped by hundreds of new infections, and according to Bryan, those precautions will remain in place until Jan. 25, at least.
According to the governor, the state of emergency has been extended until Feb. 9 to keep virus procedures in place. He has asked the Legislature for a 90-day extension.
On Dec. 1, there were just 35 cases throughout the territory. By the end of the month, there were more than 1,200 active infections and more than 3,700 at the end of the first week of January.
During the governor's weekly press briefing Monday afternoon, Health Commissioner Justa Encarnacion announced the latest statistics, as of Jan. 7 – a total of 3,728 active cases.
There were 1,821 infections on St. Croix; 1,708 on St. Thomas; and St. John has 253 infections, resulting in a positivity rate of 24.3 percent.
Hospitalizations have spiked in the last week as well, with six patients at Juan F. Luis Hospital and 18 patients in the Schneider Regional Medical Center. None of the victims on St. Croix are ventilated, but three on St. Thomas are breathing through ventilators.
The governor's restrictions extended more weeks, include midnight closing hours for bars and restaurants, gatherings limited to 50 people, and COVID tests within 72 hours for travelers to enter the territory. The State of the Territory speech will be held on Jan. 24.
The rise in infections is affecting government employees, Bryan said, and has slowed the re-opening of some government offices.
"Just like the rest of the territory, we're facing staffing challenges as well. Rather than shut down totally, we're staggering hours and keeping people in. Those who are well can come in," he said. I think we still have another week or so of riding this out, and then hopefully it will expire around two weeks, in terms of going down."
At the end of the year, Bryan projected the re-opening of in-person learning on Jan. 10, but last week, he postponed the date until Jan. 24. Until then, public school students will continue to learn virtually.
Encarnacion said the DOH and Education Departments are working on procedures to contain the virus when students attend school. Cafeteria workers and other first responders will be the first to be tested, so they can interact with children when they return, she said.
Cynthia Graham, Education spokeswoman, told the Source Monday that DOE and DOH wouldn't be doing mass testing for in-person learning, but they are encouraging parents whose children have symptoms to keep them at home. If children present symptoms at school, school nurses will administer rapid tests if they have parental consent. Without parental consent, students will be sent home.
Surveillance testing is also being considered, according to Graham, where a portion of the school's population would be tested at intervals to determine a baseline that would allow the DOE to track viruses and other trends.
Zoom information hearings will begin Wednesday, Graham said, to encourage staff, students, and parents to get vaccinated. Participants will log in and interact with Education and Health Department officials to ask questions and get more information. The sessions will be conducted every second Wednesday. More information is available on the DOE Facebook page.
As was the case last week, only about eight percent of the positive coronavirus patients were vaccinated – the other 92 percent were unvaccinated, Encarnacion said. She added that along with more COVID testing, more people are getting vaccinated.
"Our lines are longer, so we are seeing more people getting vaccinated," she said.
Encarnacion repeated procedures for those who want a COVID test and announced the information would also be on the DOH Facebook page and website. People with symptoms or who have been exposed are to stay home and schedule a test on the COVID hotline.
Those with a positive test with or without symptoms are to stay home for 10 days and get a test after that. Cold or cough medications, vitamins C and zinc can be taken for symptoms.
Fully vaccinated people exposed to someone with COVID should quarantine five days, then wear a mask and go back to work. If symptoms appear, they need to get tested and isolate again.
Unvaccinated people, who have been exposed, need to isolate for 10 days.
If someone has been identified as a close contact of a positive case, they should not go out in public and are to quarantine for five days until they get a test. If they test positive, they need to isolate as instructed.
"Individuals who test positive for COVID-19 should not leave isolations to retest," she said, adding that those waiting for test results should not return to the testing site "for any reason."
The commissioner reminded people who have been exposed to the virus to wait two to five days to get a test since symptoms traditionally do not show up until then.
"Do not go to the emergency room for a test," she said.
The COVID testing hotline is 340-712-6299 on St. Croix and 340-776-1519 on St. Thomas and St. John. Tests also can be scheduled at covid19usvi.com/testing.
Testing sites are the same as previous weeks:
St. Croix at the Charles Harwood from 1:30- 3:30, Monday to Friday;
St. Thomas at the SRMC drive-through 1:30-3:30 Monday to Friday and for
St. John on Tuesdays, Wednesdays, and Fridays from12 – 3 p.m. at the Port Authority gravel lot.
Other announcements by the governor included welcoming Andrew Smith as the new chief executive officer for the V.I. Water and Power Authority. He also expressed condolences for Logan Cruz, a two-and-a-half-year-old toddler who lost his fight against cancer.