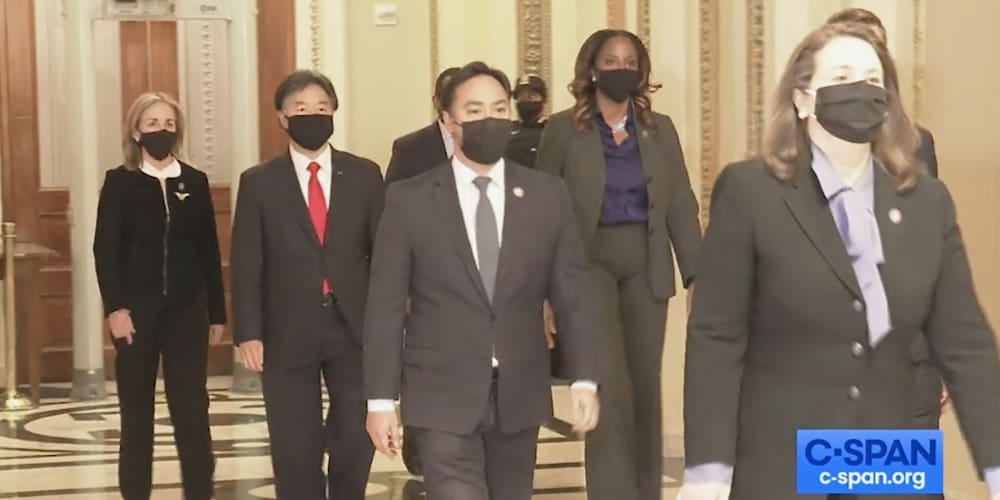 As the pandemic drags on and the year ends much as it started – with masks, social distancing, myriad COVID-19 precautions, and another canceled Crucian Christmas Festival amid yet another surge – it's easy to forget that 2021 started in dramatic fashion.
U.S. Virgin Islanders and the rest of the world were glued to their screens as V.I. Delegate to Congress Stacey Plaskett helped to walk the single article of impeachment against former President Donald Trump through the halls of Congress on Jan. 25, following the deadly Jan. 6 insurrection at the Capitol.
She recalled that foremost in her mind was that, "I was walking through a crime scene as I was going from the House over to the Senate, and really feeling very solemn about what an absolute sad event to have to be a part of, to have to accuse and bring an impeachment article over to the Senate for a president of the United States who basically attempted to overthrow our government."
Plaskett was one of nine impeachment managers chosen by House Speaker Nancy Pelosi to preside over the Senate trial of Trump, and again made national and world headlines for her part in the prosecution of the case – the outcome already determined by Republican Senators — in February.
On the same night that Plaskett delivered the impeachment papers to the U.S. Senate, Gov. Albert Bryan Jr. delivered a State of the Territory address lauding his administration's response to the COVID-19 pandemic that began 11 months earlier and the USVI's ongoing recovery from the twin Category 5 hurricanes of September 2017.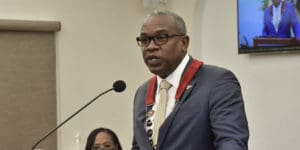 Bryan's speech was delivered before the 34th Legislature, whose members had taken the oath of office on Jan. 11 and elected Donna Frett-Gregory the Senate president.
The governor emphasized increasing the number of hospital beds with an alternate care facility on St. Croix, putting in place a masking and social distancing policy and making ports of entry safe with screening protocols and partnerships with airlines to ask visitors traveling in to provide proof of a negative COVID-19 test before boarding the plane.
In words that would prove prophetic as public schools have opened, then closed, then reopened to in-person classes for pre-K to third grade — with plans, once again uncertain, to resume in-person on Jan. 10 for all students — Bryan touted the territory's growing emphasis on technology and the creation of digital spaces for learning.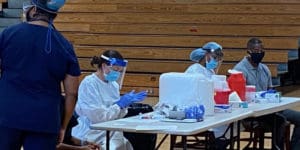 As the year began, the rollout of COVID-19 vaccines that by spring became widely available for anyone who wanted one provided hope and optimism that this might be the year the pandemic was vanquished.
Then came the variants: Alpha, Beta, Gamma, Delta, and now Omicron, and the attendant see-saw of government restrictions in reaction to the ebb and flow of surging cases. As the year ends, the territory's death toll from COVID-19 stands at 89, all but one of those victims unvaccinated despite more than $2 million in government lotteries and other incentives to encourage people to get their shots.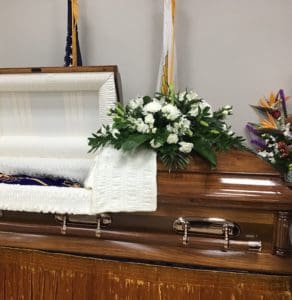 There were other notable losses in 2021, too: Journalist, broadcaster, and communications professional Jean Greaux Jr.; playwright, teacher, director, and longtime Virgin Islands resident David Edgecombe; businesswoman, community volunteer and fundraiser Lorraine Baa; mentor, volunteer and broadcaster Anita Davis-Sedlak; six-time U.S. Virgin Islands senator and longtime voice of the V.I. airwaves Holland Redfield; former V.I. Solicitor General, community activist and volunteer Elliott McIver Davis; Korean War veteran and former Sen. Edgar Iles; journalist and culture bearer Netfa "Tafa" Romain; matriarch of St. Croix's Mt. Pellier Hut Domino Club, Norma George; superstar pilot Maria Rodriguez and beloved members of the St. Thomas community Neisha Zahn, Daniel Yannone and their son Tyler Yannone in a helicopter crash near Botany Bay on Feb. 15; and Crucian baritone Malcolm Evans.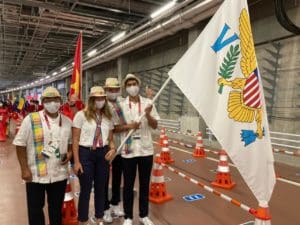 There also were moments of pride and joy, as the USVI sent its delegation to a scaled-down Tokyo Summer Olympics in July that had been delayed by a year due to COVID-19. While swimmers Adriel Sanes and Natalia Kuipers, archer Nicholas D'Amour and hurdler Eddie Lovett did not medal at the games, they represented the territory with spirit and determination.
In other sporting news, the Paradise Jam Basketball tournament returned to St. Thomas after a two-year COVID-19-induced hiatus, Sydne Didier became the first woman to swim 23 miles around St. John in a time of 12 hours and 47 minutes, and boxer Deion Pruitt made his professional debut in Atlanta, winning with a technical knockout 16 seconds into the second round. He has gone on to win two more bouts in similar fashion.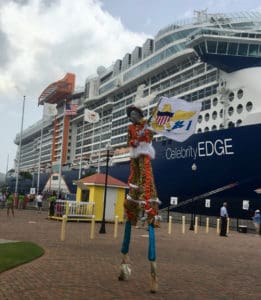 In July, the territory saw the return of its first cruise ship in the 15 months since the pandemic began when the Celebrity Edge called on St. Thomas July 6 with about 1,500 passengers and 700 crew members aboard. According to members of Celebrity Cruise Lines' team, at least 95 percent of the passengers were fully vaccinated. On Aug. 18, St. Croix welcomed its first ship since March 2020, when the Celebrity Equinox called on Frederiksted.
Reconstruction from the twin Category 5 hurricanes of September 2017 continued apace, with ribbon cuttings celebrating the completion of phase one of the terminal expansion at Henry E. Rohlsen Airport on St. Croix, the reopening of the newly renovated Battery on St. John, the Main Street Enhancement project and Veterans Drive expansion on St. Thomas, and a new Grade 9 Annex at Charlotte Amalie High School.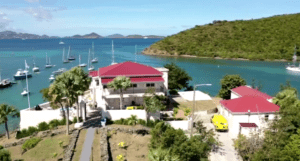 As the territory looks to 2022, planning is underway for a new hospital on St. Croix, and the renovation of Schneider Regional Medical Center and the replacement of the Charlotte Kimelman Cancer Institute on St. Thomas. Meanwhile, work continues on a multitude of projects, including a new parking garage at the Cyril E. King Airport, repairs to the badly damaged Government House on St. Thomas, and school projects to include the demolition of the old Evelyn M. Williams Elementary School on St. Croix to make way for a new Arthur A. Richards K-8 School.

Private-sector projects saw the sale of the U.S. Virgin Islands' largest hotel, Marriott Frenchman's Reef on St. Thomas, in May to an affiliate of New York-based private investment firm Fortress Investment Group. Badly damaged in the 2017 hurricanes, work resumed on the resort after being halted by financial and COVID-19 strains in 2019, with a new stated opening date of November 2022.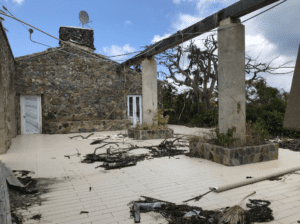 On St. John, the National Park Service announced that the lease for the Caneel Bay Resort would go out for public bid when the current lease with CBI Acquisitions expires in September 2023. The iconic property on the island's world-renowned north shore has remained closed since it sustained serious damage from hurricanes Irma and Maria in 2017, and the news was greeted with relief by residents irked that the property has remained shuttered since the storms as CBI haggled with the federal government over lease extensions.
The nonprofit My Brother's Workshop, meantime, broke ground on Phase 1 of its new main campus on Donoe Bypass on St. Thomas in November. Thanks to a combination of charitable donations and government funding, the facility will eventually provide space for more than 1,000 people per year to receive vocational training, mentoring, mental health counseling, tutoring, online high school diplomas, job placement services, anger management, parenting classes, and access to art, music, and sports.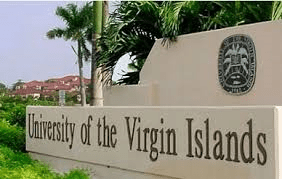 At the University of the Virgin Islands, construction of the S. Donald Sussman School of Medicine is on track to becoming the first Historically Black College and University medical school to be established since 1975, and the only public medical school in the nation, according to UVI. In October, St. Thomas native Dr. Tai Hunte-Ceasar was appointed the founding dean. UVI planned to submit its application for preliminary accreditation to the Liaison Committee for Medical Education before year's end.
As currently designed, the facilities will include a state-of-the-art simulation training center on St. Croix, a classroom building that contains an anatomy lab with advanced visualization, a 100-seat lecture hall, and a clinical skills lab. A biomedical laboratory facility will also be added to the medical school complex on St. Thomas.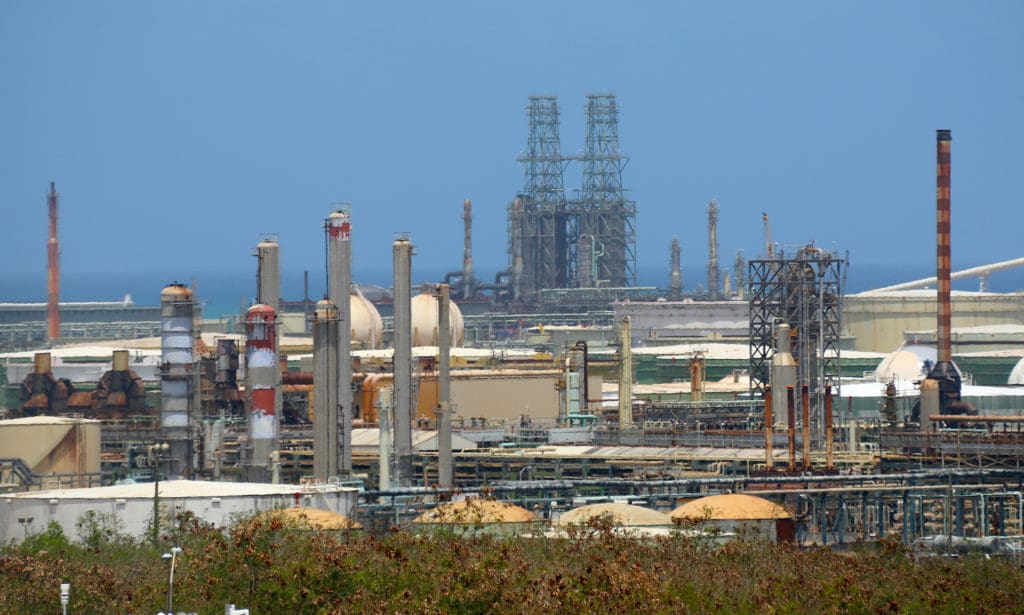 The business dominating headlines for much of the year, however, was the Limetree Bay Refinery. February brought the long-awaited restart of the former Hovensa facility on St. Croix under new owners, Limetree Bay Refining, one year behind schedule and five years after the company penned a deal with the government of the U.S. Virgin Islands to buy the facility that had been shuttered since 2012.
While Bryan hailed the news as "the culmination of years of hard work" and "a big victory for St. Croix and the USVI," disappointment followed as the refinery confronted a multitude of operational issues. Toxic emissions and oil flares affecting hundreds of homes ultimately led to Limetree's forced shutdown for 60 days on May 14 by the Environmental Protection Agency. On June 21, the refinery announced it was suspending its restart plans indefinitely "due to severe financial constraints," and on July 12 filed for Chapter 11 bankruptcy in U.S. Bankruptcy Court for the Southern District of Texas. After a drawn-out auction process, West Indies Petroleum emerged the winner with a bid of $62 million on Dec. 21 and has until Jan. 21 to complete the sale.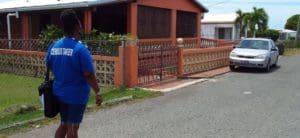 In other news that both surprised and disappointed, 2020 Census results revealed the U.S. Virgin Islands population is at its lowest in decades. The total count for the territory is 87,146, which represents a decline of 18 percent from the 2010 population count of 106,405.
Although the depth of the decline was surprising, a decrease had been predicted, given the anecdotal evidence of an exodus after the closing of the Hovensa oil refinery early in the decade and again after the hurricanes of 2017. Statistics on public school enrolment, which dropped from 15,747 in the 2010-11 school year to 10,718 in 2018-19, also indicated a population decline.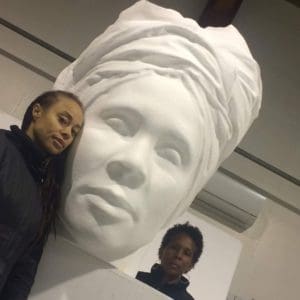 In the world of the arts, the V.I.'s LaVaughn Belle and her Danish colleague, Jeannette Ehlers, launched a crowdfunding campaign for a permanent "I Am Queen Mary" monument in Copenhagen, and a twin one on St. Croix, memorializing the impact of Denmark's colonialism in the Caribbean and the people who fought against it.
The sculpture pays homage to Mary Thomas, known to history as Queen Mary, who led the Fireburn labor revolt on St. Croix in 1878. A version of the massive statue made its debut in March 2018 in front of the West Indian warehouse in Copenhagen in commemoration of the 100th anniversary of the sale and transfer of the Danish West Indies (now the U.S. Virgin Islands) to the United States.
In December 2020, a winter storm severely damaged the monument. The figure was removed and an augmented reality version of the sculpture was developed to hold space for the work and to activate new dialogues.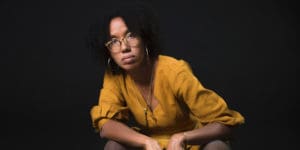 The territory also celebrated the release of critically acclaimed author Tiphanie Yanique's latest novel, "Monster in the Middle," with a series of local readings and signings by her on all three islands. And in December, the Fireburn Foundation and executive producer Angela Golden Bryan brought the premiere of "Fireburn: The Documentary," to Virgin Islands audiences, with screenings and discussions on St. Croix, St. Thomas, and St. John. Filmed entirely on St. Croix in February 2020, the film explores the women behind the 1878 labor revolt and the inhumane conditions that led up to it.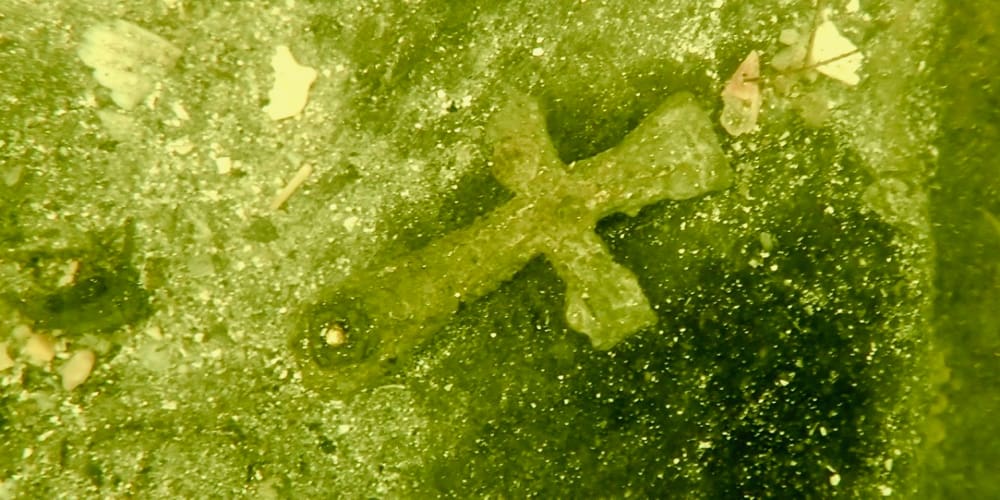 On St. John, a team of divers from several organizations took to the murky waters of Coral Bay harbor in mid-July to confirm what several local divers have quietly alleged for a long time: the existence of a partially buried ship dating back to the early 1700s that could prove to have great historical significance. Jay Haigler of Diving with a Purpose who took part in the expedition, said that given the date of the wreck he was willing to speculate that "It might be possible, and I have to stress the word 'might,' that this ship was associated with the Slave Insurrection of 1733. That would be historically significant."
Notable legal cases of 2021 included the fight for federal Supplemental Security Income benefits for U.S. citizens of America's insular territories in a case that went before the Supreme Court in November, asking the justices to uphold an appeals court decision that found barring residents of Puerto Rico from SSI payments violates the equal protection clause of the U.S. Constitution. A decision in United States v. Vaello-Madero is not expected until the end of the Supreme Court's term in June.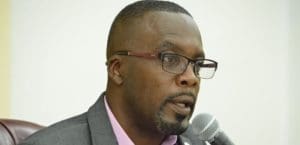 Sen. Marvin Blyden faces an April 19 court date after the Justice Department charged him for "willfully exposing the public to a contagious disease" after he tested positive on Sept. 15 for COVID-19 and a few days later attended a party at Tillett Gardens despite being under Health Department orders to quarantine. Blyden also was censured by the Legislature, which stripped him of his majority leadership position and imposed a 160 work-hour suspension in a hearing Dec. 23.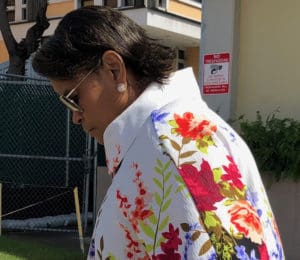 Stephanie Barnes, a former consultant to the Casino Control Commission, meanwhile was found guilty of diverting government funds for her personal use in a District Court trial that began Dec. 6 and ended with her conviction Dec. 22 after the jury deliberated less than two days. Barnes surrendered to the U.S. Marshal Service on Dec. 27 to await her sentencing hearing on April 20.
2021 also was a year of transitions, as the territory's first and only Inspector General Steven van Beverhoudt announced he would retire at the end of November after 32 years. Lawrence Kupfer stepped down as the CEO and executive director of the embattled V.I. Water and Power Authority after two years, and in July, Bryan named Crucian native Ray Martinez as his nominee for V.I. Police Department commissioner after Trevor Velinor retired after two years to spend more time with his family.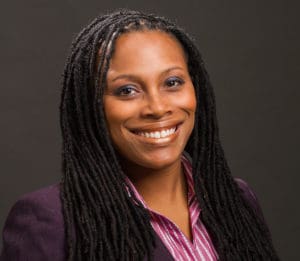 St. Thomas native Dr. Marcella Nunez-Smith added another achievement to her long list of accomplishments with her election to the National Academy of Medicine. The associate dean for health equity research, C.N.H. Long Professor of Medicine and Epidemiology, and professor of internal medicine, public health and management at Yale, Nunez-smith also serves as chair of President Joe Biden's COVID-19 Health Equity Task Force and senior advisor to the White House COVID-19 Response Team.
As U.S. Virgin Islanders bid 2021 farewell, and usher in a new year amid an exponential rise in COVID-19 cases, coupled with rapidly increasing community transmission, the Health Department on Thursday urged continued vigilance with the established COVID-19 protocols.
By now, as the territory enters year three of the pandemic, we know these rules by heart: Mask, social distance, sanitize your hands thoroughly and often, and stay home if you are sick.
Happy New Year!