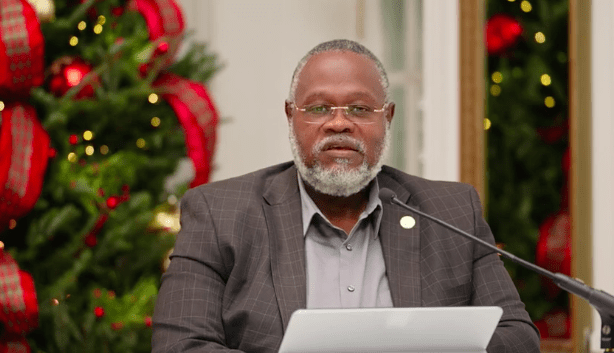 The Deputy Health commissioner, Reuben Molloy, said the number of people in the Virgin Islands with COVID-19 has increased over the last week. As of Monday, there are 66 active cases in the territory – up from 58 the previous week.
The active cases include 45 on St. Croix, 20 on STT, and St. John has one infection, resulting in a positivity rate of 1.24 – up from .74 the week before. Molloy said there are two patients with COVID in the Juan F. Luis Hospital, and the 88th fatality, reported Monday, was a 56-year-old woman on St. Croix.
So far, the new coronavirus strain – Omicron – has not been identified in the territory. Molloy said there might be cases in Puerto Rico, however.
Samples are still being sent to Yale University for sequencing to detect Omicron. Extra caution should be taken since the holidays are coming up, and Omicron spreads quickly, Molloy said.
"We must act as if this highly contagious Omicron is here in the territory," he said, reminding people to get vaccinated, wear masks and wash their hands frequently.
Molloy also asked people to take the "easy and free" vaccine and get tested if they have COVID symptoms. Vaccinations can be scheduled at covid19usvi.com/testing, and people can call the Health Department hotlines, 340-712-6299 on St. Croix and 340-776-1519 on St. Thomas.
Free testing for COVID continues on all three islands:
Tuesdays and Thursdays from noon to 3 p.m. at Cost-U-Less on St. Thomas, and Wednesdays from 1 to 4 p.m. at the Port Authority Gravel Lot on St. John. The St. John location also has free COVID-19 testing available from noon to 3 p.m.
The Department of Health is also providing free COVID-19 vaccines on St. Croix at The Market (formerly known as Plaza Extra West) every Tuesday, Wednesday, and Thursday in December from 10 a.m. to 1 p.m. and at the Farmers Market at the Agricultural Fairgrounds on Centerline Road every Saturday in December from 7 a.m. to 11 a.m.
The current schedule for the COVID-19 vaccine for ages 5-11 is:
Tuesday and Friday at Maternal Child Health on St. Thomas from 8 a.m. to 4 p.m. and Monday through Friday at the Community Vaccination Center on St. Croix from 8 a.m. to 5 p.m.
Getting your whole family (ages 5 and up) vaccinated is easy, convenient and it's totally free. For ages 5 and up you can schedule an appointment by calling 340-777-8227. For ages 5 and up you can schedule yourself or your child online at covid19usvi.com/vaccines. If your child is homebound, the Department of Health can also bring the COVID-19 vaccine to you.
COVID-19 drive-thru testing on St. Croix and St. Thomas is by appointment only. These services are for individuals who are sick or have been exposed to COVID-19. You can make an appointment by calling 340-712-6299 or 340-776-1519. You can also visit
covid19usvi.com/testing
.
During the weekly press briefing, Richard Motta, Gov. Albert Bryan Jr.'s communications chief, announced that $25 million has been mailed to taxpayers in the form of refunds. And, Motta made several other announcements:
The fourth Daddy's Day Out will be held on Dec. 18, from noon to 6 p.m. at the St. Croix Agricultural Fairgrounds. Games, gifts, and prizes are planned to celebrate fathers' participation in their children's lives. All fathers are invited to bring their children to the event.
A formal ribbon-cutting for the completion of phase 1 of the Veteran's Drive construction will be held on Dec. 16 at 10 a.m. The event will be on the Government House FB page and the government access channel, Channel 27.
A ribbon-cutting marking the completion of the terminal expansion at Henry E. Rohlsen Airport will be Monday at 10 a.m. on the Government House's and Port Authority's Facebook page and live on the government access channel.
Motta said Gov. Bryan would announce Tuesday at 1 p.m. a millennial council – an advisory group for Bryan on financial matters and young prospectives.
"As members of this council, they will be presenting to him solutions that could potentially help inform a lot of the policy-making decisions at Government House," Motta said.
Editor's Note: This story has been updated to provide the current schedule and locations for COVID-19 vaccinations and testing in the territory.