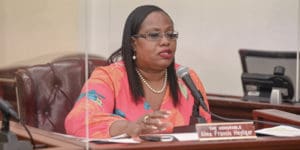 There were more senators on the floor of the Legislature at the end of Wednesday's session than usual and they collectively let a bill die to raise the retirement age of senators from 60 to 65. As discussion of the legislation evolved, it appears the bill would not affect sitting nor future senators.
Sen. Alma Francis Heyliger proposed bill no. 34-0108 to raise senators' retirement age to "standardize the retirement age across most sections of government." Heyliger spoke in favor of the legislation several times – she was very passionate about being on an equal basis with other government workers to "lead by example".
Austin Nibbs, chief executive officer of the Government Employees Retirement System testified that raising the age held "no advantage (to GERS) unless a member continues to be reelected to the age of 65." He recommended passing the bill.
"Our actuary response to the proposed legislation was followed and reviewed the proposed bill to change the age from age 60 to 65. We estimate that this will have a de minimus impact, if any, on GERS's unfunded liability…because of the population size of this category." De minimus means they couldn't really determine an impact, he added.
Committee Chair Carla Joseph was the last to speak but the first to say the bill doesn't apply to sitting or future senators because they all enter the system on the second tier. The legislation only affects Tier I and those senators are already collecting their pensions, she added.
Senators have been challenged to find a way to rescue the failing retirement system but raising the age of retirement wouldn't "move the needle any," Nibbs said. He said GERS has tried to raise the retirement age to 65 years and said he supported passing the bill.
Senators had as many comments as questions. Sen. Kenneth Gittens, a non-member, asked if the bill could be retroactive, thereby affecting the 34th Legislature. Cathy Smith, GERS general counsel, said the law could be made retroactive but might not hold up in court.
Sen. Kurt Vialet said that people think senators get their full salary after three terms, which is not true. They must reach retirement age. He also pointed out senators are not like teachers, or custodians because they have to be elected every two years and do not have collective bargaining.
"You're not protected by a union. You're protected by the work that you do, the measures you pass," he said.
Vialet said the bill pointed out that senators don't receive their retirement until they reach the age of 60.
Sen. Franklin Johnson asked about senators' retirement benefits. Nibbs said they range from 3.5 percent to 5 percent depending on time served and told Sen. Javan James that a senator making $85,000 a year would receive around $82,000 annually when he or she retired. A governor receives 40 percent of the salary immediately after serving one term and 80 percent after two terms, regardless of age he added.
Sen. Novelle Francis, who has served 32 years with the government, said the discussion was only deterring young, aspiring people from running for senate.
"My position is we need to continue to work collectively towards addressing the insolvency of the (GERS) system," he said.
V.I. senators make more than legislators in every state but California, Pennsylvania and New York. V.I. senators' pay starts at $85,000 and is tied to commissioner salaries. Most states pay between $20,000 and $50,000 per year, according to government watchdog Ballotpedia.
At the end of all the comments, the bill failed due to the lack of a second.
Also discussed by the committee, was Bill no. 34-0103, to add a definition for essential businesses and essential employers or workers, also sponsored by Heyliger, because the territory is "in a perpetual state of emergency" and a "state of preparedness" is a way of life, she said.
Sandra Thomas Mason of Catholic Charities testified the non-profit organization supports the bill because they care for the homeless with food and shelter during and after a hurricane.
Lisa Hamilton, president of the V.I. Hotel and Tourism Association, criticized the bill in written testimony because it was "not definitive" and so "broad and vague it offers no guidance." In the end, the bill is unnecessary because the V.I. Territorial Emergency Management Agency has done a good job determining what is essential, she wrote.
VITEMA Director Daryl Jaschen said defining essential workers and businesses in this way would allow far too many people out on the road after a storm. The governor's statement of emergency identifies the categories of essential persons by the level of public service and response.
VITEMA needs to be flexible in identifying who is essential depending on the disaster, he said. VITEMA also needs to be able to determine which businesses are ready – with power, staffing and other resources – to perform essential services.
"Being identified as an essential business is one thing, being prepared to perform these services after a disaster is another," he said. "Essential is not just curfew passes. Essential means power restoration. It means telecommunications restoration. It means supply chain."
Sen, Javan James said if definitions are added to the V.I. Code, then the means to enforce must be included as well.
In the end, Heyliger made a motion to hold the bill in committee to add amendments suggested by James and Jaschen. The motion passed.
The last testifier of the day was Raymond Williams, executive director of the V.I. Lottery who appeared with his administration to update senators on the agency. He said the goal is to make the V.I. Lottery the preeminent game in the territory.
"Gaming should be entertainment, not gambling," he said, and COVID has changed the way the program works.
In the meantime, staff attended a convention recently and some have engaged in training. They also are reviewing policies and procedures based on how they are doing business – shifting to virtual gaming. They have submitted amendments to the law for review before presenting to the Legislature.