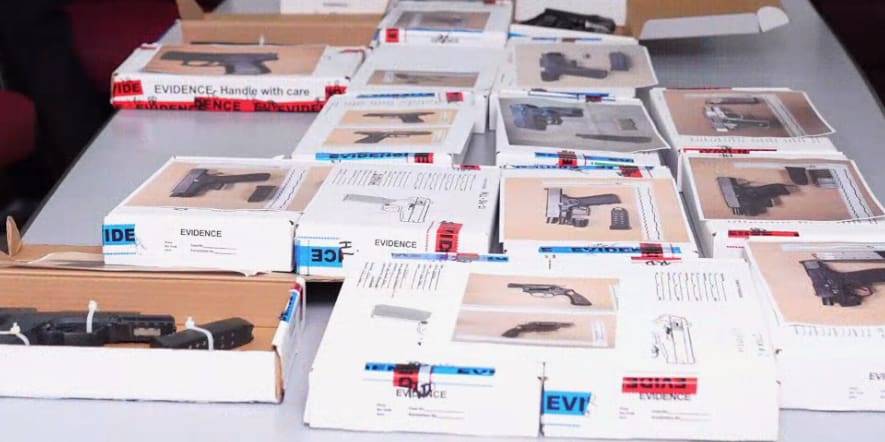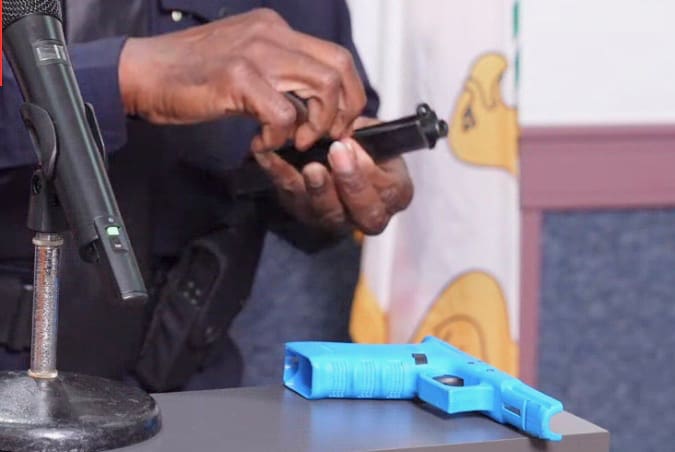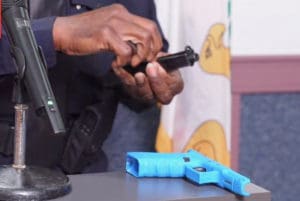 Virgin Islanders got a chilling demonstration Tuesday of just how easy it is to build a "ghost gun" from parts procured online and shipped in the mail.
St. Croix Deputy Police Chief Uston Cornelius assembled just such a gun – so-called because they do not have serial numbers and the individual parts can be purchased without background checks – in less than one minute during a V.I. Police Department press briefing on Tuesday, broadcast live on YouTube. Ghost guns are becoming increasingly common in the USVI, he said.
Near the podium where Cornelius spoke was a table of 20 guns, ranging from .38 Special revolvers to semi-automatics to an AK-47, all confiscated from the streets of St. Croix since August.
Cornelius said criminals prefer the .38 Special because it retains the spent shells when fired, ensuring that no evidence is left behind at the scene. Semi-automatic weapons are favored for their rapid fire – they work as quickly as your index finger can pull the trigger, and AK-47s for the extreme damage they can inflict, he said.
The 20 guns confiscated in just over two months resulted in a corresponding number of arrests, said Cornelius, who credited a wide variety of divisions within the department for the haul, from patrol officers to motor carrier inspectors, the investigations bureau and economic crime unit to school resource officers and even enforcement personnel with the Department of Planning and Natural Resources, who helped to secure an accident scene where a weapon was recovered.
"This is how we must continue to work – together, with one goal, to make our communities safe," said Cornelius.
However, also key to the VIPD's success in getting guns off the streets is the public's willingness to call in tips to the police, said Cornelius.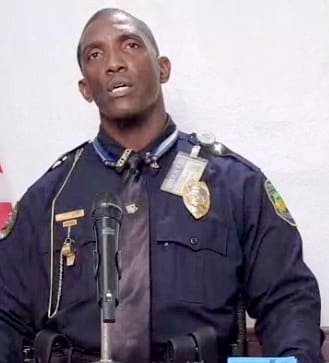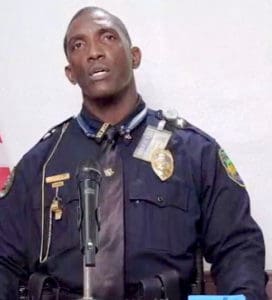 "Ladies and gentlemen, this display you have before you would not be possible if you, the public, didn't call and pass on the information. We need you, I need you, to continue with this relationship we have forged, to continue this commitment we started, because it's only this direction that we're heading in that we can make our streets safer," said Cornelius.
"You know, I envision mommy and father walking Frederiksted, right along the shoreline on Strand Street, towards the Ann Abramson pier, on a Friday night or Saturday night, strolling down the Abramson pier and coming back and saying, 'Wow, that was a lovely night, I'm ready to go home,' because they feel safe," said Cornelius.
"I'm envisioning the young mother with her five-year-old, seven-year-old, walking the boardwalk in Christiansted, and they can point out the fishes along the shoreline right there as they walk the boardwalk, that's what I'm envisioning," he said.
"We're envisioning that safer Virgin Islands, and with your help, I know that we can get it done," said Cornelius. "I can only continue to ask the public to stay with us, continue to throw the information at us, give us the opportunity to investigate, and continue making our streets safer."
After listening to the patrol unit's concerns over the last few months, the St. Croix chiefs also have implemented an "Officer of the Month" award to boost morale, said Cornelius.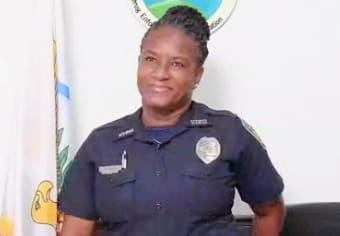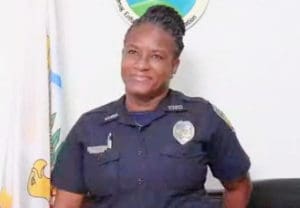 Vanessa Richardson-Fieulleteau, whom Cornelius said "has gone above and beyond" in her patrol duties, on Tuesday became the first officer to receive the award, which includes a two-night stay at a local hotel, dinner for two, a spa date, a specially marked "Officer of the Month" vehicle, and a designated parking space for the month.
The incentive program was developed after a series of "roundtable discussions" among department leaders, said Cornelius. The public buy-in has been remarkable, he said.
"Eleven hotels I went to, and when I explained what we wanted to do in the department for our officers, in this hard time, these business owners were like, 'Man, we're in.' I couldn't even finish what the idea was – 'We're in. We're going to support our police department,'" he said.
Chris Richardson of Sand Castle on the Beach Hotel in Frederiksted presented Richardson-Fieulleteau with her certificate for a two-night stay and dinner at the property at Tuesday's briefing.
"It is really our pleasure," said Richardson. "Thank you very much for letting us participate in helping to give incentives to the officers who are working so hard for us."
Plans are in the works to also honor civilian employees and offer morale-boosting perks for those who don't achieve Officer of the Month, such as a "whacky socks" contest planned Wednesday, with a prize of lunch at a restaurant of the winner's choosing, said Cornelius.
St. Croix Police Chief Sean Santos said the VIPD plans to update the public on the department's crime-fighting efforts on a quarterly basis going forward.
"This was a promise that we made to the Virgin Islands community, that we will do what is necessary, and by law, to remove illegal guns off the streets due to the high number of illegal firearm-related deaths in the territory," said Santos.
There have been 38 homicides in the territory since Jan. 1, with 25 on St. Croix, 11 on St. Thomas, and two on St. John, according to the Source homicide list.*
At the conclusion of Tuesday's briefing, VIPD Public Information Officer Toby Derima urged the public to call 911, the tip line at 340-778-4950, or Crime Stoppers V.I. at 800-222-8477 to report information about any crime in the territory.
*While the Source homicide list is based on VIPD reports, the Source does not include suicides or vehicular homicides in its listing that the police and some other media do. This can lead to a discrepancy in the number of incidents reported.