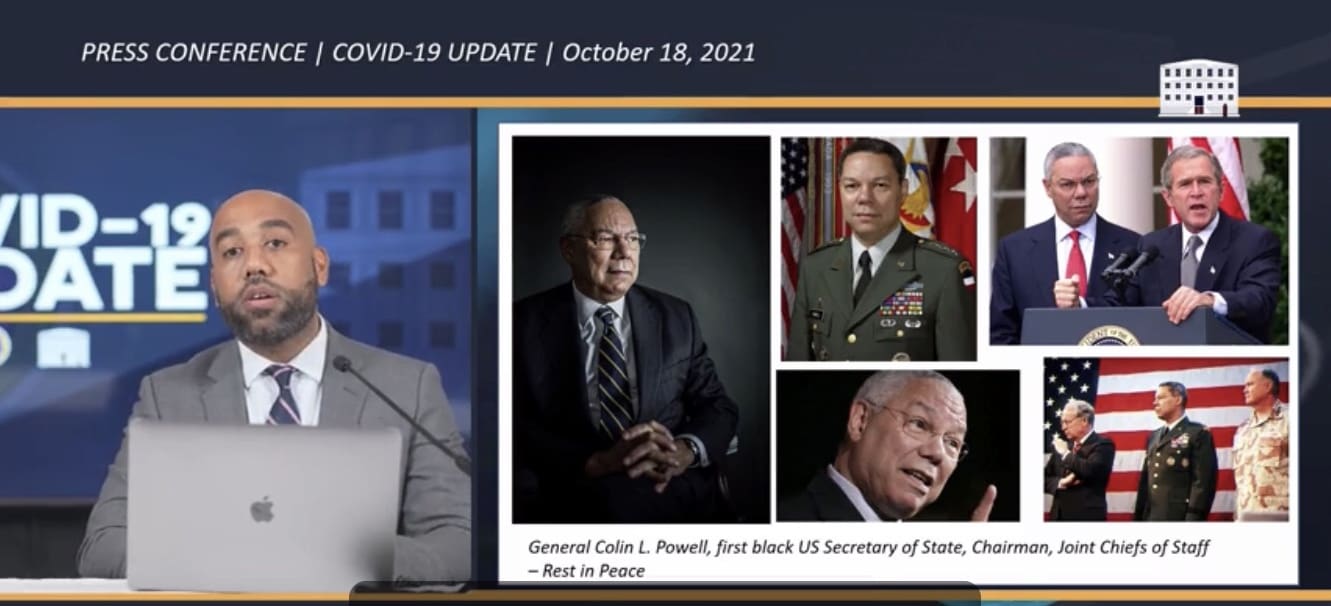 U.S. Virgin Islands officials paid tribute Monday to Colin Powell, the son of Jamaican immigrants who made history as the country's first Black national security advisor, chairman of the Joint Chiefs of Staff, and secretary of state.
Powell, 84, who served two tours of Vietnam as a young Army soldier, died Monday at the Walter Reed National Military Medical Center in Bethesda, Maryland, of complications from COVID-19, according to a statement by his family. He was fully vaccinated, but had Parkinson's disease and multiple myeloma, a form of blood cancer, a family spokeswoman said.
V.I. Delegate to Congress Stacey Plaskett remembered an informal encounter with Powell on her way to a State Department meeting with her then-boss Larry Thompson, who was deputy attorney general at the time.
"He was a towering figure to me — Caribbean American, New Yorker, statesman, soldier, diplomat, servant, humble, ground breaker, pioneer and the epitome of accountability. He loved his wife and family, and his country," Plaskett said in a statement, recalling their first meeting.
"As we walked through the hall to a conference room, a big man in a suit was bent over a copy machine trying to unjam paper. It was Secretary Powell. My boss stopped and said with a chuckle, 'Mr. Secretary, you all right down there?' Secretary Powell got off his knees with an embarrassed staffer next to him and said, 'Gen. Thompson, just trying to help my staff get these documents together for the meeting.' My boss rolled his eyes, 'You're always looking for a reason to tinker with some damn machine.' They shook hands and we walked into the meeting," Plaskett said.
"This was my first and lasting impression of Mr. Powell – no job was ever too big nor too small for him. He spoke and lived by the principles he believed in and was an eternal optimist. I strive to embody the diligence and excellence he exercised in whatever he set his hands and mind to do," said Plaskett.
Government House Communications Director Richard Motta extended condolences on behalf of Gov. Albert Bryan Jr. and Lt. Gov. Tregenza Roach at the administration's weekly press briefing on Monday afternoon, calling Powell an inspiration to people of African descent throughout the region.
"Powell was a respected U.S. military leader and pioneer, having served as the first African-American U.S. secretary of state and the first African American to serve as a national security advisor to a U.S. president," said Motta.
"As a prominent West Indian American his achievements were an inspiration to people of African descent throughout the region and the nation," said Motta. "Unfortunately, his passing is yet another sobering reminder that the COVID-19 crisis is not quite behind us and is still very, very real. May his soul rest in peace."
Though a declared Republican, Powell endorsed Barack Obama, a Democrat, in the then senator's 2008 run for president, and on Monday, Angel L. Bolques Jr., national committeeman of the Virgin Islands Democratic Party, paid tribute to the late general.
Powell "was an exceptional example of a determined and hard-working man of the people. He served this country as a politician, diplomat, a four-star general, and the 65th United States Secretary of State from 2001 to 2005," Bolques said in a statement.
"Before the election of Barack Obama as president in 2008, Powell and his successor, Condoleezza Rice, were the highest-ranking African-Americans in the history of the federal executive branch. He was the shining standard for many aspiring African-Americans that sought leadership roles in the United States government," said Bolques.
"His successes have broadened the playing field, not only for African-Americans but for many other minorities. I can only thank and appreciate the Honorable Colin Luther Powell for his invaluable contributions of service that have inspired millions of minorities across the United States of America and the world. His legacy will live on," said Bolques.
"Enter your rest sir, you've been a good and faithful servant," said Plaskett.
Powell is survived by his wife of 59 years, Alma Vivian Johnson, two daughters, a son and four grandchildren.