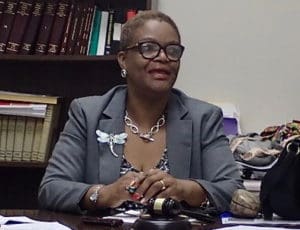 During a Senate hearing Tuesday, Virgin Islands Bureau of Motor Vehicles Director Barbara Jackson-McIntosh clarified the temporary suspension of vehicle inspections for private vehicles in Gov. Albert Bryan's latest COVID-19 executive order. (28th-Supplemental-COVID19-Executive-Order)
The order extends until March 15 of next year and temporarily suspends the need for private vehicle inspections, Jackson-McIntosh told the Government Operations and Consumer Protection Committee. But she said vehicle owners are still expected to register their vehicles, new vehicles still require an inspection, and commercial vehicles are not included in the inspection deferment. (See BMV website: myBMV.bmv.vi.gov)
Outside of the order, Jackson-McIntosh said BMV policy is vehicle owners do not need to have a vehicle inspection if their vehicle is 6, 8 or 10 years old. However, if your vehicle is 7 or 9 years old, owners must get their vehicle inspected.
"We are spot checking in between for those years," Jackson-McIntosh said.
Reflecting the same confusion from the community, non-committee member Sen. Kurt Vialet said he thought "it was cars from 2018 to present, or 2017 to present doesn't need an inspection. I didn't know it was six, eight, or ten."
Regardless of inspection, Jackson-McIntosh said all residents must continue to register their vehicles, which can be done online. In fiscal year 2020, she said 75,408 vehicles were registered in the territory compared to seventy 78,253 in fiscal year 2021.
But Sen. Novelle Francis Jr. was interested in when recreational vehicles would be required to have registration.
"We have a lot of ATV's operating on our roadways and there is some regulation that is required to make sure those vehicles are operating within the confines, they are properly insured, and protected, because I am fearful that something dangerous is going to happen," Francis said.
Jackson-McIntosh said for recreational vehicles to be registered the BMV would have to ensure the vehicles are roadworthy and that the manufacturer's certificate of title states that they are allowed to be driven on the roadway.
"I suggest that that should be included in the legislation somewhat, because even though a person feels or believes the vehicle should be driven on the roadway, if the manufacturer states that it should not, then there would be some kind of liability there," Jackson-McIntosh said.
There was no vote taken on matters pertaining to the BMV as the hearing was to garner information and inspire discussion.
Sens. Carla Joseph, Novelle Francis Jr., Marvin Blyden, Alma Francis Heyliger, Javan James Sr., Franklin Johnson, and Milton Potter were present for the hearing. Additional non-committee members also attended the hearing.