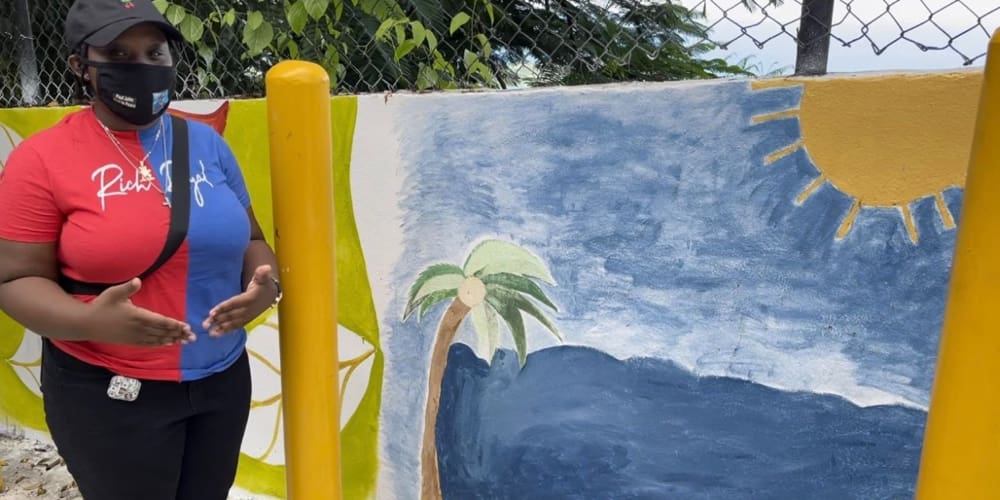 A partnership between Ivanna Eudora Kean High School and the V.I. Waste Management Authority is helping to spruce up local bin sites, with students painting the walls with large-scale murals emphasizing the importance of keeping the islands clean and free from trash.
"Preserving Paradise" is the theme of each mural, which IEKHS Assistant Principal Juelis Hodge said gives students both the chance to earn their required school community service hours and nurture their creativity, two things that have become a bit more difficult during the ongoing pandemic.
"We started in the summer and planned out four panels on this side, and four panels on the other side," Hodge said of the mural at Crown and Hawk on St. Thomas. "It was set up so that each student had their own space, or 'canvas,' and they were just free to paint their own interpretation of what it means to preserve paradise."
The young artists came up with their own individual sketches first, then moved from paper to the wall. Hodge said all the renderings translated well, which can often be hard, even for the most experienced artist.
"What I love is that the project is completely done by the students," she said. "I always tell people that the easiest way to spread the idea of keeping the island clean is through our kids. Like with this group, I bet that their uncles, aunts, cousins won't litter around this area now because this is part of them and what they have done for their community and my hope is that we continue to get even more students involved in future projects."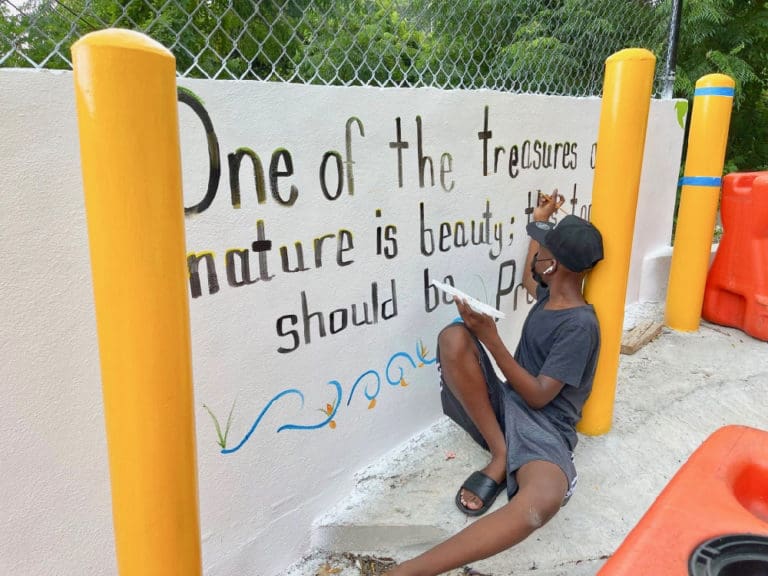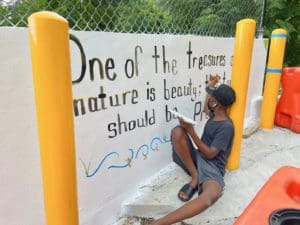 For some, such as Kean freshman Cardea Thomas, the community service aspect of the project was appealing, but so was the opportunity to create art on a large scale. A budding artist, Thomas' talent was apparent from not only the drawings in her sketchbook but also by her piece of the mural, which showed local flowers potted in a tire. Discarded tires, Thomas said, can sometimes be a waste issue, but finding ways to reuse them helps to "preserve paradise."
Amelia John, also a ninth-grader at Kean, opted for a beach scene, pairing a warm yellow sun with vibrant blues for the sky and water. Next to her panel, the word "preserve" was painted.
"I think we all try to do a lot to preserve our islands, but there is always more that can be done," John said. "Thinking about my panel, I wanted to show something that really felt like St. Thomas – for me that was the beach – and I wanted people to be able to look at it and think about what it would be like if that didn't exist. Because, if we don't all do our part to preserve paradise, then we will lose it."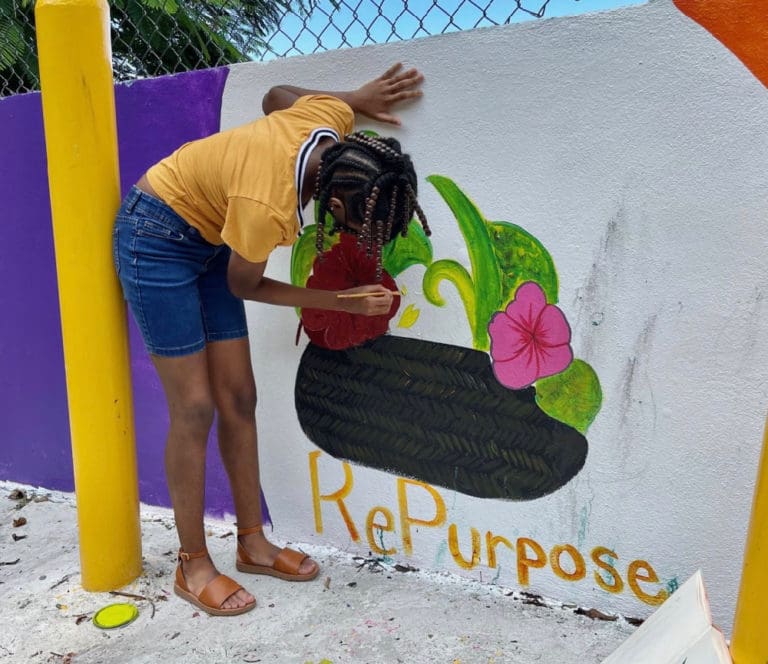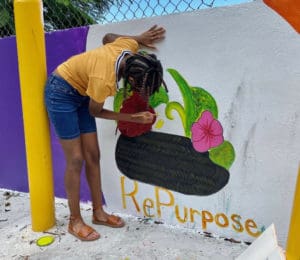 Thomas' and Hodge's panels were complemented by a quote added by All Saints Cathedral School ninth-grader Jaedon Hodge, which read, "One of the treasures of nature is beauty. This, too, should be preserved."
"For me, this means that we should hold dear the resources around us, like the trees or the land," Jaedon Hodge said. "Because if we destroy these things, then the world won't be habitable and humanity won't exist anymore. Preserving nature now gives our families a future."
Other students participating in the project were: Aniya Henderson, Lourdjy Philogene and Re'Kyle Jones.