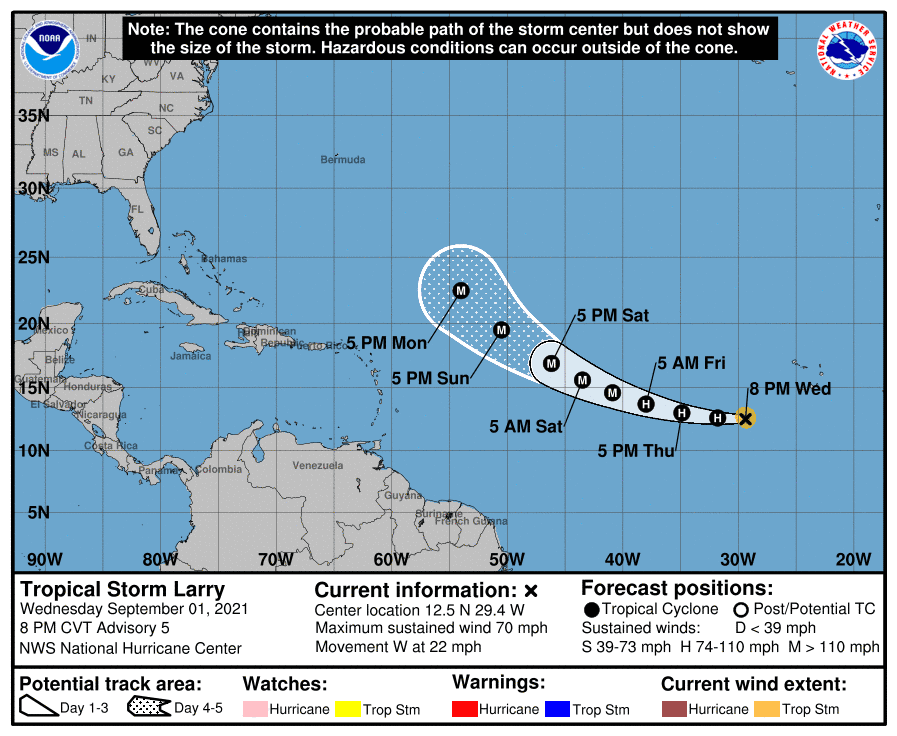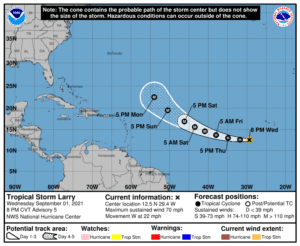 A weather system that developed into Tropical Storm Larry on Wednesday is now expected to become a hurricane by Wednesday night or early Thursday morning but is not likely to threaten the U.S. Virgin Islands.
According to the National Hurricane Center's 5 p.m. Wednesday update, Larry was about 370 miles west-southwest of the southernmost of the Cabo Verde Islands, moving west at 22 miles per hour.
Afternoon satellite imagery indicated that Larry was continuing to become better organized, with visible imagery hinting at eye formation. Intensity estimates based on satellite data indicate the winds in the storm have increased by 30 knots in a day, from 30 knots Tuesday afternoon to 60 knots Wednesday.
Larry is expected to move around the south and southwest sides of a subtropical ridge during the next five days, with a westward motion for the next 24 to 36 hours, followed by a turn toward the west-northwest and, by the weekend to have turned toward the northwest, swinging away from the Antilles.
Conditions appear favorable for additional rapid intensification during the next 36 to 48 hours, the National Hurricane Center's forecasters said, and the intensity forecast now calls for Larry to become a hurricane in less than 12 hours from the 5 p.m. update, and become a major hurricane sometime Friday.
In the next two to three days Larry will meet up with increased wind shear and dry air that should slow development, but by the weekend the storm is expected to move into a more moist air mass and over increasing sea surface temperatures.
However, by that time Larry is expected to be swinging out into the open Atlantic and not pose much threat to the Antilles, according to the National Hurricane Center forecast.