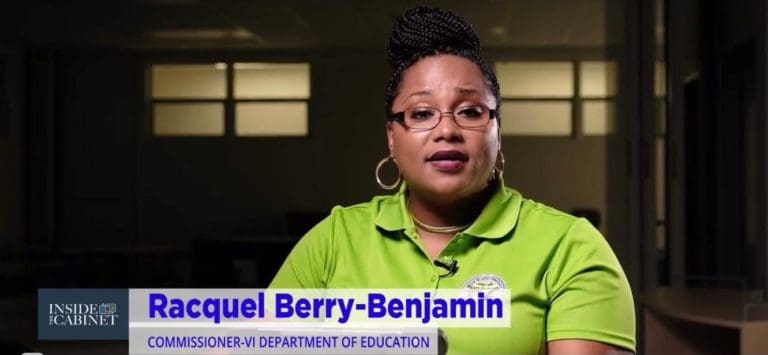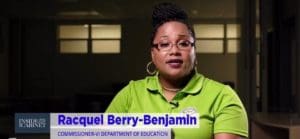 Education Commissioner Racquel Berry-Benjamin talked about plans for distributing laptops in preparation for more virtual learning, efforts to vaccinate students and more, while hosting "Inside the Cabinet" on the Government House Facebook page Wednesday.
This school year, students anticipated restarting their education in person on the various campuses throughout the territory. However, due to an increase in COVID-19 cases as a result of low vaccination levels, Gov. Albert Bryan recently announced classes will continue to be virtual.
"We were so excited and ready to bring back students," said Berry-Benjamin. "We at the Department of Education are most disappointed about this. Our children will return to school when it is safe for them to do so."
The department will be providing devices to students that need assistance to enter classes virtually.
"Our students will receive laptops. This entire week we've been distributing laptops to our students and families that need," said Berry-Benjamin.
Laptop and MiFi distribution schedules can be found on the Department of Education's website or by calling the department at 340-774-0100.
On Friday, Aug. 6 a territorial student orientation will be broadcast on the department's Facebook and YouTube pages. The Charlotte Amalie High School, however, will conduct its own virtual orientation for its students. Details for the Charlotte Amalie High School orientation will be sent to the school's parents and students.
For virtual learning, students are expected to wear their school shirt and an appropriate bottom that is knee-length, and the school system recommends students sit in front of a wall so that there is less background interference while they are present in classes.
Email public.relations@vide.vi for questions and concerns regarding student engagement at school as it relates to scheduling or getting in contact with school administrators.
Berry-Benjamin said that though schools are open, "Given the virus, our teachers and school-based personnel do have the option, those that can work from home, will have an opportunity to work from home." However, "If the principals call those individuals who are working from home back to the campus … we have the necessary space and resources for teachers and personnel to spread out on our campuses. We have to get to a safe place where all of our students, 10,000-plus, can come back safely."
The department will also continue breakfast and lunch distribution. Distribution sites will be announced.
"I was one of those students who looked forward to having breakfast and lunch … I know exactly how important it is for the V.I. Department of Education to provide this service," said Berry-Benjamin.
This school year, upon the return to in-person learning, random COVID-19 testing will be conducted on students by the department through a federally funded program. The department has partnered with Affinity Empowering, an occupational health, population, and disease management life sciences organization, and hopes to test at least 10 percent of the student population. Testing is not mandatory and parental consent will have to be given for a student to be tested.
"The Department of Education has set up to ensure that the necessary testing will take place on our campuses for our students," said Berry Benjamin. "Parents, we ask for your support. Please provide that parental consent form."
The commissioner also encouraged school-based personnel who are vaccinated to sign up for the Department of Education's Vax to Win lottery here. The deadline to sign up is Aug. 6, and the drawing is scheduled to take place on Aug. 9. Prizes include $25,000 for the first-place winner, $10,000 for second place, and $5,000 for third place.
"Get vaccinated," said Berry-Benjamin. "We've done it. We've actually had a good experience, some went through better than others. But we're all here today to demonstrate that vaccinations work."
When asked if all COVID-19 safety gear has been installed on campuses, Berry-Benjamin said, "In comparison to last year we have received an abundance to keep our campuses safe for our students to return. The adequate amount necessary, absolutely. Do we have more coming? Yes, we do."
The department currently has touchless water fountains, hand sanitizer and soap dispensers available for use and will also receive touchless sinks and toilets to be installed on campuses.
Berry-Benjamin also addressed the concern that parents have about work-home relations.
"Students have to be educated and parents have to work. You know, in the Virgin Islands we are no stranger to destruction, whether it be natural disasters such as hurricanes. We have lived for many years learning to cope and adapt, and unfortunately, COVID 19 is just our newest challenge. It is definitely nothing we cannot achieve and accomplish together," said Berry-Benjamin. "It's important that parents and families come together and work out schedules within their homes, among themselves first."
"What's most important is that you communicate with your supervisor," said Berry-Benjamin. "This is the time we unite. This is the time we think about how we are going to problem solve … Public and private supervisors, I ask that you also, please work with your employees … Together we can definitely get this done."
Inside the Cabinet is a weekly livestream program from Government House that allows the community to ask questions and raise issues with Bryan-Roach Administration Cabinet members. It is live-streamed at 6 p.m. every Wednesday on the Government House Facebook page. Residents who have a question they would like to be addressed on the program can ask live on the stream or send an email in advance of the broadcast to GovernmentHouse@go.vi.gov with "Inside the Cabinet" in the subject line.