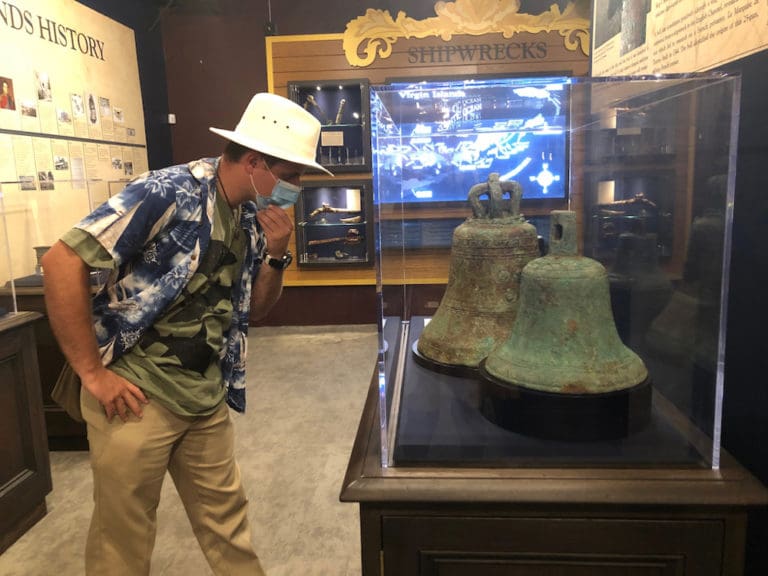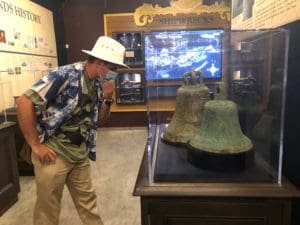 Perusing the St. Thomas Pirate Treasure Museum Tuesday, Texas A&M Maritime Academy student Jonathan Frank was blown away by the artifacts on display from La Marquis de Tourny, a French corsair that, according to historical archives, seized English cargo and terrorized English ships during the 18th century.
The wreck of the ship was discovered in 2010 and Tuesday – more than 10 years later – Frank was able to regale museum patrons with stories of its crew, calling the Tourny the "scourge of the British merchant fleet more than 260 years ago." His tales were so intriguing that one of Pirate Treasure's tour guides dubbed him the first "real pirate expert" to enter the museum's doors since its opening, and Frank is only 22 years old.
"The reason why I came to this museum is because of the artifacts of the Marquis de Tourny, a French corvette and privateer that was in the 1744 war," Frank told the guide. "I had heard of these artifacts when I was really young and because of it, I still study French corsairs but I had no idea that the artifacts were on display until I got to St. Thomas."
A quick Google search shows that for more than a decade after it was commissioned, the Tourny "menaced English sailors under a form of state-sanctioned piracy designed to cripple the British trade," but disappeared suddenly in the mid-18th century. Its remains were found more than a century later. Wreckage from the ship, including a well-preserved bell, was found in the English channel, suggesting that it had sunk with all hands in a storm.
While the mystery was intriguing to Frank, what he was more excited about was the architecture of the vessel, a warship with a flush deck and a single tier of guns. In the days of sailing ships, corvettes were ship-rigged (square-rigged,) smaller and faster than a frigate and propelled by oars as well as sails. Frank's dream is to work aboard such ships, preserving history, and because of that, he had put visiting St. Thomas, and the museum in particular, on his bucket list.
Luckily, St. Thomas was the first stop on his voyage with the U.S. Training Ship Kennedy, which docked Monday at the West Indian Company Ltd. Dock in Havensight with nearly 270 students aboard and was scheduled to leave Wednesday morning. The ship has been at sea for nine days, coming in from Galveston before docking on St. Thomas and giving all aboard the chance to enjoy the rich history of the island, while also providing hands-on experience in the operations and maintenance of a ship, tying in everything the students have learned in the classroom.
"Of all the places to visit, there is so much significant history here from the late-to-golden age of piracy, that being the era post-Henry Morgan, looking to Jean Hamlin and Jacob Bannister," referring to infamous pirates of the 1600-1700s. "And Jean Hamlin himself, a pirate and rogue French corsair, was an individual who used St. Thomas as a staging ground, a base, a safe harbor. In addition, St. Thomas itself was one of the major Danish colonies besides St. Croix that was heavily fortified itself and as a result, some of the significant fortifications here, such as Fort Christian are still intact. It's simply amazing."
While Frank is currently studying marine transportation, his minor – and passion – is archeology, and he plans to use both in the future.
"Our school takes on individuals who are going to go to college and get their degree, and then once they graduate, they get a licensure as a third mate and will be able to work everything from tankers to bulk carriers and container ships," he explained. "I am here because there is an additional opportunity to commission to the U.S. Coast Guard, and very few take it but I want to preserve artifacts. I want to preserve the national treasures and stories, and the best way to do it and put my talents to use is at sea."
The Training Ship Kennedy will begin its journey back to Galveston Wednesday, before sailing to Cape Cod and its homeport in Massachusetts.