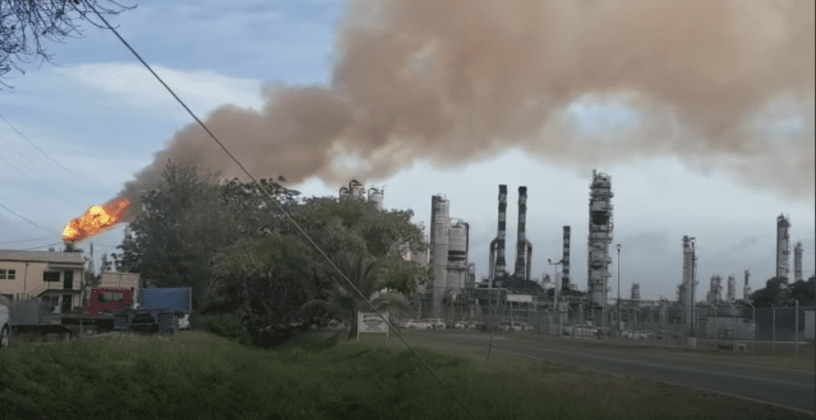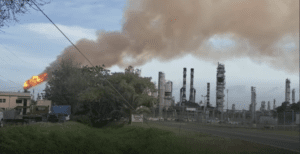 There was little movement towards getting cisterns cleaned and filled with fresh water Thursday during the first day of the class action suit against Limetree Bay for spraying oil from the refinery over several mid-island neighborhoods and farmlands earlier this year.
According to the plaintiffs' attorneys – Lee Rohn, Russell Pate and Marina Leonard – they represent around 2,200 residents affected by the accidental oil releases. Some have had their cisterns cleaned and refilled but many others have been using bottled water provided by Limetree to cook and bathe in.
"Many got no money and have no money, but won't give up their personal rights," Rohn said. "Hundreds of homes have never been cleaned."
The plaintiffs involved in the lawsuit include Beecher Cotton, Pamela Colon, Sirdina Isaac-Joseph, Sylvia Browne, Alvina Jean-Marie Ilarraza, and Esther Clifford, individually and on behalf of others similarly situated.
There was no discussion of cleaning the neighborhoods affected by oil in District Judge Wilma Lewis' courtroom because there were other issues to be decided first.
In fact, the proceeding was called to hear oral arguments from both sides about a temporary restraining order, a preliminary mandatory injunction, limiting communication by Limetree with members of the class action suit and about voiding the releases signed by residents in order to have their property mitigated.
One of the issues the court must deal with is the bankruptcy filed by Limetree Refinery on Tuesday. Because bankruptcy candidates are granted an "auto stay" and are not to be involved in lawsuits, the refinery should be eliminated from the injunction until after the bankruptcy is settled. Since the class action suit was filed against Limetree Bay Refining LLC, Limetree Bay Ventures LLC and Limetree Bay Terminals LLC, the plaintiffs need to decide how much liability, if any, should be accorded to the other two entities.
Limetree defense lawyer, Carl Beckstedt III, said if there are claims against the bankrupt entity and those not involved in bankruptcy, the bankruptcy court should work it out during those proceedings. He added that during the bankruptcy filing in Texas, Limetree Refinery discussed a budget for an EPA suit to "include funds for the remaining remediation in the community."
Rohn said she believes the three companies are essentially the same because there is one chief executive officer, insurance coverage by one company and they didn't distinguish between entities when discussing the May 12 oil discharge although it was the refinery responsible for the action.
The other defendants are ArcLight Capital Partners LLC, Freeport Commodities LLC, EIG Global Energy Partners LLC, BP Products North America and John Doe.
Representatives from BP Products and ArcLight Capital argued successfully that they were not responsible for the spill nor the cleanup. ArcLight said it was not liable for Limetree actions because they sold their equity in the company in April 2021 – one month before the major incident. BP said it had nothing to do with the releases nor was it consulted. Other potential liabilities of the companies will be determined as the case proceeds.
The plaintiffs' attorneys also need to discover which if any of the Limetree owners are residents of the U.S. Virgin Islands and which are not. That will determine whether the case should be heard in U.S. District Court or, if local, V.I. Superior Court will handle it.
Regarding a mandatory injunction, Lewis told the plaintiffs they must show how the episode created irrefutable harm and said that a promise to clean and fill cisterns at a later date does not qualify as irrefutable harm. People can seek additional damages, she added.
"There is no evidence to support irrefutable harm," so far, Lewis said. "If you can recover monetary damages later on you do not have irrefutable harm."
Beckstedt and Rohn agreed it was in the public interest to clean up the oil.
After a lengthy discussion about releases signed by residents, Lewis voided the current release form and charged both sides with creating a new one that can be used in the future. The former release used by Limetree was found to have inadequate and confusing information about the class action suit and terminology regarding bodily injury and property damage.
In the end, Lewis told the attorneys to get together and clarify issues for a temporary restraining order and additional evidence for a mandatory injunction.
The judge also ordered both sides to schedule and prepare a "stay" brief involving the three Limetree Bay entities. She said she will publish dates for the next actions.
There were several attorneys in the gallery who said they represent a number of residents in other class actions suits. One of them said there were experts taking soil samples in the affected area. The total number of U.S. Virgin Islanders seeking some kind of class action relief is unknown.