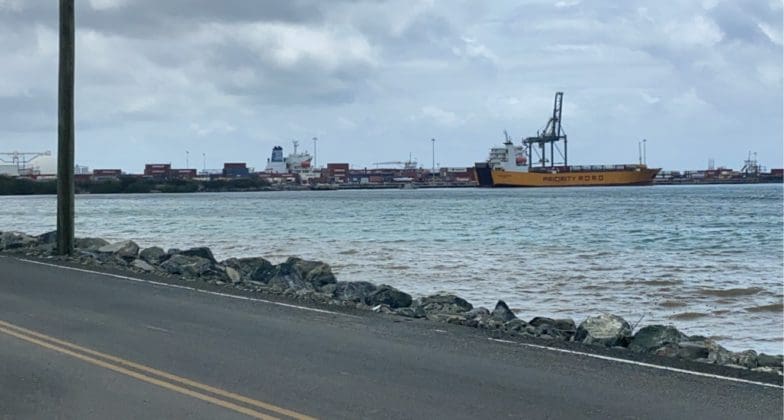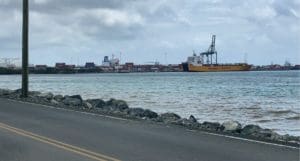 The V.I. Port Authority Board unanimously voted to approve Executive Director Carlton Dowe to enter into a long-term lease agreement with major cargo shipping companies Tropical Shipping Company, LLC and Crowley Caribbean Services, at an emergency meeting Wednesday. With the approval, Dowe will issue letters of assurance to confirm the new lease agreements in writing. The urgency for the emergency board meeting was also due to the grant application deadline of July 17.
Although both companies were requesting leases that have at least a 10-year term with at least a 5-year renewal option, Dowe recommended a 20-year term with at least a 5-year renewal option. In exchange for the extension of the lease, both companies are to provide significant investment in the Crown Bay Marine Transshipment Terminal in St. Thomas and at the Wilfred "Bomba" Allick Container Port in St. Croix.
In October 2020, the Port Authority was awarded a $21 million grant from the U.S. Department of Transportation for port infrastructure development. Both Tropical Shipping and Crowley have pledged to contribute $2.7 million each to satisfy grant requirements of 10 to 20 percent matching payments. The Port Authority is now seeking a similar grant for the repairs at the Wilfred "Bomba" Allick Container Port in St. Croix. The repairs to the container port are estimated to be approximately $60 million.
"VIPA certainly does not have the funds to undertake such an expense at this time," Dowe said. "Even a 10 percent to 20 percent match of $60 million is outside of our financial capability at this time."
Dowe said that to take advantage of securing a grant for the infrastructure upgrade at the container port, private partner participation is necessary. Both Tropical Shipping and Crowley have verbally committed to an investment of up to $4 million each to the repairs at the container port.
"When that grant application moves from the port authority to the federal government that goes along with a document indicating where this 20 percent is coming from and so under the authorization of the grant, it says clearly that the entity will be financing the 20 percent, not the Port Authority. Therefore, it is a public/private partnership because, while we own the property, the private entities are the ones who agree in writing," Dowe said.
Representatives of both Tropical Shipping and Crowley expressed the importance and urgency of the repairs. "What we now have is a deteriorating infrastructure in your bulkhead. It really is a state of emergency," said Tropical Shipping Director of Government and Community Affairs Jennifer Nugent-Hill, referring to the container port on St. Croix. After hurricanes Irma and Maria, the dock sustained substantial damage. In a June letter to Dowe from Tropical Shipping, Vice President of Commercial and Trades Tim Martin also expressed concerns about the container port on St. Croix. He said the rubber fendering has been in "very poor condition for some time, and some fenders are missing." He also said that the steel rebar in the concrete bulkhead is exposed in several areas and experiencing heavy corrosion, citing "safety concerns."
Tropical Shipping and Crowley have both been in a long-term lease with the Port Authority. Tropical Shipping's leases are expected to expire in 2022 in their St. Thomas location and 2023 in their St. Croix location. They have an employee count of 65 on St. Thomas and a total of 55 on St. Croix. Meanwhile, Crowley has a location in St. Thomas with their lease set to expire in 2031 and an employee count of 70 on St. Thomas and 65 on St. Croix.
Both General Manager Nisha Aubain for Tropical Shipping and Crowley Transport Manager Kishma Vincent expressed their commitment to the Port Authority.
"We have built a very strong relationship with the V.I. Port Authority, and we only want to solidify that relationship moving forward in our commitment and in our investments not only for the benefit of the Virgin Islands but the Caribbean. We have a fantastic opportunity right now to become an even bigger transshipment hub," said Aubain. "We are in it for the long haul."
Vincent said that Crowley, which is a 120-year-old company operating out of St. Thomas for the past 40 years, has "special interest in the Virgin Islands."
Present at the emergency board meeting was Chairwoman Leona Smith, Vice Chairman Kevin Rodriguez, Celestino A. White Sr., Willard John, Derek Gabriel, Denise George, and Lionel Jacobs.