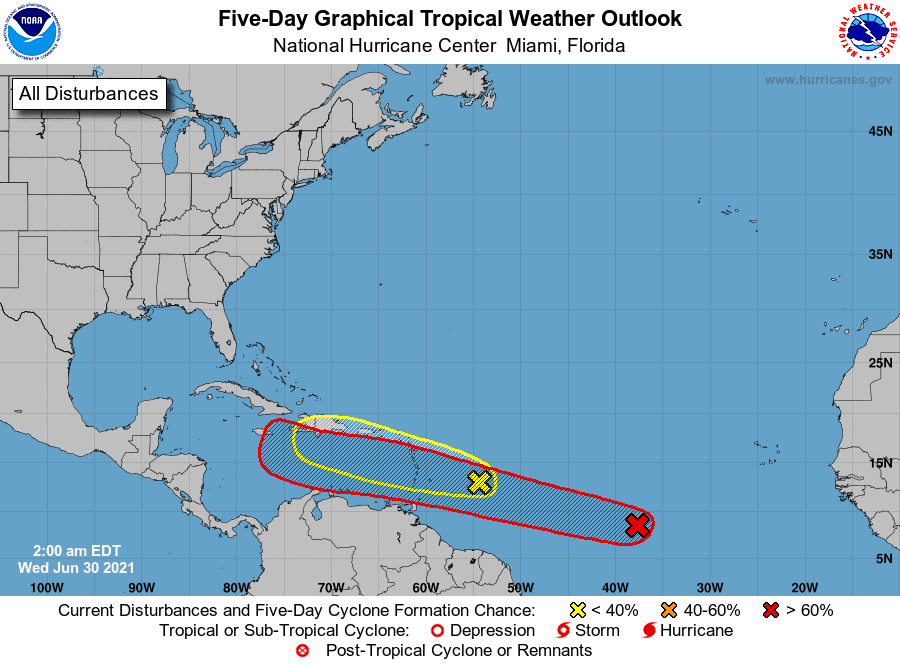 The National Hurricane Center is monitoring two disturbances over the tropical Atlantic, including one that is expected to bring rain to the region starting late Wednesday afternoon, and another right behind it with a high chance of becoming a tropical storm over the next five days, the National Weather Service in San Juan, Puerto Rico, reports.
"Interests in the Windward and Leeward Islands should closely monitor this system as it likely will be moving through that region on Friday," the NHC forecasters said.
The first disturbance, the leading edge of which should reach the Virgin Islands late Wednesday afternoon, has a low chance of formation over the next 48 hours, but could bring up to 2 inches of rain locally, forecasters said.
The disturbance could bring thunderstorm activity and wind gusts of more than 30 mph over the local islands, they said. Hazardous marine conditions also are expected, with seas of 5 to 7 feet and up to 9 feet in the Atlantic, and 6 to 8 feet and up to 10 feet in the Caribbean.
The second disturbance, located about midway between the west coast of Africa and the Windward Islands early Wednesday, has a 70 percent chance of development into a tropical cyclone over the next two to five days while the system moves west-northwestward at about 20 mph, according to the NHC.
Satellite photos indicate that the disturbance — Invest 97-L — is gradually becoming better organized, with some hints of banding trying to develop and a slight increase in the deep thunderstorm coverage, the forecasters said.
The storm is expected to cross Barbados on Friday morning, and then the Windward Islands late Friday. A track into the eastern and central Caribbean is then expected this weekend.
The intensity guidance all suggests steady intensification of Invest 97-L for the next few days, with the system becoming a tropical storm before it reaches the Windward Islands on Friday, producing bands of heavy rain and wind gusts averaging 40 to 60 mph, according to forecasters.
Beyond this, forecasters are gauging environmental conditions in the Caribbean this week as the system moves through, they said.