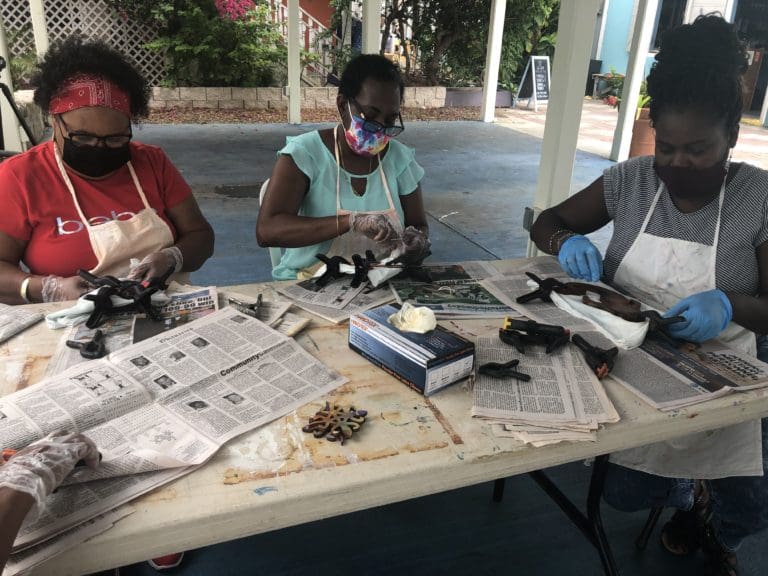 Cancer survivors on St. Croix are trying art therapy to help relieve depression and pain caused by the illness and its treatment. Based on the smiles, laughter and camaraderie during Yemaya Jones's class on Shibori – similar to tie-dye – it worked over the last two weeks for 25 breast cancer survivors and caretakers.
Studies from over 20,000 people with cancer found that one in 10 survivors are affected with depression, according to PowerfulPatients.org. A study of 1,500 participants found a clear link that art therapy helped to reduce anxiety, depression and physical pain, and most reported general improvement in their lives, according to the National Institutes of Health.
Art therapy is being used around the nation for cancer survivors as a creative outlet to help deal with fear, stress, self-consciousness and pain. The therapy also is said to restore body image and allows women to learn the art of mindfulness.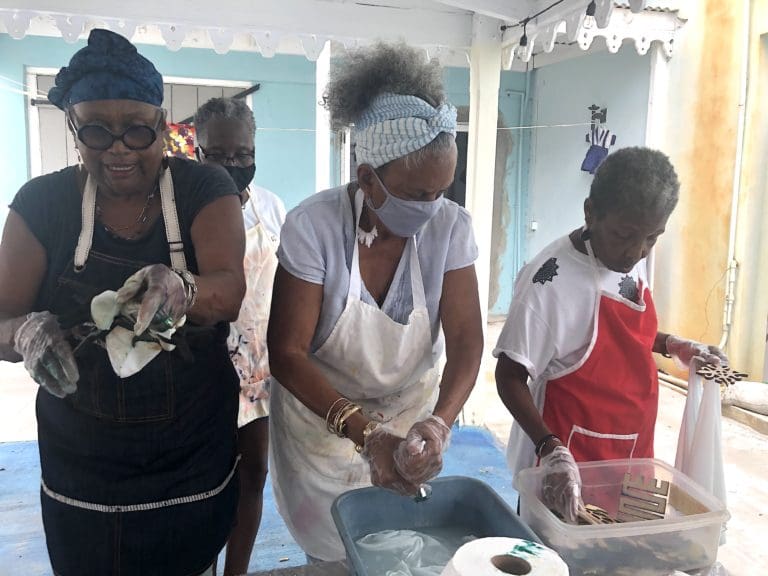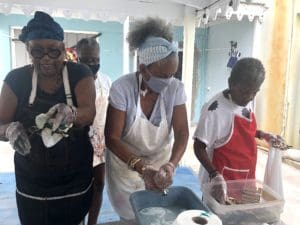 The V.I. Breast Cancer Project sponsors the Creative Therapeutic Expression Workshops for breast cancer survivors on St. Croix, and in July there will more art classes to help dull the effects of the disease.
In July alone, classes will include acrylic painting with Dan Houston; collage art with Elisa McKay; gratitude box with Gwendolyn Aqui-Brooks; pastel art with John Jones; face masks with Jenne Glover; painting with Bernard Brooks; mixed media collage with Asha Glover; yoga with Elisa McKay; and watercolor art with Alexandra Tyson.
The classes are free for survivors, and the first two silk dying classes included lunch courtesy of the Six Nine restaurant and the project, adjacent to Jones's workshop.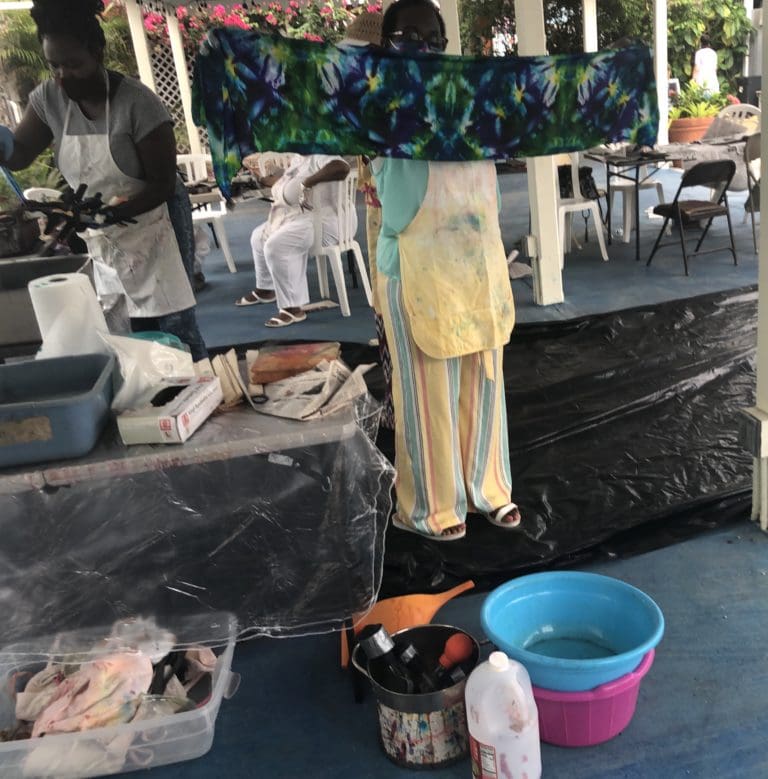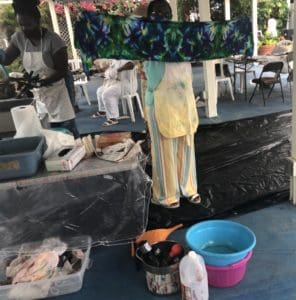 Some classes will be held virtually, and others will be in-person at various locations described on the website.
Any adult can take the classes. Survivors receive classes and materials free – others pay a $20 registration fee and for their own art supplies.
Producing the classes was possible with support from the Strand Square Pavilion Square and monetary gifts from friends and family. Other supporters include Dr. Elizabeth Delciacco, St. Croix oncologist, Chris Johnson Florist and Keven Moolenaar..
Diane Hampton is the Breast Cancer Project founder and art therapy coordinator. She is a 20-year resident of St. Croix who earned her Bachelor's in art education at the University of Maryland and a Master's in art education from Rutgers University. She is an artist herself and worked at V.I. Behavioral Therapy on St. Croix.
Hampton is an activist and lobbyist for cancer patients and works with several organizations, including the National Breast Cancer Coalition and National Coalition for Cancer Survivorship. She attended the 2019 Food and Drug Administration's Cancer Advocate Symposiums, which is a key part of her advocacy network in the nation's Capitol. Hampton said she regularly visits members of Congress when visiting Washington, D.C.
For the last five years, Hampton has been working with a team of oncologist advisors and researchers for her prime goal – to gain federal funding from the NIH to research breast cancer in the U.S. Virgin Islands.
Hampton said she looked up the idea of art therapy for cancer survivors online and talked to several organizations to get ideas for her own project.
"I could see the template. I could see this work," she said. "Why don't we do this in the Virgin Islands?"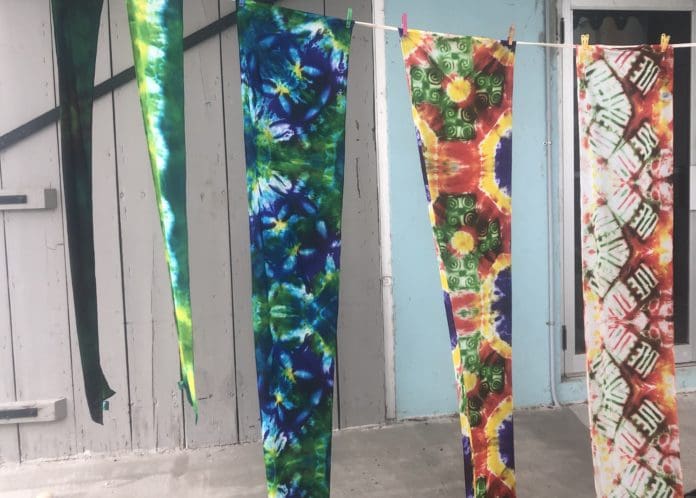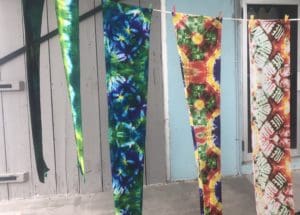 The therapy project is supported by grants from the V.I. Council on the Arts and the National Endowment for the Arts. The project works closely with Yvonne Galiber and the YAG Foundation on St. Croix. The St. Croix Foundation supports and is the fiduciary for the non-profit organization.
Currently, Hampton is undergoing cancer treatment and testifies personally about the benefits of art therapy with cancer patients.
"We have an impulse towards creativity, and art is the birthing place," she told the Source.
October is National Breast Cancer Awareness Month and the Caribbean Museum Center for the Arts will host an exhibition for survivors and feature original art by the instructors of the art therapy project. The artwork will be auctioned off virtually at the opening reception on Oct. 8 from 1 to 4 p.m. The art will be exhibited from Oct. 5 through Oct. 9.
Breast cancer is the most common cancer in women after skin cancers according to the American Cancer Society.
Donations for the V.I. Breast Cancer Project can be made through the St. Croix Foundation at https://www.stxfoundation.org/donate/.
Editor's Note: This has been updated to correct an error in the list of sponsors of the program.