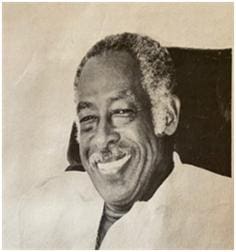 Friends and family are advised of the Home Going Celebration of Sedric J. Heyliger who was born on Jan. 11, 1930, and died on June 6, 2021.
He is survived by his wife, Bernice Louise Thomas-Heyliger; children: John and April Heyliger; grandchildren: Yasmin and Cedric Heyliger; great-grandchild, Aubree Camille Donovan; sister, Bericia Lewis; nephews and nieces: Glen "Milo" Francis, Derek Heyliger, Russell E. Thomas, Louis Greaux, Wayne Spruave, Cheryl Greaux Chaney, Desiree Francis Harrigan, Bonnie Moron, Debbie Spruave Martin, Simone Canton, Claudette Heyliger, Barbara Heyliger, Allison Heyliger-Adeyeme, Patricia Leonard, Lauren Heyliger-Woods and Sherlaine "Timmy" Heyliger.
The first viewing will be from 3-5 p.m., Thursday, June 24, at Turnbull's Funeral Home. The funeral service will be held at 9:30 a.m., Friday, June 25, at Sts. Peter and Paul Cathedral. Interment will be at Western Cemetery No. 1.