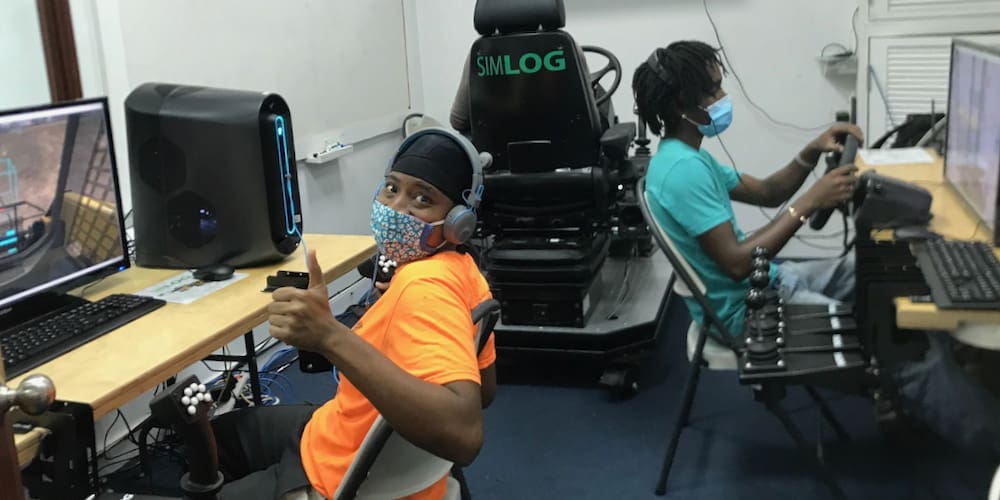 My Brother's Workshop has added a heavy equipment certification to its portfolio, giving its trainees access to a range of trade programs and skills that can be leveraged for future employment.
The organization held an open house Tuesday to demonstrate the new heavy equipment simulators set up at the organization's headquarters in downtown St. Thomas.
MBW has about eight programs for trainees to choose from, including vocational workshops in construction, carpentry and woodworking, engineering and marine initiatives that focus on programming, metalworking, boat and diesel engine repair.
MBW Heavy Equipment – supported by a grant from the Community Foundation of the Virgin Islands, with funding from Cruzan Rum's Island Spirit Fund – will allow trainees to gain additional experience with forklifts, front-end loaders, backhoes, skid steer loaders and more.
"We're starting with the Bobcat bucket loader, forklift and backhoe, as those are the three main forms of heavy equipment used on island," My Brother's Workshop founder Scott Bradley said at the open house.
According to Bradley, about 50 percent of businesses use some form of heavy equipment, and certification is required by the Occupational Safety and Health Administration to operate at least these three pieces.
That certification is gained at the end of the program, which starts trainees out on the simulator and ends with them actually driving the real equipment. Bradley said the model dovetails into what's practiced by the National Center for Construction Education and Research, the gold standard for training, certification and career development in the construction industry.
"I've never tried a simulator before, and so far, I kind of like it," MBW trainee Deandra Wheatley said as she tested out the Bobcat Tuesday. Wheatley has been working for the past year and a half in the organization's laser program.
"This is definitely something that is worth knowing how to do, and I'm excited to give it a try," she said.
Wheatley's eyes widened when Bradley confirmed that the group would test the big machines out in person toward the end of the program, adding, "Wow, that's pretty cool."
My Brother's Workshop was established in 2007 with the goal of ending youth crime and violence by providing vocational training, educational and professional opportunities to at-risk young adults ages 16 to 25. The program started with four trainees and has since grown to serve more than 150 annually with the development of these programs that offer a foot into high-demand industries.
MBW's alternative school, launched a few years ago, offers online high school and college-level courses with an accredited diploma. MBW's Class of 2021 graduates with a ceremony on June 19.