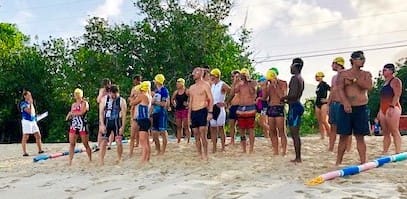 The Virgin Islands Triathlon Federation (VITF) made a big splash in Frederiksted early Sunday morning, as over 30 participants took to the water for the Island Life Aquathlon at Rainbow Beach.
"The VI Triathlon Federation has never hosted an official swim/run race for adults," said race director Theresa Harper, "so we thought this type of multi-sport event would be a great format to reacquaint athletes with competition again."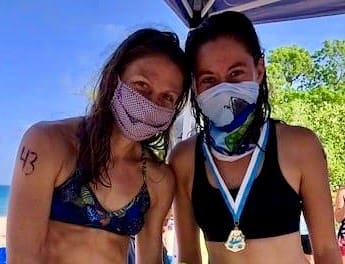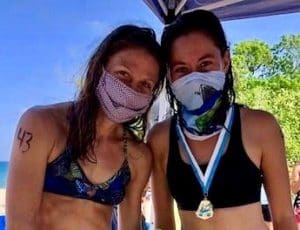 Since the global pandemic had forced the cancellation of all athletic and sporting events since 2020, the VITF wanted to put on a short "doable" event in which newcomers and rusty veteran athletes could participate. Participants took part in either the sprint or super sprint, as individuals or on a two-person relay.
The sprint aquathlon consisted of a 500-meter swim and a 5K-run; the super sprint included a 300-meter swim and a 1.5-mile run. Swimmers took to the water in front of Rainbow Beach for a triangular swim course then an out-and-back run heading north first on Emancipation Drive.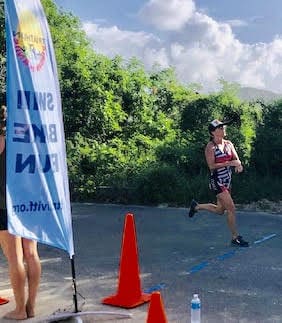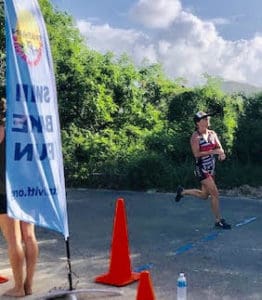 Although Bob Halk was the first swimmer to exit the water, the overall winner in the sprint aquathlon was Billy Bohlke in a time of 29:25.  Esther Ellis was the female winner and third individual overall in a time of 33:57.  Bridget Klein and Rachel Conhoff teamed up for the two-person sprint relay division and crossed the line in 30:14.
GHCDS 8th grader Mason Lambert and his mom, Megan, took top honors in the super sprint race as first place male and female overall.  The team of Amy Stalbaum and Maranda Wood earned the gold medal in the super sprint relay division.
The next event on the VITF calendar is the Junior Tri VI Silly Sockathlon on Sunday, May 30, at Altona Lagoon.  The race is a duathlon (run/bike/run) for junior athletes, ages 5-15.  Children of all abilities are encouraged to participate in this free event.
If anyone needs to rent a bike for the event or needs more information, call 513-2707.