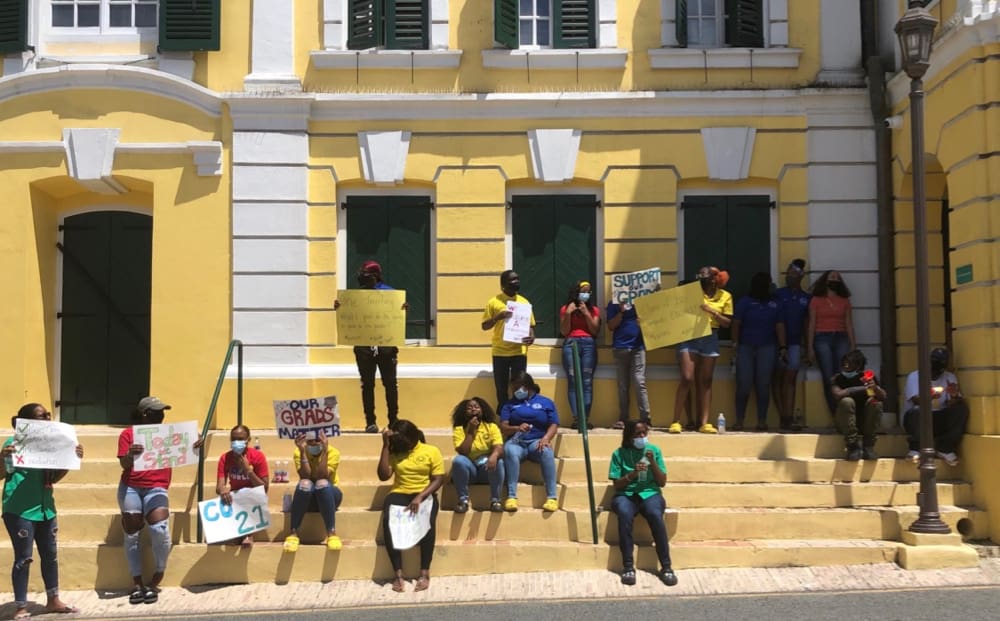 Despite student protests and an online petition over scaled-back high school graduation plans, V.I. Education Commissioner Racquel Berry-Benjamin said Friday morning that the drive-through or walk-through format announced in an update from the department on May 8 would not change.
Appearing via video on Facebook and YouTube with V.I. Health Commissioner Justa Encarnacion, Berry-Benjamin on Friday lauded the students for standing up for their convictions and exercising their right to free speech but said the COVID-19 pandemic precludes holding traditional, sit-down graduation ceremonies at any of the territory's schools.
"Since last school year, due to the global pandemic under which we still live, we have had to conduct graduations differently. Last May, graduation ceremonies were conducted 100 percent virtually," Berry-Benjamin said. At an initial press conference on May 5, the department announced its initial plans for hybrid graduations, with officials saying each school will host socially distanced events, with graduates and guests staying in cars or gathering in small groups. Parts of the ceremonies would be virtual, with pre-recorded messages and livestreaming.
This year's controversy began after Charlotte Amalie High School planned in-person ceremonies, with students broken into three time slots according to their last initials to abide by social distancing protocols. The plan would have allowed a few guests to be present and included temperature checks, masks and hand sanitizing, according to a parent of a CAHS student.
While those school plans were proposed but not formally approved by the department, on May 8, Education clarified the same plans it had initially announced in the May 5 press conference.
Still, student protests were organized this week and last on St. Croix and St. Thomas, while a change.org petition calling for traditional graduations had garnered more than 2,000 signatures as of Friday morning. In the most recent video address, Berry-Benjamin once again said the plan for mobile ceremonies, which amounts to either drive-through or walk-through gatherings, stands.
This year, students at Central High, St. Croix Educational Complex and Ivanna Eudora Kean high schools will drive up, walk across an outdoor stage or staging area to receive their diplomas, then return to their vehicle and exit the campus, according to the hybrid plans. At CAHS, students will line up and walk across the stage in the school's auditorium to receive their diplomas. All ceremonies will include a pre-recorded opening featuring congratulatory remarks and a closing video of the graduates' official cap and gown photos.
"According to the guidance of the Department of Health, having mobile drive-through or walk-through [ceremonies] are the safest way for all of us to enjoy this year's graduation celebrations. The Department of Education has not made decisions in isolation in executing any of our plans throughout this pandemic," and has relied on the expertise of the Health Department, Berry-Benjamin said on Friday.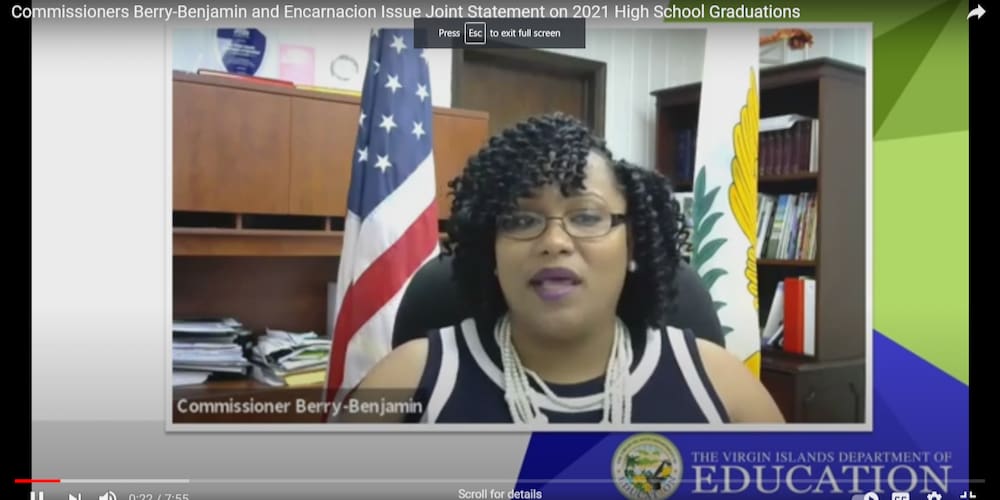 While some local pandemic restrictions have been lifted and people are getting vaccinated against the virus, the territory is still under a state of emergency and as of Friday afternoon had 62 active cases, including 51 on St. Thomas. The numbers suggest it is too risky to gather in groups, Encarnacion said.
"At large gatherings like graduations, even with our best efforts, we know that crowd control could become an issue, thus endangering the health and safety of our children and broader community. With your cooperation, we have done extremely well as a territory to slow down the spread of COVID-19 among us. We have lost 27 of our own to the disease, and none of us want to lose any more," Encarnacion said.
"As Health commissioner I know it is simply not safe to let our guard down. So, instead, take these memories with you and share with your children and grandchildren about what happened during the pandemic," Encarnacion said.
"What matters most is that you made it to the finish line," Berry-Benjamin said.
"Graduates, this is your season to shine. Get creative, decorate your cars, bring your balloons and your poster boards. Let's make these the best drive-through and/or walk-through graduations ever. You are resilient. God has not brought you this far to leave you. He's got you. We've got you, and we have each other. Have a blessed graduation season," Berry-Benjamin said in wrapping up her video address on Friday.
Confirming the numbers Saturday night, Education Department spokeswoman Cynthia Graham said, "With Health Department guidance in mind, the schools were advised to decide on the number of guests for each student based on the allowable capacity of the location of the graduations. There was not a strict directive given to schools to only invite one parent."
That's small comfort for one parent of a Charlotte Amalie High School student, who in an interview on Thursday evening said that while she knows it's too late now to revert to the original proposed plans, the school should at least allow two parents to accompany students at the CAHS graduation.
"There's no reason why you can't have at least two because the auditorium fits 700 people," she said, asking that her name not be used. "It's just salvaging what we can salvage."
"She missed a huge opportunity for some kind of normalcy," the parent said, referring to the Education commissioner, and the fact that the CAHS Class of 2021 especially has never had a normal high school experience, from the twin Category 5 hurricanes of September 2017, to losing their school and playing field in the aftermath, to a pandemic that forced them into virtual learning.
"I am so sick of it," she said. All of the schools could have had socially distanced, in-person graduations if they had followed CAHS's original plans, she said, but Berry-Benjamin "dropped the ball."
"I don't understand in God's name what she was thinking," the parent said. "It's a shame. It is such a shame."
What breaks her heart, she said, is that her daughter just doesn't care anymore about the pomp and circumstance.
"I asked her, and she said, 'I want to just graduate. At this point and time, they just wore me down. They went and had a fete for Carnival, but I can't have my graduation.'"