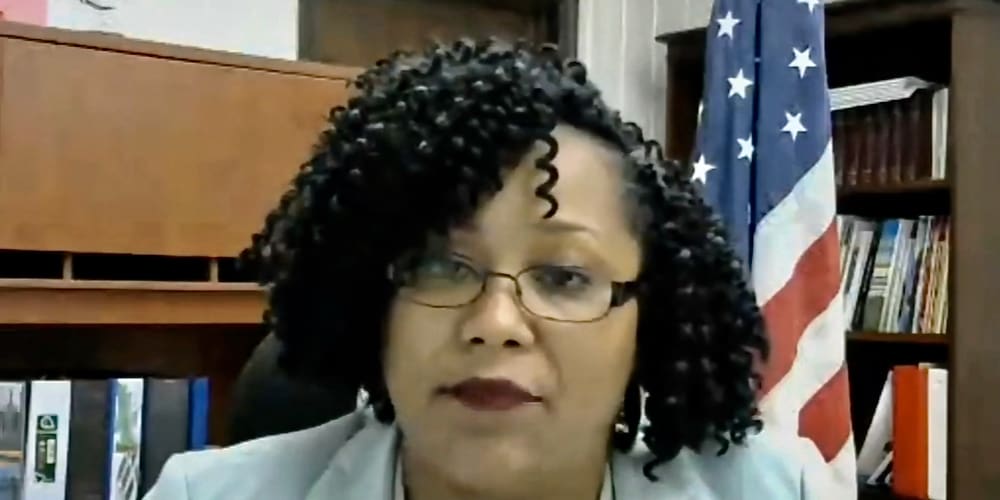 The Department of Education is now well past the Jan. 25 date it had predicted students would return to school, and during a Legislative hearing Friday, officials from both the Department of Education and the Board of Education were unable to give the lawmakers a firm reopening date.
"There are no official dates," Education Commissioner Racquel Berry-Benjamin told Friday's hearing of the Senate's Committee on Education and Workforce Development. "There is no target date at this point. As early as next week we are looking to open the pre-K classes on St. Croix, but that decision will not be made today. That is the closest I can give you."
Berry-Benjamin said no official reopening date would be announced until the department was "confident in the safe return of students, faculty, and staff to our facilities."
Instead of all schools opening territorywide, Berry-Benjamin said the department is using a hybrid instructional plan and each school will be opened on a staggered basis based on each school's readiness.
"This will look similar to the territory's 2017 hurricane season, when students returned to their school campuses gradually as school buildings were repaired following the storms," Berry-Benjamin said. "The hybrid model also provides for students in grades fourth to 12 to continue learning from home. We anticipate being able to provide definitive dates, in the coming weeks, for schools that are closer to completion than others."
Several senators were displeased to not receive an official date for the territory's relaunch of in-person academics.
"You need a benchmark. You need a target date. At least people have to work towards something," Sen. Janelle Sarauw said. "When you just have an open window then we will just be dragging our feet when this come, that come. You need a target date, and the public needs a target date … of when you intend to open schools."
Unable to provide a date, Berry-Benjamin listed the "many other factors" associated with the reopening of schools that pose challenges.
The territory's schools must be outfitted with appropriate signage, personal protective equipment resources, thermal scanners, and handheld thermometers. Berry-Benjamin said L-shaped desk barriers and automatic hand sanitizer dispensers have been placed in every classroom. Student tri-fold partitions are being shipped into the territory and touchless soap dispensers have been mounted in bathrooms, in addition to handwashing stations that are placed throughout the school campuses.
"All efforts have been taken to ensure that our schools are reopened," Berry-Benjamin said. But preparing the facilities is only a fraction of what the department needs to do before students can once again attend class in-person.
"There are several obstacles," Berry-Benjamin said, such as parents who have indicated the need for bus transportation.
"Our goal right now is to get our students to school by asking parents," Berry-Benjamin said. "But of course all parents don't drive and many of our students ride the bus. If that doesn't balance out, then of course it is going to force us to change our in-person schedule because buses won't arrive in a timely manner, because they have to do multiple trips to pick up our students. Which means any instruction would have to stagger."
Despite the challenges, Berry-Benjamin said at some point schools will reopen and each school will host a "reopening orientation session" for parents as there will be new rules, guidelines and procedures to adjust to.
"We anticipate being able to provide definitive dates, in the coming weeks, for schools that are closer to completion than others," Berry-Benjamin said.
Education's public relations office will provide an official release on when each school is determined to be safe, Berry-Benjamin said.
Thursday on the Government House "Press Box" video series, Berry-Benjamin had said much the same thing, discussing the goals and obstacles of school reopening.
"We will have a series of dates to reopen our schools. This is because each school requires a different level of resources to complete its reopening," she said.
The Department of Education has been working with the Department of Health to evaluate whether it is safe for students to return to the classroom, Berry-Benjamin said on Press Box. The Department of Education has since received the green light for the first group of children who will be returning to school.
"At this time, we are at a safe place, not the safest, but safe place, COVID-19 wise as it relates to our resources," Berry-Benjamin said.
"Various research for many years has shown that our youngest learners learn best socially in classrooms among peers under the guidance of a teacher," Berry-Benjamin said Thursday. "They learn from observation and watching the behaviors of the teacher, their peer students, and teachers being able to model what should be done and what should not be done." As for the special education students, Berry-Benjamin said, "They rely on tactile environments and require the engagement of a therapist in some cases."
The technical students are skill-based and require hands-on learning and require several credits to complete the program.
In January, the V.I. Department of Education conducted a soft opening so that students can learn the directional signs, how to keep six feet apart, and learning to communicate without physical touch. This helped acclimate children to the changes.
Cafeterias will be closed, but students have the "grab and go" option where you can grab your lunch and eat at your desk. Students who remain at home will still be provided breakfast and lunch. So far 399,000 meals have been distributed for the 2020-2021 school year.
Currently, vaccines are not mandatory. Berry-Benjamin said, "Many of our teachers have seen the importance of being vaccinated and have taken the step forward to be vaccinated."
Editor's note: Diana Dias contributed to this report.