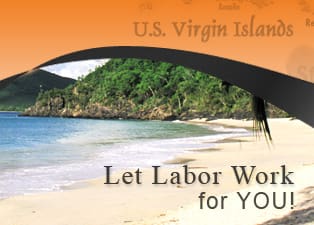 Tools are being implemented to help bridge the gap in available information as the department prepares for new guidance and further program expansions.
V.I. Department of Labor Commissioner Gary Molloy reminds the public that Sunday, Dec. 27, was the deadline to apply for CARES Act programs that assist individuals who are ineligible for regular unemployment insurance under the Coronavirus Aid, Relief and Economic Security, better known as the CARES Act.
In order to support the territory's employment security needs, Labor monitors all opportunities that can help with future need-based assistance programs. See the two latest updates and virtual tools to help provide an efficient transition to the latest expansions made to the unemployment systems of the United States during this unprecedented time.
Emergency Coronavirus Relief Act of 2020:
When this legislation is enacted, the V.I. Department of Labor will work to implement it as quickly as possible for the territory; however, the V.I. Department of Labor must wait for guidance from the U.S. Department of Labor before the provisions of the act can be implemented. If a claimant has an existing claim, they do not need to take any further action. Labor will automatically update the claim and inform on eligibility.
The department cannot take any action before the effective date of any new legislation is issued. The CARES Act expires on Dec. 31, 2020, and the last date Labor can pay benefits under that act is Dec. 26, 2020.
Lost Wages Assistance Program: 
The Unemployment Insurance Division continues to mail out the Lost Wage Assistance Program applications. All applications are sent directly to eligible individuals. All programs have different requirements and qualifications. To apply or review details that can be found on the V.I. Department of Labor website, visit www.vidol.gov. Below are some tips when filing for the Lost Wages Assistance Program:
When completing the application, do not tear or rip the form. Fill in the required information and return the document whole.
My UI Claim Portal:
Labor will continue to update the public on expansions and access to assistance made available by federal partners as program guidance is established. Program guidance includes rules and regulations to monitor the program's successes and gaps so that client information and funds can be protected using the highest standards available. To increase access and monitor unemployment claims, Labor encourages claimants to visit the revamped online portal. Register to help in current or future employment security needs at www.myuiclaim.vi.gov.
Interactive Voice Response (IVR) System:
Additionally, claimants can utilize the Interactive Voice Response System by calling 340-715-5744 and using their assigned Personal Identification Number to check on the status of a claim.
For more information on the V.I. Department of Labor, visit Labor online at www.vidol.gov, or by calling (STT) 340-776-3700 or (STX) 340-773-1994.