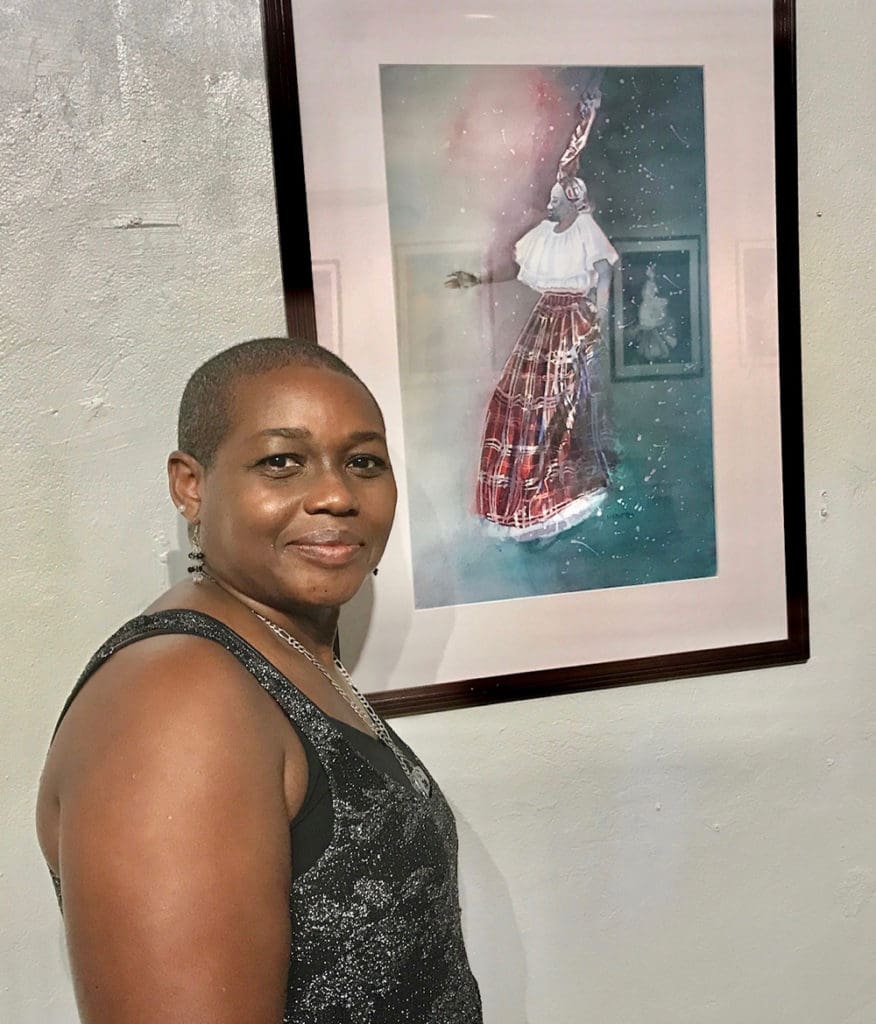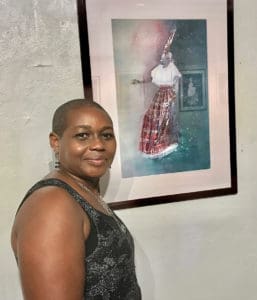 Cane Roots Art Gallery's grand opening during December's Art Thursday gave the west end of Company Street in downtown Christiansted "new life," with visual artist Niarus Walker's "Women Alone" exhibit.
The cultural gallery is a stone's throw from Sunday Market Square, the historical public space founded in 1733 during the period of slavery in the former Danish West Indies.
Patrons flocked to the brightly lit art space, which is the rehabilitation of a two-story building that lay dormant for a number of years. Owner and art collector Sonia Deane purchased the 2,800 square foot building and fulfilled her dream of creating a "bonafide" art gallery on the street level and a complex of residences on the second floor in the heart of downtown Christiansted.
Walker is a practicing artist, art educator and curator who works in a variety of mediums that "reflect the transience of life with references to consciousness, which encompasses time, memory, experience and identity."
Walker's use of watercolor can be seen in the "Women Alone" exhibit as a subtle, yet purposeful rendering of women in various aspects of storytelling through her art.
"Reaching Out" is Walker's favorite piece in the show, portraying "an ethereal, kind of spiritual feeling" of an older woman, a mentor, calling out and saying, "I will guide you, I will teach you," Walker said.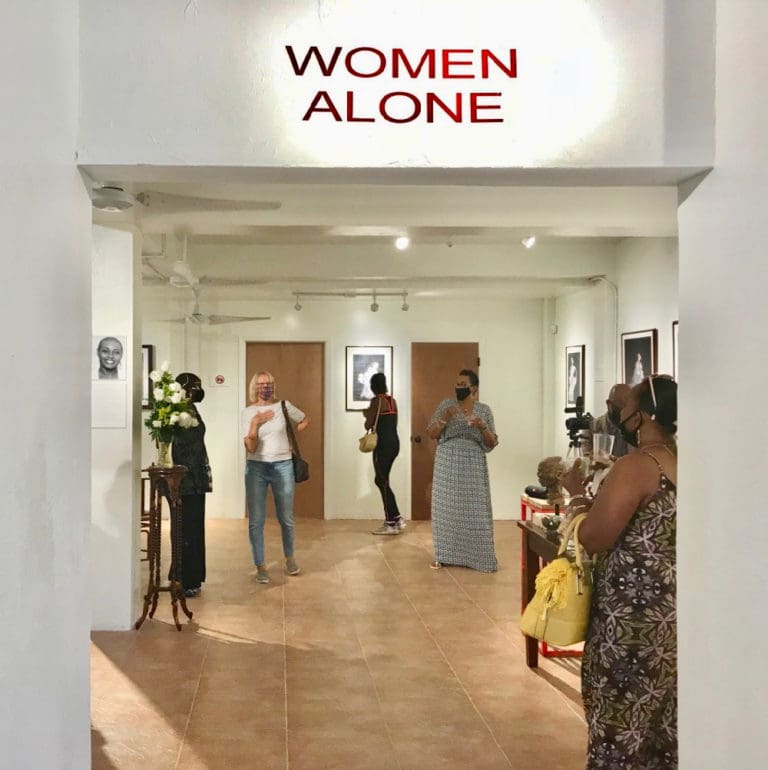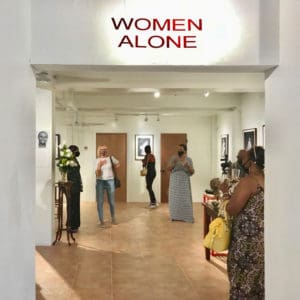 "I really believe that older people should mentor and help others. That's what my relationship with Sonia is right now. And I try to do that with my children and other people's children, as a teacher."
The piece with madras and quadrille is not just about that, although it's beautiful – the fabric and the dance. It's about passing on the culture, sharing the values, Walker said.
Walker introduced her "Women Alone" solo exhibit of 18 art pieces as reflecting the culture of the U.S. Virgin Islands, the culture of dance, the culture of womanhood, their resilience and strength of working together and all those things of being a woman.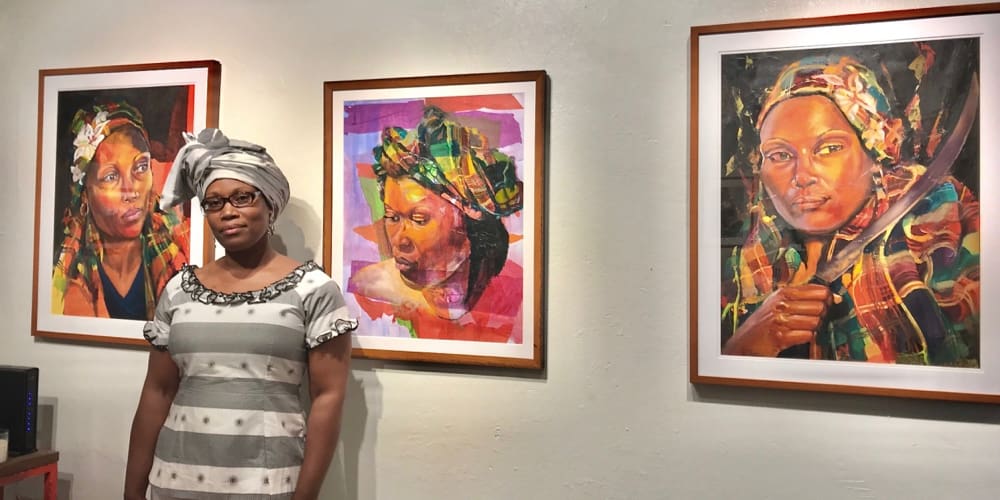 Three large portraits painted in vivid tones of oil on paper beckon to patrons entering the gallery, holding the viewers' attention. They are different perspectives of the same woman, Jennie Benjamin, Walker's sister-in-law, who posed for the paintings. The portraits speak to Walker's diverse ability and range as an artist, a distinctive array of her talent – another characteristic of women alone.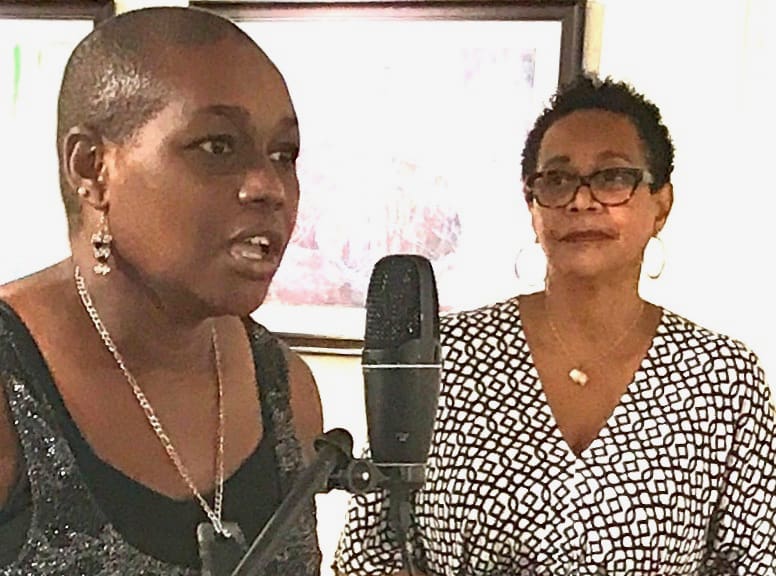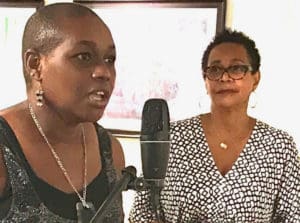 Deane said the "Women Alone" exhibit is similar to her gallery project, "which was certainly a woman alone building from the ground up."
"It was a resurgence, a renaissance, a phoenix rising – in so many different ways," Deane said. Yet she acknowledged the great support of family and friends, her cheerleaders, all who were behind her, all who said, "You can do it."
She took a line from a friend, "Step and the net will appear."
"This project here on St. Croix has been exemplary of that. I stepped and the net appeared. … It's been wonderful. It's been an incredible ride."
Cane Roots Art Gallery's grand opening was broadcast live by Kalalloo Network Executive Producer Anthony Weeks.
The "Women Alone" exhibit can be seen through Feb. 28.
Information
Cane Roots Art Gallery
Hours: 11 a.m. to 5 p.m. Monday through Saturday
24 Company Street, Christiansted
Phone: 340-718-4929
Website: www.canerootsartgallery.com