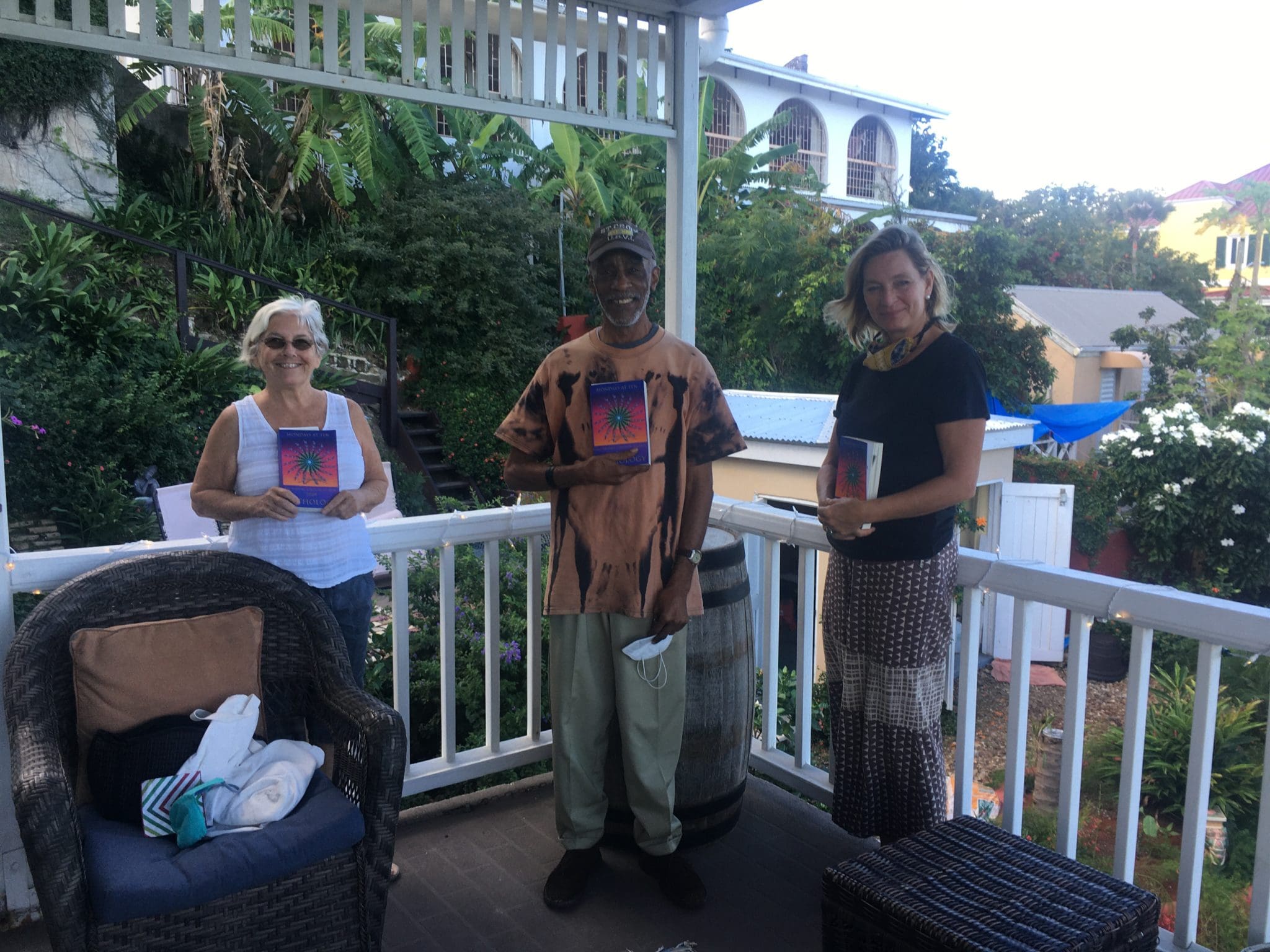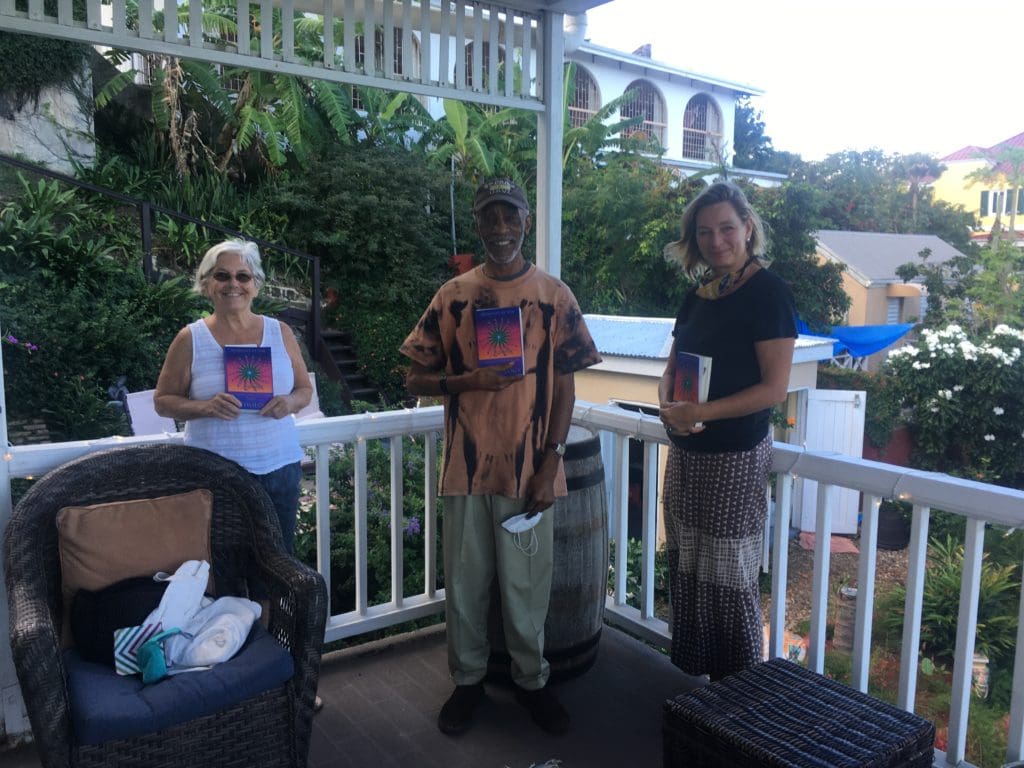 Last March, COVID-19 threw The Writers' Circle of St. Croix out of whack.
Accustomed to sharing and discussing their work each week, the writers couldn't focus during lockdown. They found themselves at loose ends.
"I couldn't get my head into writing," said Apple Gidley, who spearheads The Writers' Circle. "We needed something to galvanize us, to keep us together." She thought that publishing an anthology might help, and the group agreed.
Collaborating via email, the writers put their heads and hearts into their submissions and into creating the anthology – the fourth such collection since The Writers' Circle began three decades ago. As they had all hoped, the project kept them stimulated, productive, and cohesive.
"I was terribly impressed with how much people threw themselves into this," Gidley said.
"Mondays at Ten," their new book, landed on island Wednesday and is available on Amazon, as well.
"The book is a mix of poetry and prose – a couple of fiction pieces about St. Croix, some lovely stories about people moving here, three charming pieces about Crucian living by writer/poet Lenny James," Gidley said.
Broad ranging in subject and style, it includes a story about the accidental death of Heath Ledger, one about Bob Marley, and another about George Floyd's death, written in patois.
"We've got really serious pieces and then we've got some lovely, lighthearted ones, and some that are in between," Gidley said.
William O'Donnell, a retired theatrical lighting designer and former professor at California University of Pennsylvania, moved to St. Croix eight years ago and turned his attention to graphic design and poetry. He created the book's cover.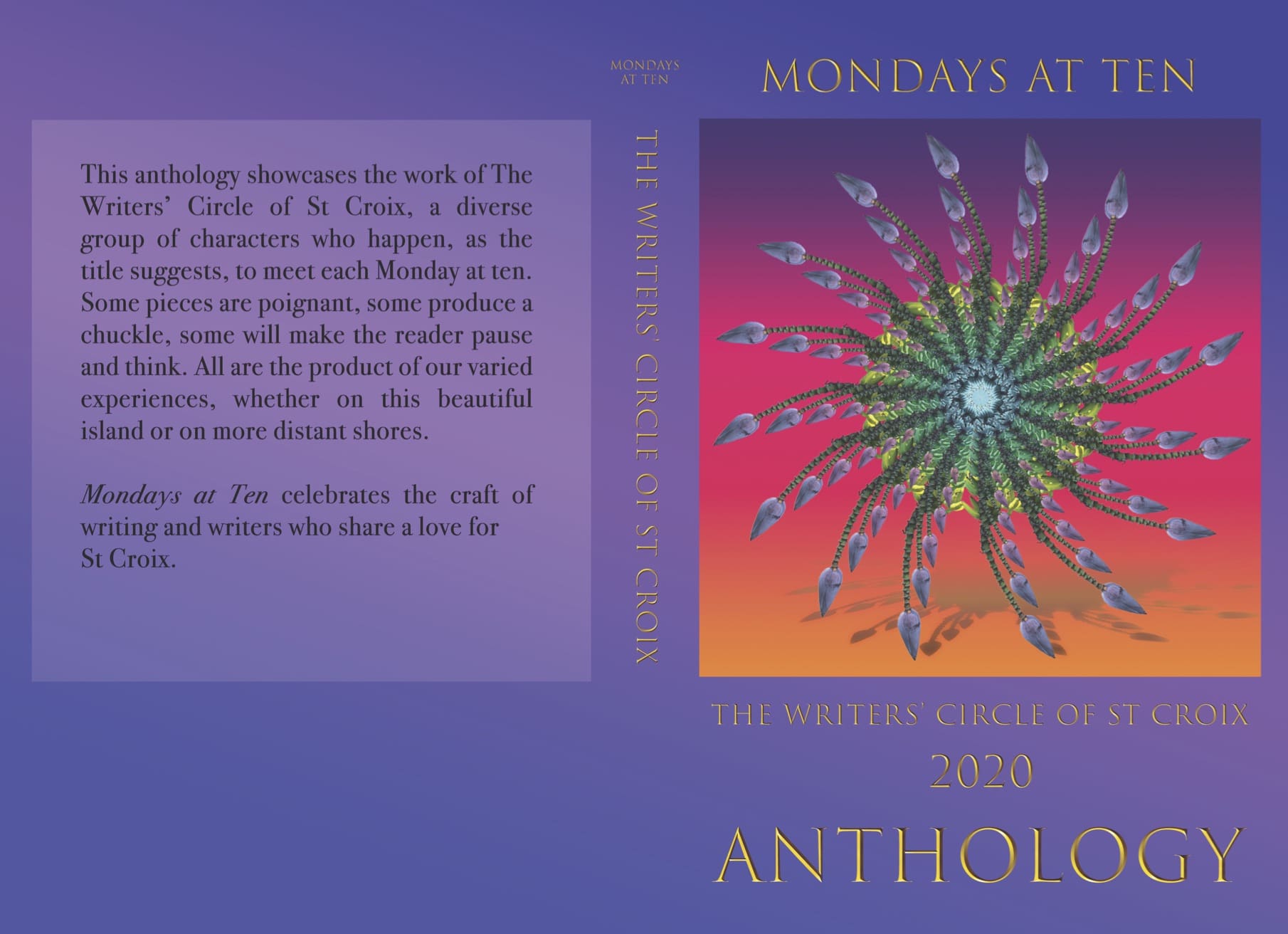 "Mondays at Ten" represents a changeover of writers from the Circle's 2012  anthology, "Changing Times."
"You know what it's like on the island; people come and go," Gidley said.
While previous Writers' Circle anthologies included work by each of its members, Gidley developed a selection process to make the submitting system as authentic as possible. A panel of three judges – Emy Thomas, Susan Kraeger, and Lenny James – scrutinized 83 blind submissions with a score sheet in hand.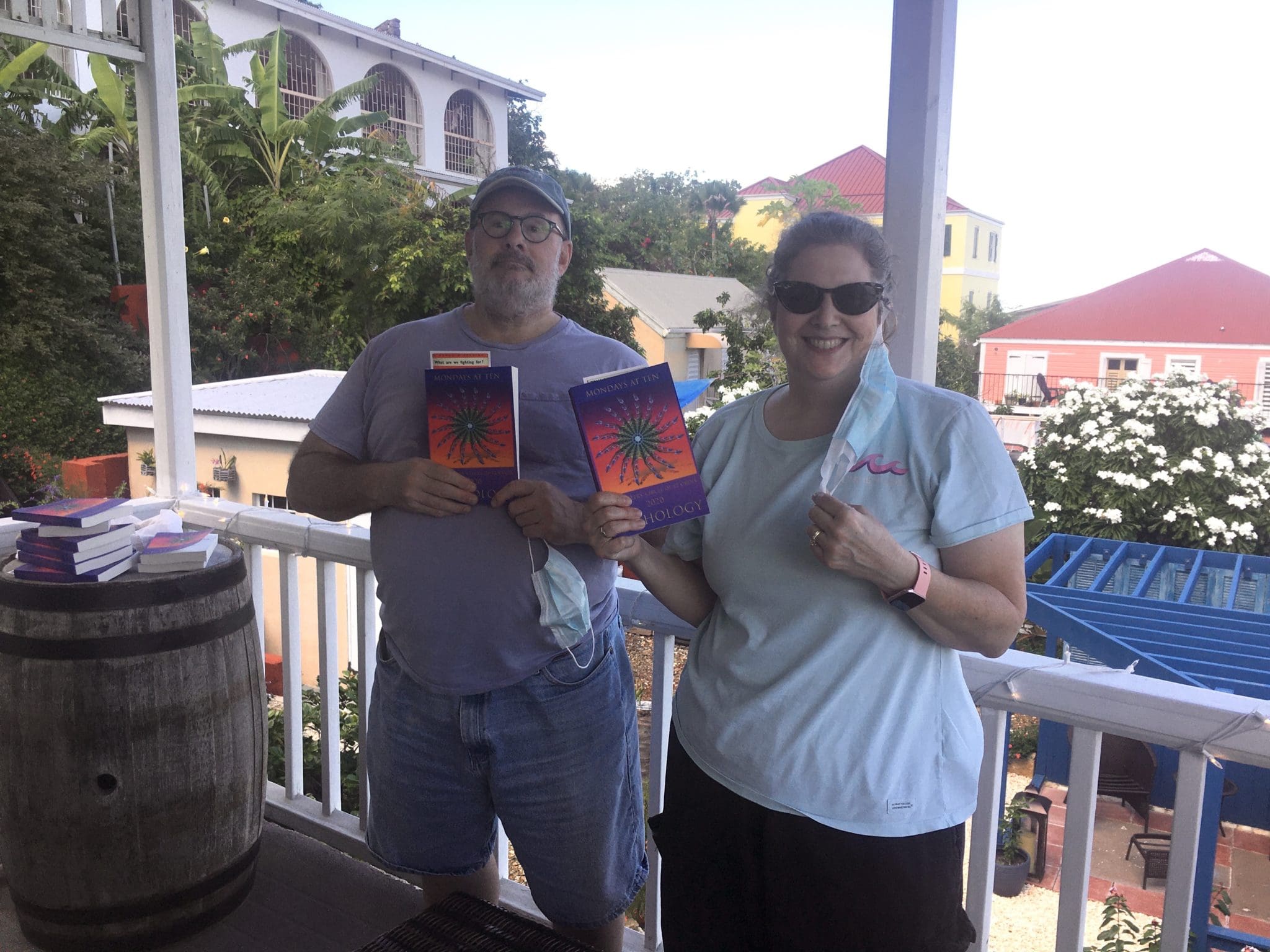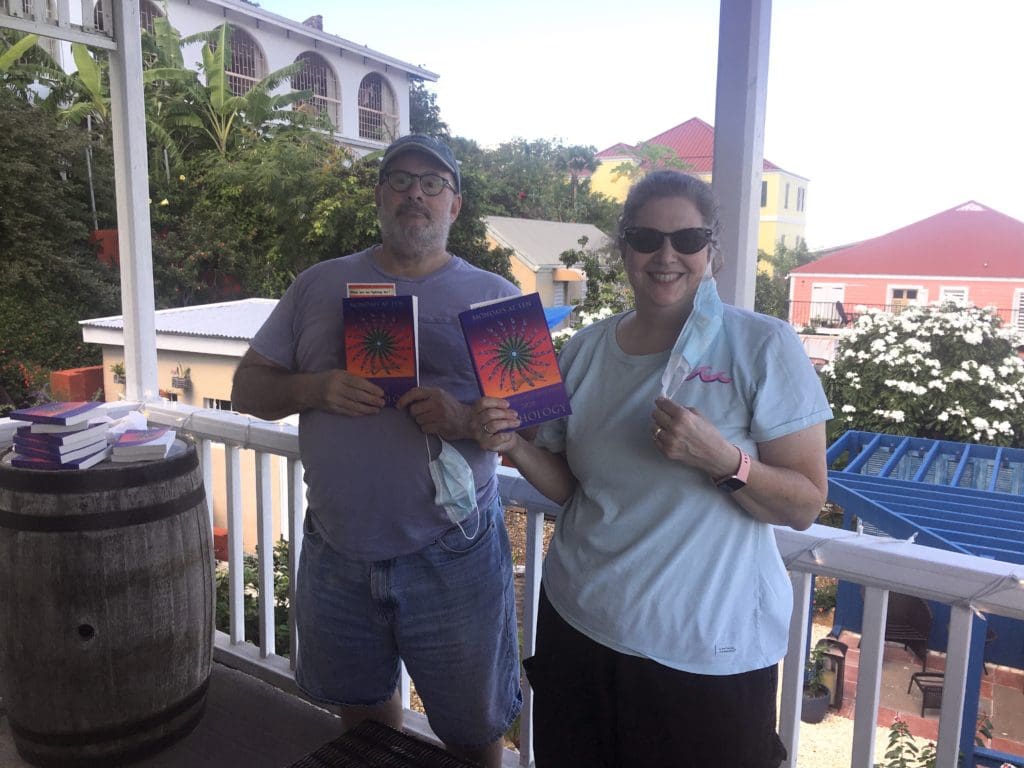 They evaluated the works in four categories: 1) creativity, style and originality, 2) plot development and organization, 3) clarity of image and language, and 4) voice and characterization. Submissions that scored highest would make it into the book.
As it turned out, all 17 members made the cut, and the anthology, published through Amazon's Kindle Direct Publishing service, includes 51 selections – something Gidley thinks speaks to the quality of the writing.
"I wanted us all to learn something from the process," Gidley said.  "Although we couldn't meet in person, the project really brought us together. It's been a lot of work, but it has been fun."
In the book's forward, she describes herself as "the de facto corraler-in-chief of a ragtag bunch of men and women from diverse backgrounds but who all have a love for the island we call home."
The Writers' Circle includes six previously published authors: Elizabeth Bartasius, whose 2019 novel "The Elegant Out" won acclaim, science fiction writer John Booth, writer/poet Helen Englehardt, poet Judith Lordi, and Gidley herself, a memoirist and historical fiction writer.
"We've got some very, very good writers who are generous with their knowledge," Gidley said.  "The creativity on this island amazes me. It was nothing I expected when we moved here; it blew my mind."
One such talented and generous writer was B.R. Snow, to whom the anthology  is dedicated. Snow came to St. Croix to spend 12 months and write 12 books. He joined The Writers' Circle shortly after his arrival on island and never missed a Monday. Gidley writes in the forward that his "generosity in publishing advice and constructive critiques helped make us all more knowledgable and better writers."
She tells us that after Snow's year on St. Croix he set out on a two-year adventure to write and to interview writers around the world. One month into his trip a diagnosis of brain cancer cut his travels short. Snow died within three months.
"Mondays at Ten" concludes with a B.R. Snow short story, "Riding to Vegas," followed by Janet Newman's tribute to the gentleman the group had loved, "The Circle."
Newman writes that Bernie, as Snow was known to group, was "adamant about being true to our Individual voices even as we join the chorus each week. I remember, when someone's sentence hit a pitch-perfect high note, Bernie would express exultation by rapping on the table with his pen."
Now meeting on Zoom, the 17 members talk about what they are working on and/or share ideas still on the drawing board. Talking with the group helps clarify an idea and it begins to take shape, Gidley said.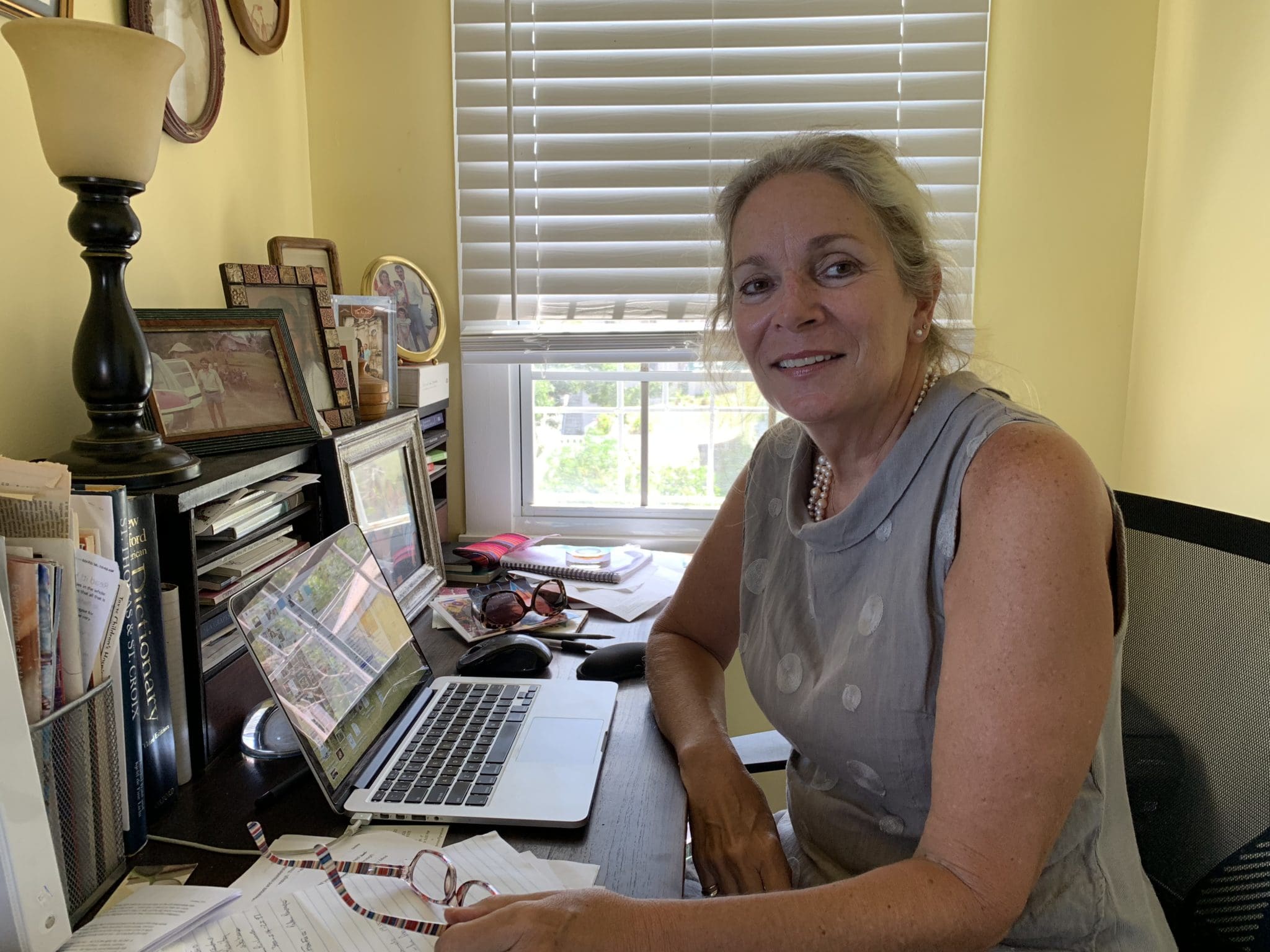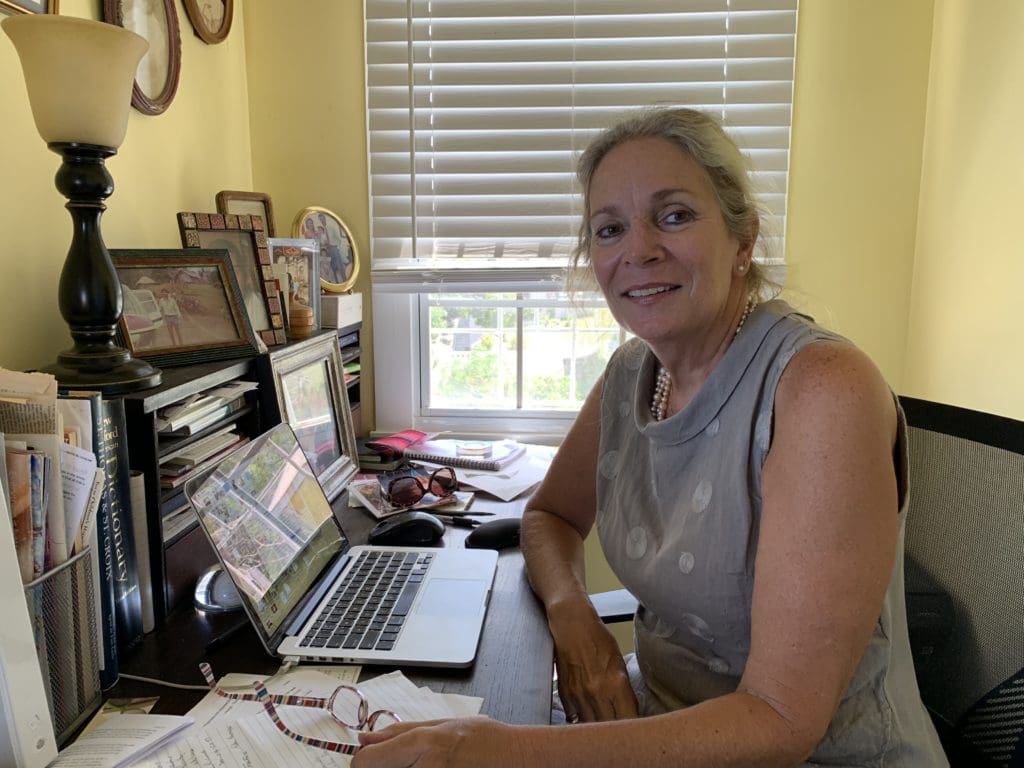 Members read up to 1200 words of their work in the meetings. Someone  starting a novel might read the first chapter over a few weeks time, for example. That way everyone gets an opportunity to read, if not one week then the next.
"Writing that first chapter is sometimes really hard. Sitting down and starting it is difficult," said Gidley, who believes that the "safe space" factor of the group puts the writers at ease.
"Some people write intensely personal things, and oftentimes this is the first time they've written down and read their piece out loud. Some are tragedies. It is an honor for all of us that we trust each other with such deeply personal stories," she said.
While the group has shed tears, it has laughed a lot, too. The writers have watched each other progress and gain confidence.
Emy Thomas and Rosamond Hughs founded The Writers Circle thirty years ago and now, despite the pandemic, the group carries on. Although membership is at its maximum, Gidley keeps a waitlist and welcomes interested writers to contact her: applegidley@gmail.com.