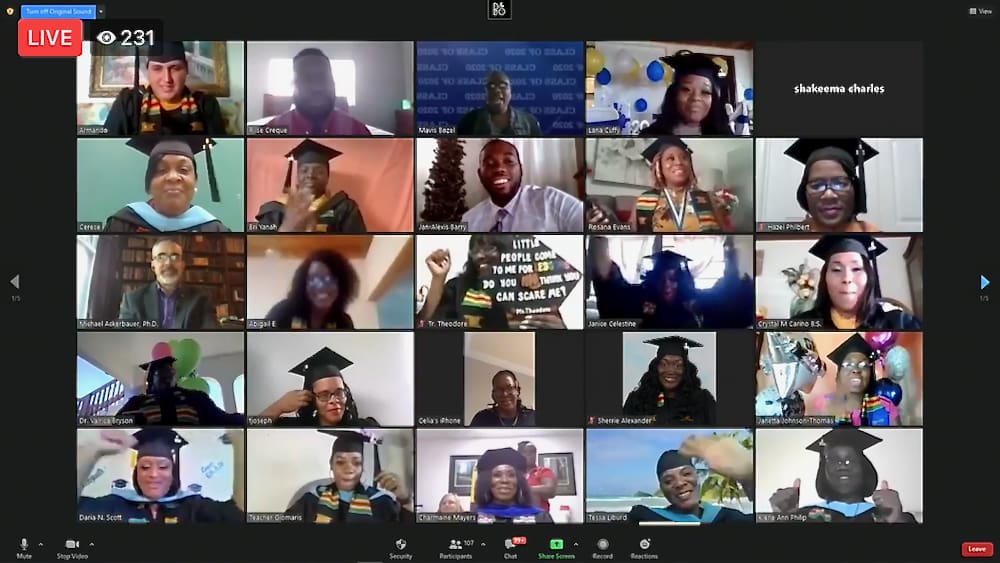 Real congratulations poured in virtually for graduates of the University of the Virgin Islands Class of 2020 as the school held its first virtual commencement on Friday – a ceremony delayed from May and rescheduled to December when it was hoped the pandemic would be over and celebrations could be held in person.
While that was not to be, the mood remained celebratory as hundreds of family and friends posted heartfelt tributes and emojis as they watched the ceremony streamed live on Zoom, Twitter, Facebook and YouTube. As one viewer, Xuri Allen, posted, "COVID also can't stop this cause for celebration!"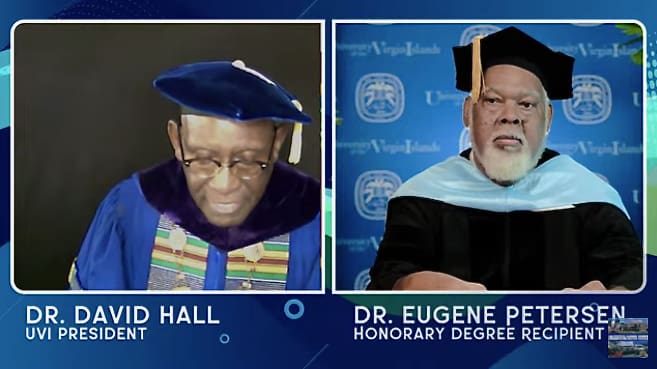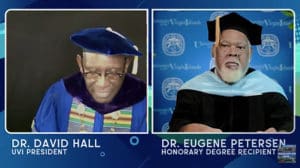 "This is a sacred moment, and we thank each of you for connecting with us in this global technological arena," said UVI President David Hall, speaking from Ebenezer Baptist Church in Atlanta, the spiritual home of the late Rev. Dr. Martin Luther King Jr. "Our graduates and family members have patiently waited for this moment, and we are glad this moment has finally arrived."
For a class that has endured two Category 5 hurricanes and now a pandemic, resilience was a recurring theme – from keynote speaker Hannibal Ware, a native Virgin Islander and UVI alumnus who received an honorary doctorate, along with cultural icon Dr. Eugene Petersen, to class speakers Asel Mustafa on St. Thomas and Sen. Allison Degazon on St. Croix.
"I don't believe there has ever been a more resilient group of graduates in the history of the University of the Virgin Islands," said Ware, who earned his bachelor of arts degree in accounting from UVI in 1991.
Ware was sworn in as U.S. Inspector General on May 24, 2018, following his confirmation by the U.S. Senate. He is responsible for independent oversight of the Small Business Administration's programs and operations, which encompass more than $100 billion in guaranteed loans and almost $100 billion in federal contracting dollars. In addition, he is chairman of the Audit Committee for the Council of Inspectors General on Integrity and Efficiency.
Were it not for the support of his teachers, coaches and classmates at UVI, Ware said he would not have achieved the success he enjoys today, recalling how he was a "knuckleheaded" 17-year-old when he arrived on the St. Thomas campus from St. Croix.
"I was both rude and arrogant. I did have the grades though," said Ware, smiling. "I may have been the wildest" of a wild group his first year at college, he said.
That insolence was on full display when a resident assistant approached him in a dorm hallway about an internship in his junior year, said Ware. Undeterred by his rudeness, and knowing that Ware was studying accounting and had good grades, the RA told him of an opening in the V.I. Inspector General's office. That job led Ware through the ranks to where he sits today.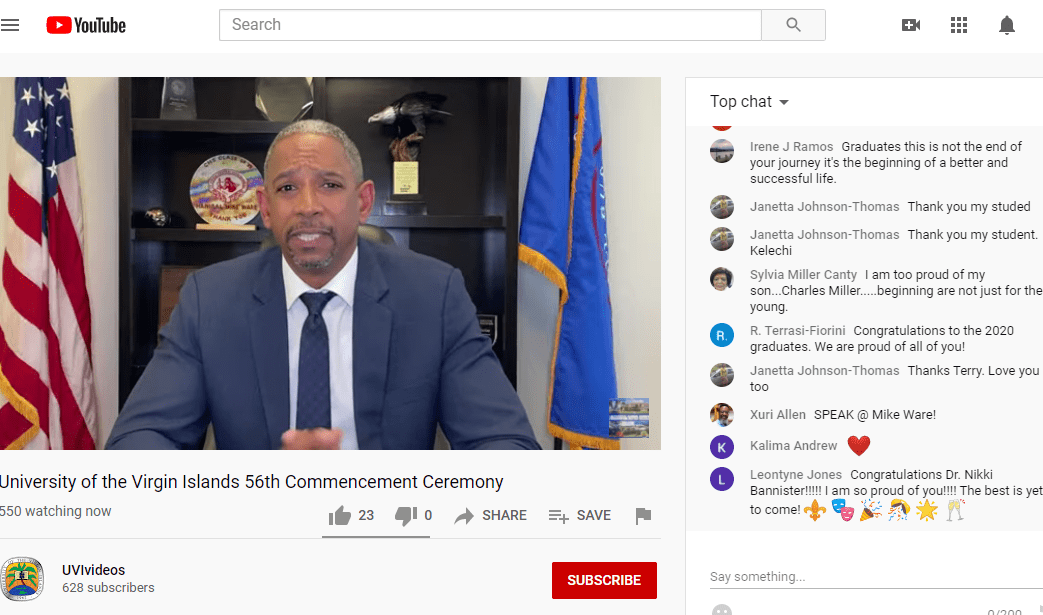 "That spark didn't happen by chance," Ware said. It came from the care UVI places in each student's development and success, he said, calling that devotion "the secret sauce that sets this institution apart."
Not that his class was without its challenges, said Ware, recalling the destruction of Hurricane Hugo in 1989. An athlete who played both volleyball and basketball, he recounted how Coach Elridge Blake constructed a makeshift court outside with a single light so the games could go on despite the devastation.
"He visibly demonstrated resilience and an expectation of excellence," Ware said. "Adversity is but a springboard for sustained success."
He urged the graduates to live with purpose. "The struggles along the way are only meant to shape you for that purpose."
"This university has prepared you to lead on the world stage," Ware told the more than 300 graduates. "Press on with pride and press on with purpose."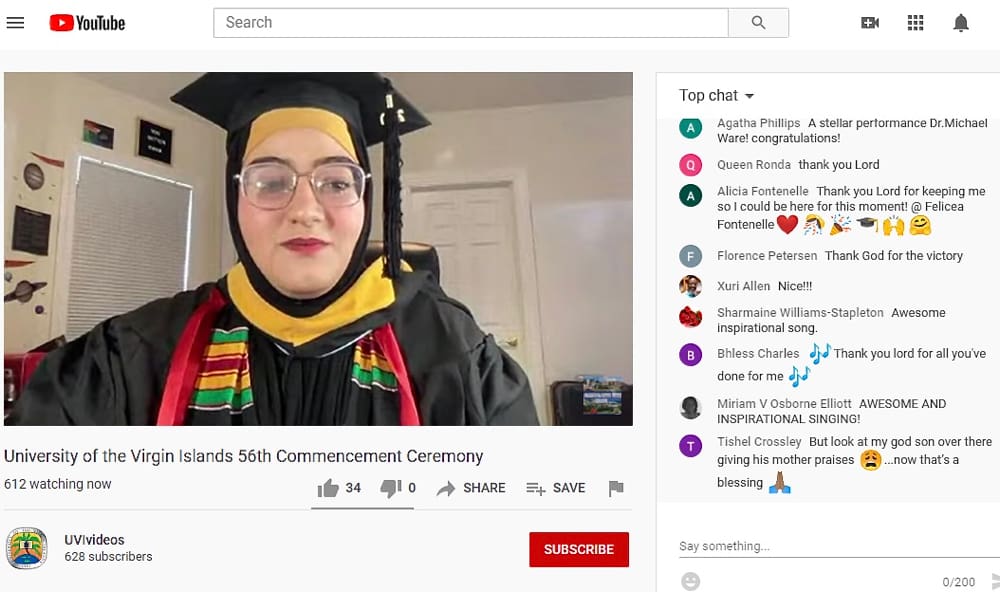 Petersen, who was the first Virgin Islander to earn a doctorate in veterinary medicine when he graduated from what was then the Tuskegee Institute in 1975, has given back to the community through his service on multiple boards and management of the Randall "Doc" James Racetrack on St. Croix. Beyond his love of animals and horse racing, Petersen also is a noted musician who has performed around the world and has written and produced four albums and several musical plays.
When he graduated 45 years ago, "I said to myself, I'll never attend another class. I'll never take another final exam. My classroom became the world. … In many of the groups I take part in, there was a lesson to be learned and that became my classroom," said Petersen.
Each of those lessons has been just as important as his veterinary degree, said Petersen.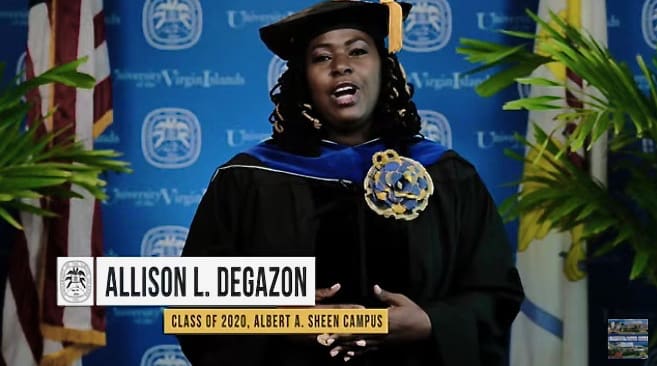 "No one could have imagined we would have to survive two Category 5 storms and a pandemic just to get here," said Mustafa in her address. "If we can overcome these obstacles … to become the first University of the Virgin Islands class to graduate by Zoom, we can do anything," she said.
Degazon, too, spoke of resiliency, and the ability to build the capacity to bounce back from adversity, whether as a nation, a state, a community or personally. One of eight to earn a doctorate in creative leadership for innovation and change, she urged her fellow graduates to use their skills to help build back the territory.
"COVID sure as hell didn't stop us because we are here today," said Degazon. "Class of 2020, we need all hands on deck to stay the course!"