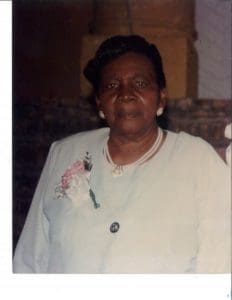 Sitnah Maria Yarwood of D. Hamilton Jackson Terrace died on Nov. 23. She was 93 years old.
She was preceded in death by her parents: Ketura Williams and William Young; son, Warren David; and sisters: Angelina Tull and Albertha Dawson.
She is survived by her daughters: Cleone Yarwood- Cornelius, Janet Cornelius-Nelson, Sylvia Cornelius, Yvonne Fredericksen-Innocent, Laverne Fredericksen, Marjorie Fredericksen and Clarice Fredericksen-Rasberry; sons: Lyle Yarwood, Elroy Yarwood, Joseph Yarwood, Daryl David, Raymond Cornelius and Alvin Fredericksen; 53 grandchildren; more than 90 great-grandchildren; and more than 50 great-great-grandchildren.
She is also survived by nieces: Judith Molloy, Ava Petersen, Verdell Petersen, Shermaine Nelson, Derice Plaskett and Norine Petersen; daughters-in-law: Linda Yarwood, Adelle Nicholas and Linda Fredericksen; sons-in-law: Winston Nelson, John Rasberry, Fio Innocent, Calvin Schmidt and Desmond Stedman; brothers-in-law: Wilfred Degrasse and John Degrasse; sisters-in-law: Ann Yarwood and Rosanna Hansen; godchild, Glen Edwards; adopted daughter and caretaker, Doris Sutton; and adopted daughter, Yvette Edwards.
Other survivors include special friends: Marva Brooks and family, Althea Browne, Marian Peters, Sherry Hendricks and family, Ms. Madeline Roberts, Mecedes Malone, Dianna Garcia, Janice Dore, Olga Hewitt, Unita Georges and family, Winifred Canton and family, Gideon Hurtault, Josephine Hector, Branch family, Galloway family, Lang family, Jerry James, Bolling family, Friedensthal and Friedensfeld Moravian Church family, D. Hamilton Jackson neighbors and staff, and Continuum Care.
More survivors are cousins and other relatives: Rawlins family, Shedrock and family, Betty and family, Claudette and family, Paulette Hodge and family, Norman Christian, Christian family and Donna Christiansen; as well as other relatives and friends too numerous to mention.
Viewing will begin at 9 a.m. on Thursday, Dec. 10, at Island Center for the Performing Arts. The service will follow at 10 a.m. Interment will be at Christiansted Cemetery.
The family respectfully requests that attendees wear a face mask and adhere to the social distancing requirements.