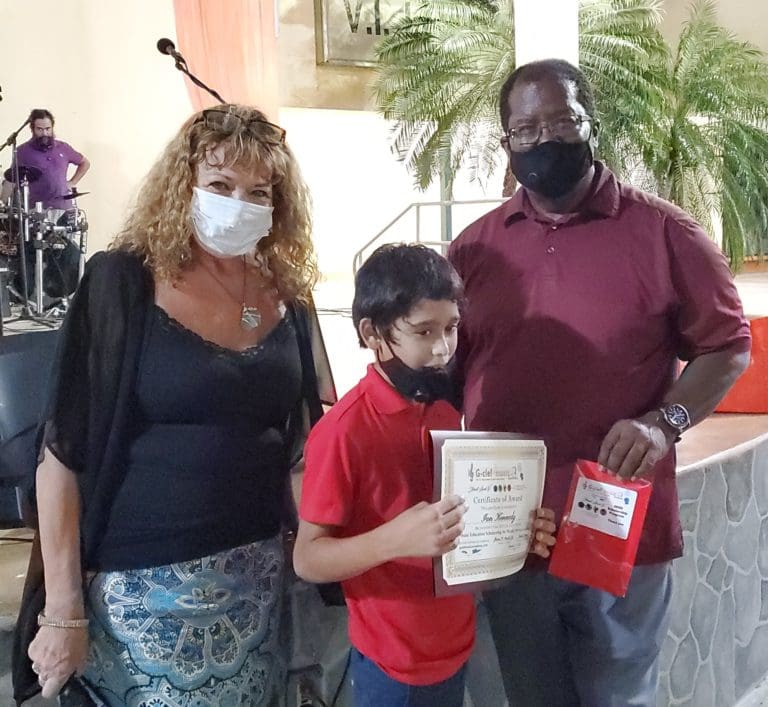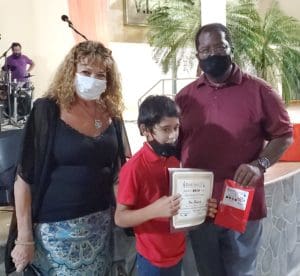 The awardees of the Street Level VI/G-Clef Music Academy Music Education Scholarships are beginning their year-long musical journey. The four scholarship recipients were recently announced at two special performance workshops on St. Thomas and St. Croix.
Street Level VI wanted to give each applicant a gift of music, so they were invited to a live band performance of reggae, pop, R&B, blues and jazz on their home islands.  Band members also talked about their life-long journey in music, which was followed by four awardees each receiving scholarships for one full year of free music education.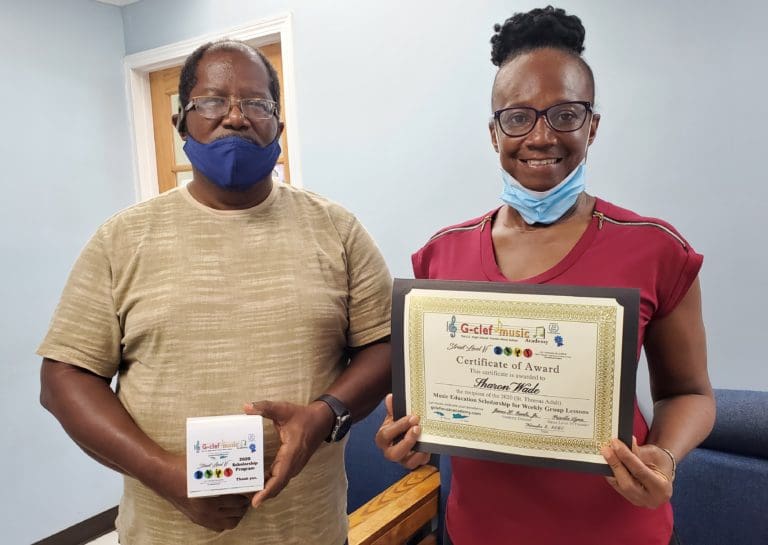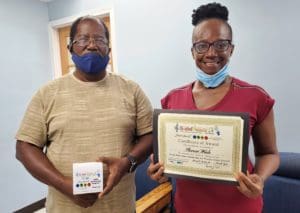 Many band members shared what music means to them. Academy Director James H. Gumbs, who performed at the St. Croix workshop at the Sunny Isle Shopping Center, spoke of his early start with playing the guitar at age 14. "I wanted to play so much that I borrowed a guitar from my uncle, then took the earnings from my first job to pay for weekly guitar lessons." His college years at Clark College (now Clark Atlanta University) gave him the rare opportunity to play in the school's jazz band concerts with greats like Dizzy Gillespie, Cab Calloway, Miles Davis and Ray Charles. He taught music for 20 years in the U.S. Virgin Islands' public and private school systems.  Gumbs began developing G-Clef Music Academy on St. Thomas in 2009 and expanded to St. Croix in 2019.
Tommy Bronx, drummer and vocalist with The Tim West Band, which performed at the St. Thomas music workshop at G-Clef Music Academy in Mandela Circle, said he started with music in the 4th grade. While in high school, a broken arm was his fork in the road to choose music over soccer.
"Even with a cast on my arm, there was still so much I could learn with music."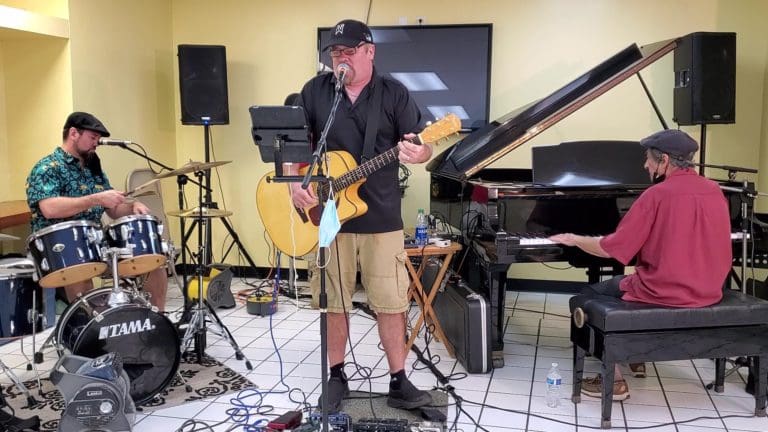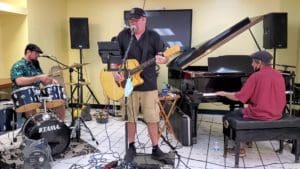 Tommy joined several bands and was offered scholarships for college. "Music opened up some new doors for me. I have traveled to Central and South America."  He added, "When you play an instrument, you are immediately absorbed into the culture with the people."
Tisean Paul, saxophonist for the band, said, "Music is a language that you can learn at an early age. It's a language that's spoken all over the world. Learning music can help you in all aspects of your life."
Pianist Danny Silber chimed in with scientific facts that MRI brain scans have revealed that "music involves 90 percent of the brain mass. So, it's not just left brain-right brain; music involves logic, feeling, poetry, beauty and, of course, the knowledge of music."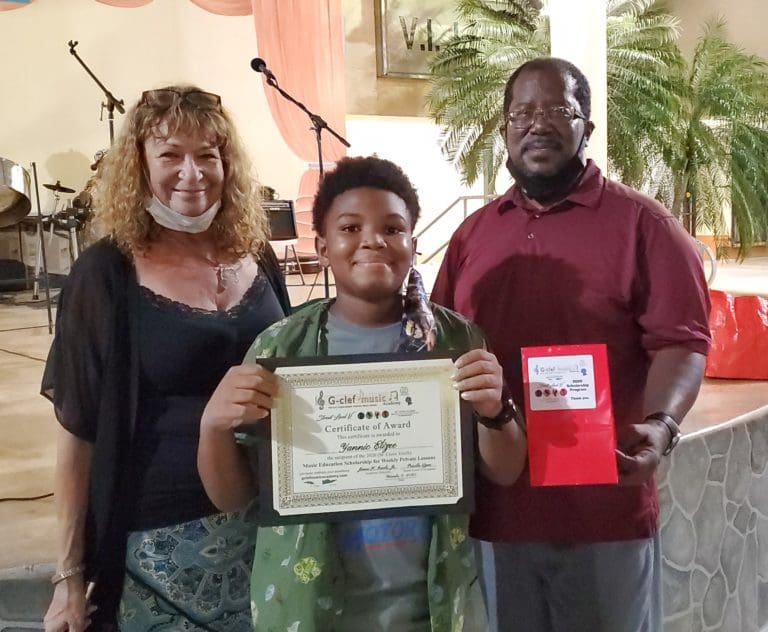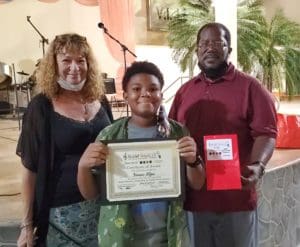 G-Clef's St. Croix voice instructor Richie Buntin said, "If you have a child that has a problem with math, steer them to music. It will solve the math problem. Everything in music is based solely on numbers."
The 2020 Street Level VI/G-Clef Music Academy Music Education Scholarships awardees are: on St. Thomas, Sharon Wade, who is learning how to play the piano for the first time as an adult; and four-year-old Maureeke Milligan Greenidge Jr., who has begun to make beats in Music Exploration.
On St. Croix, two youth were awarded the scholarship: Nine-year-old Ian Kennedy and 11-year-old Yannic Elizee.  Both got a chance to meet the instructors and tour the facility after the workshop. They are also beginners who are receiving weekly lessons to learn how to play the piano and drums.
G-Clef Music Academy teaches in-person and online music lessons to ages 3 to 93 on St. Thomas and St. Croix. Director James H. Gumbs Jr. said, "G-Clef is very thankful to Street Level VI and Founder Priscilla Lynn for launching this scholarship program. We want everyone to have a chance and experience the joy of learning how to read music and play an instrument, no matter how young or old you are."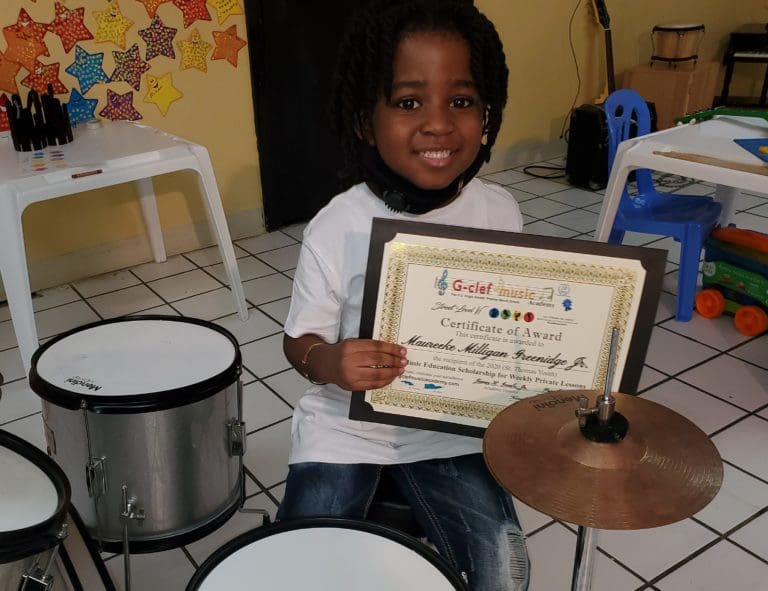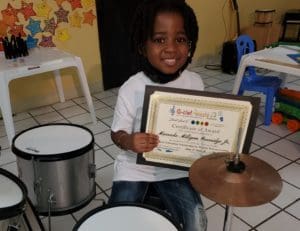 Street Level VI is the 'go-to' source for the live music scene in the USVI. Musicians and bands are showcased on the Facebook group page, which also features upcoming performances and news of accomplishments with brief video clips. In addition, Street Level VI awards scholarships and distributes donations to island youth music education programs.
Founder Priscilla Lynn said, "Street Level VI (SLVI) is proud to have initiated and supported this innovative music education scholarship program and congratulates all the thirty-one applicants and four awardees. SLVI is currently developing a documentary about the influence of USVI music on island residents and visitors. The SLVI/G-Clef Music Scholarship Program and its awardees will be featured throughout this one-hour documentary as well."