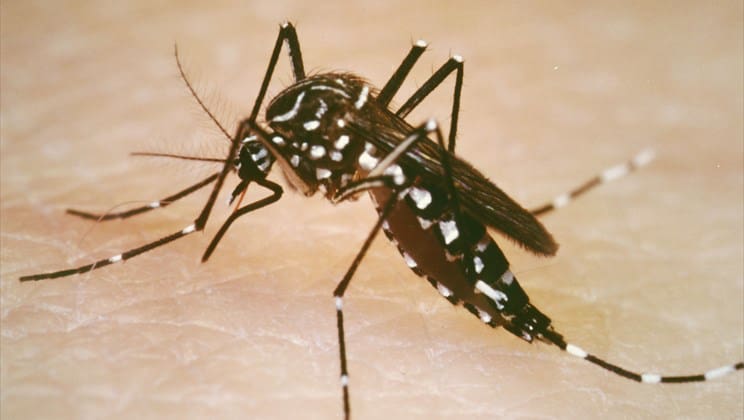 Persistent rains are a cause for concern across the territory as standing water promotes increased mosquito breeding.
While there is currently no established transmission of dengue in the territory, according to the V.I. Department of Health, Territorial Epidemiologist Ester Ellis is mindful of the ever-present threat.
"Standing water is always a concern because it is an ideal environment for mosquitoes to breed. We have the particular species of mosquito here that can spread diseases like dengue, Chikungunya and Zika," Ellis said in an email to the Source on Tuesday in reference to the Aedes aegypti mosquito species.
Health has reported only one case of dengue this year so far, but those who have the virus might not seek testing. An outbreak can resurface at any time, especially when local herd immunity wanes. According to Mayo Clinic, "herd immunity occurs when a large portion of a community [the herd] becomes immune to a disease, making the spread of disease from person to person unlikely." In the Virgin Islands, immunity can fluctuate as people who do not have immunity move into the territory.
Dengue is spread by the bite of a mosquito. The most common symptoms are fever, rash, joint pain or red eyes. Other common symptoms include muscle pains and headaches. Many people might not realize that they have been infected with the virus, as symptoms can be mild, lasting for several days to a week after being bitten by an infected mosquito. Others may be infected and have no symptoms, or symptoms can be severe with high fever, intense cramping, severe rash and weight loss.
Ellis said that neighboring islands are currently experiencing dengue outbreaks and that about 1 in 20 people who get sick with dengue will develop severe dengue, which can result in shock, internal bleeding and even death.
"If you have had dengue in the past, you are more likely to develop severe dengue. Infants and pregnant women are at higher risk for developing severe dengue," Ellis said.
According to the CDC, dengue viruses and the virus that causes COVID-19 can cause similar symptoms in the early stages. To learn more about the differences between the two diseases, visit https://www.cdc.gov/dengue/healthcare-providers/dengue-or-covid.html
The Department of Health urges Virgin Islanders to ensure there are no mosquito breeding sites around their homes by removing debris and draining excess water from plant pots. Some other steps everyone can take to protect from dengue and other mosquito-borne viruses:
– Dress: Wear protective clothing – long sleeves, long pants and light colors.
– Drain: Get rid of water containers in and around your home that can serve as breeding places for mosquitoes.
– Defend: Use repellent on exposed skin and treat clothes with one of several EPA-approved repellents.
– Discuss: Spread the word about the simple things you can do to make a difference.
For local information about the dengue virus or to receive any of the Department of Health's free services, call the Department of Health Epidemiology Division at 340-718-1311 or visit www.doh.vi.gov or their Facebook page at www.facebook.com/virginislandsDOH.