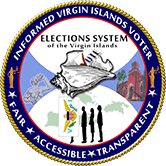 Due to the overwhelming success of the 2020 General Election Early Voting, Supervisor of Elections Caroline F. Fawkes is elated to announce that the hours of early voting will be extended on Saturday, Oct. 24, and Sunday, Oct. 25. Voting hours will be from 9 a.m. to 5 p.m.
Early Voting locations are as follows:
St. Croix Elections Office- Sunny Isle Shopping Center, Unit 26, 1st Floor (Former Movie Theatre location between Master Insurance Agency and Nav Jeweler)
St. Thomas – Charlotte Amalie High School Gymnasium
St. John Elections Office- Market Place Suite II
The number of electors who have participated in Early Voting as of Friday, Oct. 23, is as follows: St. Thomas: 2,941, St. Croix: 3,066, and St. John: 203; the total of voters' territory-wide is 6210.
In closing, Fawkes is pleading with voters not to wait till the last minute to cast their ballot.
For any question or concern, contact the Elections offices at 773-1021 (St. Croix Elections Office) or 774-3107 (St. Thomas Elections Office) or 776-6535 (St. John Office).