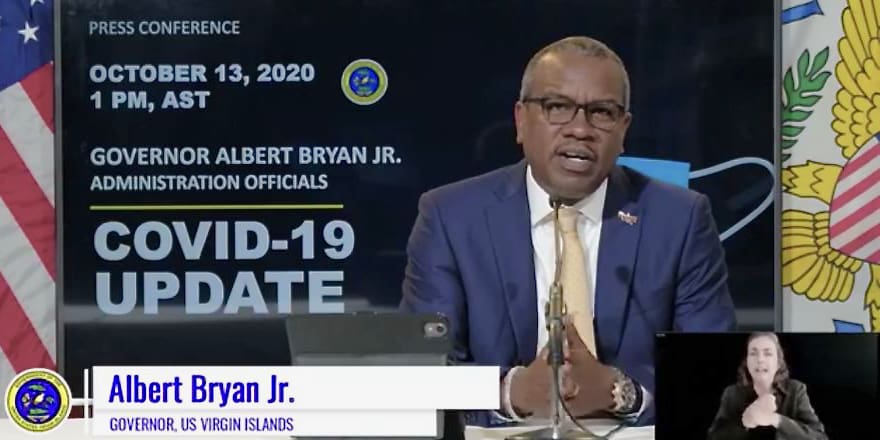 Plans for the construction and repair of local hospitals and clinics are moving forward, Gov. Albert Bryan Jr. said on Tuesday, and the territory's pandemic restrictions are being eased in light of an apparent reduction of COVID-19 cases.
In the peak of the pandemic, the territory had to "make decisions with an eye toward the limitations" of its medical facilities, Bryan said. Now, with the number of positive cases at a low, officials on Tuesday announced plans to move ahead with hospital repairs and reconstruction.
Speaking at a news update on Tuesday, Bryan said the Territorial Hospital Board approved the architecture and engineering designs for four primary health care facilities: Gov. Juan F. Luis Hospital on St. Croix, Schneider Regional Medical Center and Charlotte Kimelman Cancer Institute on St. Thomas and Myrah Keating Smith Clinic on St. John. The board approved:
– $12.9 million for Flad & Associates to design Luis hospital;
– $5.8 million for EYP Architects to design Schneider hospital;
– $936,000 for EYP Architects and Engineers to design the Charlotte Kimelman Cancer Institute; and
– $1.5 million for contractor SmithGroup to design the Myrah Keating Smith Clinic.
The Federal Emergency Management Agency will cover 90 percent of the costs, while the remaining 10 percent local match will come from federal Community Development Block Grant funds awarded after 2017 for disaster recovery. On Tuesday, Bryan said the design phase for all four facilities will span up to 18 months to make sure "everything is in place" for the centers to deliver on their health care mission. Until then, a new modular hospital will open on St. Croix within the next two months, and the governor urged community members to call on senators to support a comprehensive mental health care package that is pending to increase residents' access to services.
The opportunity to move forward with the reconstruction and repairs, along with ongoing low COVID-positivity rates, has also enabled officials to reevaluate local pandemic restrictions. Bryan announced that effective immediately, churches and houses of worship are allowed to accommodate 50 percent of their capacity, or a maximum of 100 people, whichever is fewer. Additionally, restaurants are no longer required to use disposable glassware and utensils, and Bryan said that most have already been cleared for proper sanitization equipment and protocols.
Effective on Nov. 9, mass gathering restrictions will move from 50 to 100 people for indoor and outdoor activities or 50 percent of the capacity of the venue, whichever is fewer. Bars that can accommodate sit-down service can also reopen on Nov. 9, but those that cannot have to remain closed, along with nightclubs. The last call for alcoholic beverages will remain at 11 p.m., Bryan said. Live music or DJ's will be permitted, but not after midnight.
Speaking on Tuesday, Health Commissioner Justa Encarnacion added that as sports have resumed on the mainland, the territory is also looking at how to best serve its high school athletes, particularly juniors and seniors that are being recruited for college. Sports, Parks and Recreation, in conjunction with the University of the Virgin Islands, is looking at leading a series of camps with specialized trainers and working with teams for women's volleyball, softball and basketball, along with men's baseball and basketball, she said.
The governor stressed, however, that a continued opening up hinges on residents' continuing to follow local public health guidelines, including wearing masks and social distancing.
"We are slowly getting there, but we can't get there without your cooperation," he said. "The rules are subject to change at any given time, and we can tighten or loosen them as we see fit."
As of 9 p.m. Tuesday, the territory was tracking 15 active COVID-19 cases. Overall, 22,218 residents have been tested territorywide, with 20,859 negative cases and 1,328 positives. There have been no COVID-19 patients at the Gov. Juan F. Luis Hospital for at least three weeks, while Schneider Regional currently has four patients, one of whom is on a ventilator.