One summer evening in 2018 when Tralice Bracy was assisting at the West End Music and Art Institute camp at the Caribbean Museum Center for the Arts, she pricked up her ears.
The camp program included jazz performances in the gallery, curated by bass player Mario Thomas and funded by the Community Foundation of the Virgin Islands.
"I was dumbstruck by the talent that showed up," Bracy said. "I had lived on St. Croix for nearly 10 years and had never encountered a real jazz scene before." The interaction between the musicians and the audience fascinated her as much as the music did.
"Mario explained that there had been an exciting jazz scene in the '80s that was attached to the old Blue Moon restaurant in Frederiksted," she said.
She wanted to know everything about that – the music, the players, the scene at the Blue Moon during that era.
"I asked people I knew had lived here in the late '80s and early '90s about it, and their excitement and stories inspired me," Bracy said.
Then one night when the Eddie Russell Band was playing at Tap Deck Bar & Billiards on the west end, Thomas pointed out one of the original Blue Moon proprietors in the audience: Jim Salafia. It turned out that Bracy had met him before, but thought of him as a carpenter and sailor from Maine, not a restaurant and jazz bar owner in Frederiksted. Things took off from there.
By the evening's end, Salafia had agreed to pass his old reel-to-reel recordings of Blue Moon bands to Bracy's sound restoration connection in Portland, Maine, a man named Joe Johnson.
Since then, Salafia has continued to rendezvous with Johnson at the Concord Coach Lines terminal in Portland and hand him additional tapes when he travels to Maine. Bracy, meanwhile, has recorded storytelling sessions with musicians like Eddie Russell, Diane Russell and Ray Isles, along with Blue Moon co-owner Sharmain Nicholson and Salafia himself.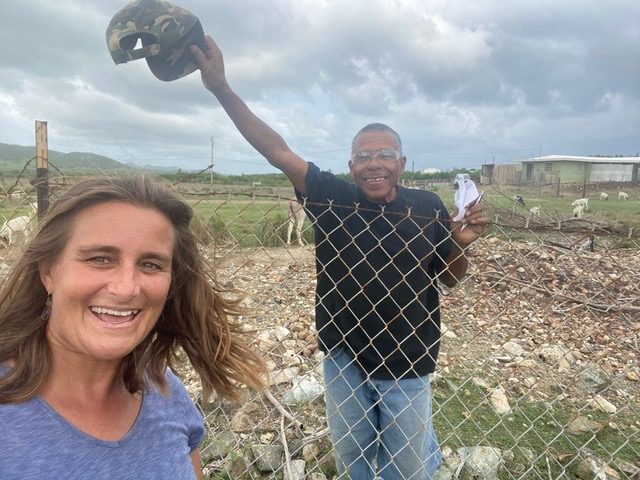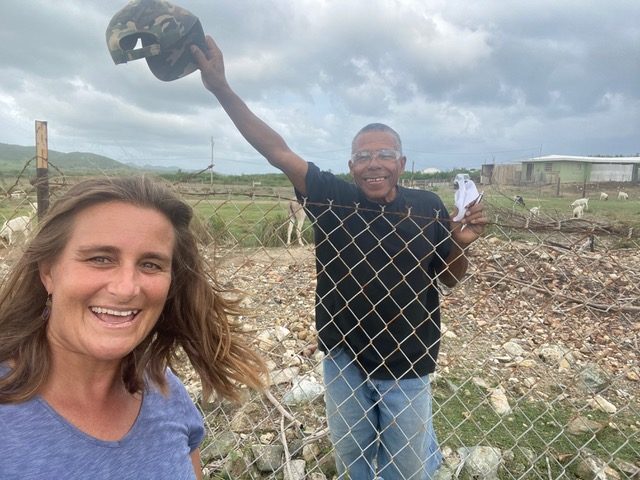 Bracy is not is new to this sort of undertaking; she worked at a historical and cultural museum – Monhegan Museum – in Maine where, among other things, she collected oral histories of community stakeholders.
Thus, she envisioned the Blue Moon Jazz Project, now in its early stages. Eddie Russell, Nicholson and Salafia have signed on as collaborators.
"When you start collecting people's memories and their stories, it rounds out history. You recognize how important people are in the making of a community. Communities don't just happen," she said.
Bracy is documenting a "point in time when jazz was an exciting experience on St. Croix, especially in Frederiksted." Her project focuses on the nights Eddie Russell's band played at the Blue Moon between 1989 and 1996.
Johnson and mastering engineer Pat Keane take Salafia's old reel-to-reel tapes and capture the analog output from the tape machine into an audio workstation using a digital audio converter, Johnson said. In other words, they digitize the music on those old reels. They create a WAV file, which is similar to an MP3 file, but with better quality.
Johnson then cleans up the audio by taking out the tape noise, background noise, hissing and any oddball sounds that come with age. He clears up the performances and saves the tapes on digital, he said.
"Sound restoration is my side hustle, but my goal is to create a company. I like doing this stuff," Johnson said. So far, he has successfully restored six tapes.
"Some songs came out really well, but I cut out a lot and kept what I deemed good," he said. "Tapes were a good medium, but, as far as longevity, they break."
Johnson was born in 1988 and reel-to-reel tapes came long before his time. The tapes of these performances are nearly his age, but he professes an affection for old recordings.
"That stuff on those tapes sounds killer," he said.
St. Croix attorney Diane Russell comes from generations of musicians, both maternal and paternal. Her father gave her a trumpet when she was in kindergarten, but she hyperventilated blowing into it and set it aside.
Then, in the seventh grade at St. Mary's Catholic School, musician and music teacher Felipe Garcia introduced her to the flute, and that has remained her instrument ever since. Trained in classical music, Diane Russell loves playing wild, improvisational jazz as much as she does chamber music.
She started performing with her father's jazz band at the Blue Moon, located at 17 Strand St., when she came home from college for summer and the Christmas holidays in the late '80s.
"As long as you loved jazz, you had a home there," she said. "It was a really free place with a free vibe, so people often did original compositions. It got very experimental."
She recalls that when her father, Eddie Russell, played the flugelhorn and trumpet at the same time, the audience went wild. "Not only could he play them together, but the sounds he got out of them! Sometimes, it would sound like an elephant, really jarring. It was incredible," she said.
She performed several nights with professional baseball player Horace Clarke after he retired from the New York Yankees and San Diego Padres and returned to St. Croix. When Clarke played for Sunday brunch at the Moon, she caught his act.
"Horace had such an easygoing energy about him. When he was performing, he was 100 percent performer. He didn't think about how famous he was; Horace was a humble guy. He didn't exploit that part of himself," Russell said. "He was a true musician, a great musician."
She also remembers good times with bassist Fred Williams and his brother Reggie Williams who played saxophone, as well as with Freddie Thomas on piano, Ray Isles on congas and Mario Thomas on his upright bass. Others such as Professor Hugh "Fuma" Petersen, Bobby Richards, Mel Dalton and Richard "Dino" Dinatale sat in on many nights.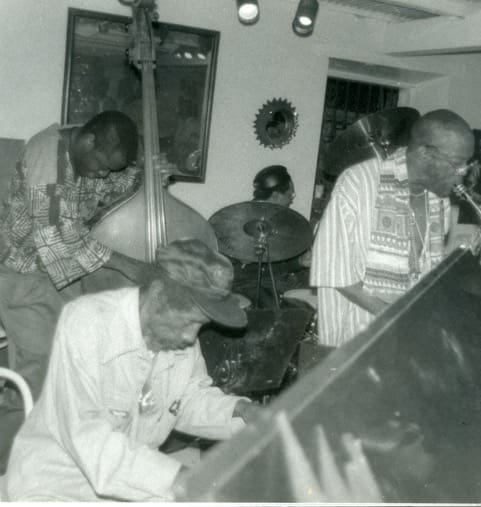 Diane Russell said she rarely has the opportunity to play such free-spirited jazz these days and describes that period, 1989-1996, as a vortex, a time when so many gifted musicians lived on the island and created magic together, and when audiences were especially sophisticated in their knowledge of music.
"That's magic right there. Even if the audience couldn't dance to it or tap to it, they appreciated the depth of musicianship," she said.
Bracy and her collaborators on the Blue Moon Project have connected with musicians Ronnie Russell, Elvis Pedro, Isles, Junie Bomba and Diane Russell.
"I've gleaned that the time was all about improvisation and about being in that space with those people," Bracy said.
Our Town Frederiksted gives verbal support to the project, she said. "They believe that places that host gatherings, like the Blue Moon was able to do, help create a culture in a town," she said.
Editor's Note: The author is married to Jim Salafia, who is an original owner of the Blue Moon and is mentioned in the story.